HMCS Edmonton Returns Home After Successful Deployment on Op CARIBBE
After a successful two-and-half-month deployment to the Pacific coast of Central America, His Majesty's Canadian Ship (HMCS) Edmonton returned to her home shores on April 28, 2023.
The deployment was part of Operation CARIBBE, Canada's contribution to the U.S.-led Enhanced Counternarcotics Operations, and took place from Feb. 13 to April 28.
During the deployment, HMCS Edmonton, along with two United States Coast Guard Ships, intercepted a drug smuggling vessel and seized an estimated 755 kilograms of cocaine. The estimated value of the seized drug's street value is $49.5 million Canadian.
"I am extremely proud of the crew of HMCS Edmonton and the members from the United States Coast Guard. HMCS _Edmonton_acted in direct coordination with USCG cutters to successfully interdict a drug smuggling vessel. The crew of HMCS _Edmonton_have worked tirelessly since Operation CARIBBE commenced to enhance integration with our United States and Central American partners, which was critical to success in this fast paced and complex interdiction. We were well prepared to step in and contribute to Canada's part in Operation CARIBBE," LCmdr. Tyler Smith, Commanding Officer of HMCS Edmonton.
The seven people who are suspected of drug smuggling, according to the Department of National Defence (DND), are in the custody of the United States Department of Justice. They are being held on suspicion of maritime drug trafficking, and "the vessel itself was disposed of at sea due to the threat it posed to navigation."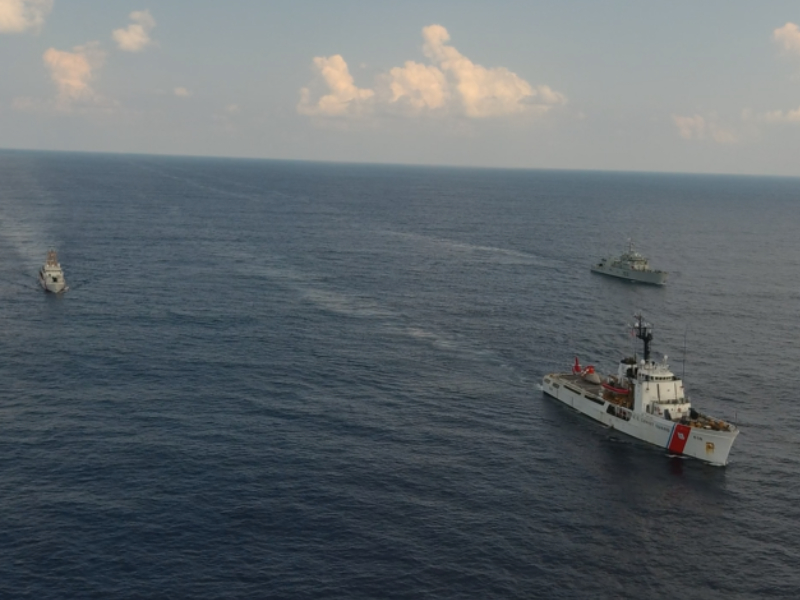 Operation CARIBBE: Hundreds of Tons Seized
Every year during Operation CARIBBE, countries work together to seize millions of dollars of illicit drugs, according to DND. In addition, the mission helps to disrupt drug trafficking and organized crime in South and Central America.
The Royal Canadian Navy has taken part in this operation since November 2006. Over the last fifteen years, the Canadian Armed Forces as a whole has contributed to seizing 120 tonnes of cocaine.
During this particular deployment of Operation CARIBBE, HMCS Edmonton worked with a United States Coast Guard Law Enforcement Detachment (LEDET), two United States Coast Guard Ships, Active and Benjamin Bottoms, a United States Coast Guard (USCG) helicopter and a maritime patrol aircraft.