CAF rolled out COVID-19 vaccine program
Above image: See cutlines below. Images courtesy of CAF/DND.
As we welcomed the New Year, the Canadian Armed Forces (CAF) took the first steps to launch the COVID-19 CAF vaccine rollout for CAF members.
Immunization of CAF members began in January and will adhere to a CAF Vaccine Prioritization Framework.
The CAF has been working with the Public Health Agency of Canada (PHAC) for several months to prepare a plan to administer the COVID-19 vaccine for all eligible CAF members who choose to receive it.
"The first phase of this plan was focused on determining the order in which CAF members are to be vaccinated in accordance with the rollout of vaccine supply," Major-General (MGen) Marc Bilodeau, Surgeon General, CAF, commented.
Based on the National Advisory Committee on Immunization (NACI) guidelines and my medical advice to the Chief of the Defence Staff, who has directed the following Vaccine Prioritization Framework.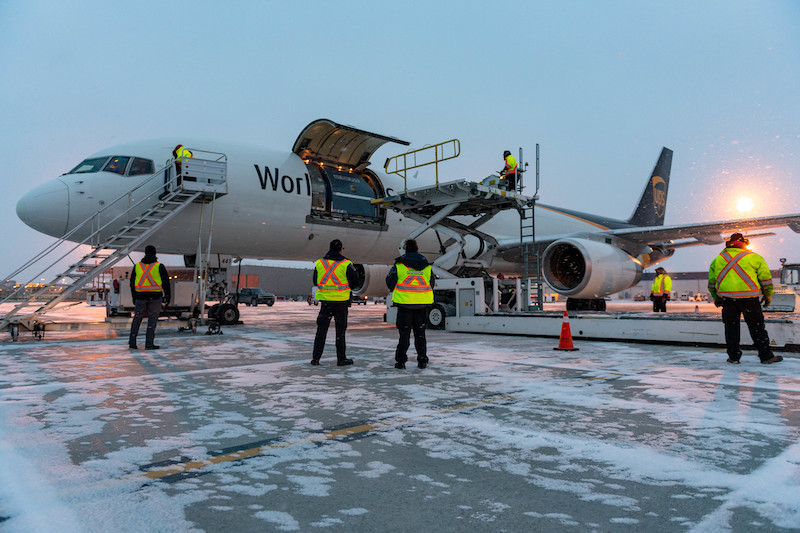 CAF COVID-19 Vaccine Prioritization Framework
The CAF COVID-19 Vaccine Prioritization Framework provides guidance on the CAF allocation of vaccines for up to 115,000 personnel, as follows:
Priority 1: Frontline health-care providers working in higher-risk clinical settings, working in locations such as Long Term Care Facilities, or who have health conditions that make them vulnerable to severe forms of COVID-19. Vaccinations for 1,200 CAF members in this group are anticipated to be administered between January and February 2021.
Priority 2: Those at high risk who were not allocated vaccines during the initial allocation, as well as first responders and support personnel assisting frontline workers and personnel tasked to either deliver or support the delivery of the vaccine to remote or high-risk communities.
Vaccinations for members of this group are anticipated to be administered between April and June 2021.
Priority 3: CAF members engaged in activities or providing essential support to activities that are core functions or critical capabilities of the CAF, such as those involved in search-and-rescue, humanitarian assistance, international security partnerships such as NATO and NORAD. Vaccinations for members of this group are anticipated to be administered between April and December 2021.
Priority 4: CAF members engaged in force generation, training, and education activities. Vaccinations for members of this group are anticipated to be administered between July and December 2021.
Priority 5: Remaining CAF members. Vaccinations for all CAF members who don't fall into the other priority groups are expected to be available between July and December 2021.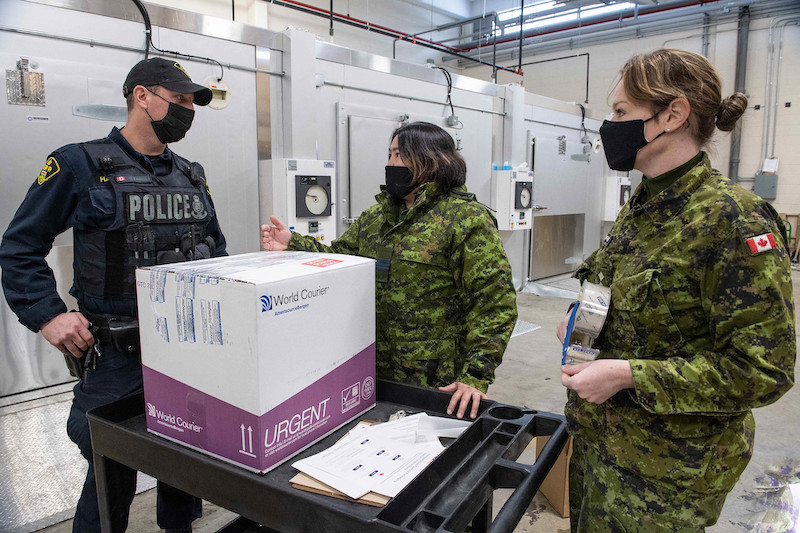 Received, Distributing & Administering
The CAF has already received and will be distributing and administering the Moderna vaccine for the first 1,200 CAF members starting in early January 2021.
MGen Bilodeau explained, "This allotment, based on what we have been allocated from PHAC as part of this phase, is our first in a series of vaccine allocations. Although we could receive other Health Canada approved COVID-19 vaccines from other suppliers as the year progresses, the Moderna vaccine is the only one currently available to the CAF. As other vaccines become available and/or our allocation of Moderna doses increases, we will adjust our phased timelines accordingly."
CAF members currently deployed or posted outside of Canada will not be receiving the vaccine from the current Canadian supply.
There is planning underway to determine the most expeditious means of distributing to CAF members (and their families where appropriate) living outside of Canada. This includes working with host countries to access their vaccines once the Forces has been assured Health Canada has approved any such vaccines.
Department of National Defence's Public Service and non-Public Service employees and contractors should obtain vaccines through their provincial or territorial health care system.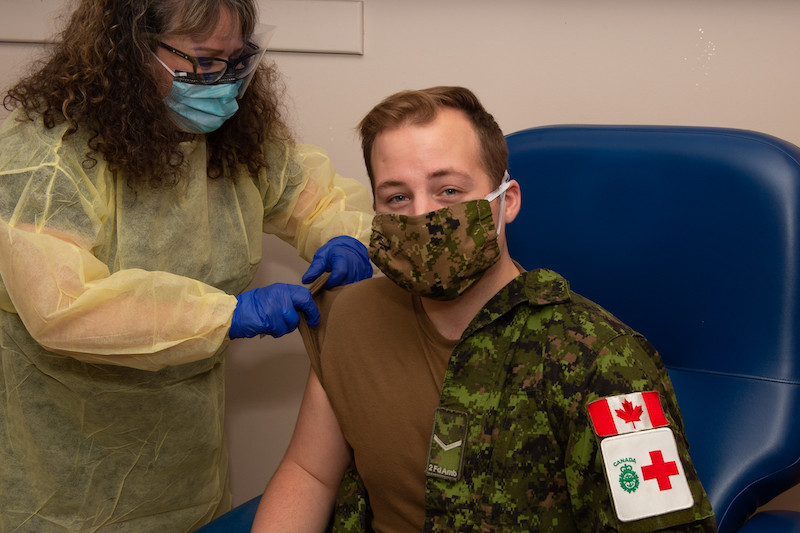 CAF COVID-19 vaccination is voluntary
Whether or not vaccination will be made a requirement for an operation or a position is a decision to be made by CAF leadership, in consultation with their medical and legal advisors.
Verification of COVID-19 vaccination may be a requirement for CAF members to operate in high-risk environments, such as those with vulnerable populations, or in regions with mandated COVID-19 immunization requirements. As vaccine becomes more readily available and used by the general Canadian population, it may become part of the routine immunization standard.
On January 6, 2021, MGen Bilodeau stated, "The vaccine rollout, not unlike the pandemic itself, happens in a constantly changing environment with frequent new developments; leadership teams and CAF members will need to stay informed of the situation as it develops so that they can be aware of how this will impact individuals and respective organizations.
"Keeping yourself well-informed with accurate information, and getting the vaccine when it is available to you, are important weapons that will assure preparedness of the Force and ensure mission success."
He continued, "The beginning of the COVID-19 immunization program in the CAF gives us hope that 2021 will be a better year than 2020, but remember that the pandemic is not yet over.
"We are getting there, but we need to continue to protect the Force in order to maintain the CAF's operational readiness. By protecting yourself, you are saving lives. Don't let your guard down. Continue to follow local public health guidelines, preventive health measures, and get the vaccine when it is available to you."