CAF personnel continue flood relief in Ontario and Quebec
OP Lentus continued this week with Canadian Armed Forces (CAF) personnel providing assistance in flood-affected areas in Ontario, Quebec, and New Brunswick.
With conditions improving as flood water seemed to be receding in New Brunswick the highway between Moncton and Fredericton opened one lane in each direction. However, speed limits are reduced, and not all exits and entrance ramps were opened. As of May 3, 2019, the CAF concluded its deployment in New Brunswick.
"With improving conditions in New Brunswick, there has been a decrease in the number of flood relief tasks, and the province no longer needs the military's unique capabilities. We're now heading home," said Commander of Joint Task Force Central (JTFC) Brigadier-General Jocelyn Paul in his weekly SITREP.
"Canadian Armed Forces members continue to support flood relief efforts in Ontario and Quebec for Operation LENTUS, while the situation remains critical. We're proud to have provided our well-trained and well-equipped regular force and reserve personnel from across our region to help deliver flood support to New Brunswickers in their time of need."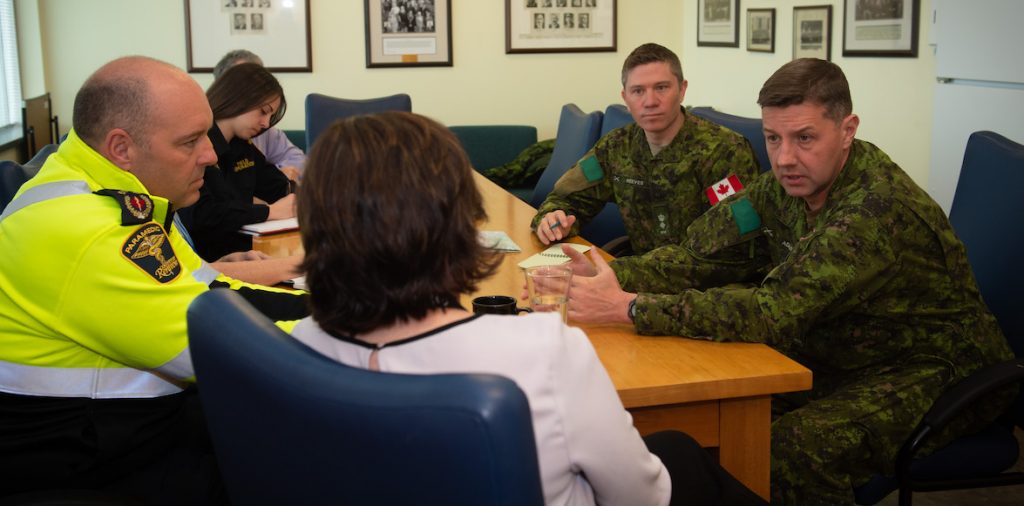 The situation still remains critical in both Quebec and Ontario, with many areas still under a state of emergency.
"JTFC keeps growing and has over 1 000 soldiers, 40 per cent reservists with the addition of reservists from southern Ontario. We have filled and delivered over half a million sandbags, and we keep filling them, we provide assistance on local roads that are currently impassable, help area residents, and protect critical infrastructures such as the water treatment plant in Britannia and Clarence-Rockland," stated Brigadier-General Paul.
As of April 30, Minister of TransportMarc Garneau issued an interim order restricting travel to certain areas throughout Ontario, New Brunswick, and Quebec due to flooding. This recently was expanded to include the Muskoka region.
Soldiers, sailors, and aviators continue to help local and provincial partners in Ontario and Quebec with filling and moving sandbags, assisting residents, conducting wellness checks, clearing routes, and supporting efforts to protect property from flood damage.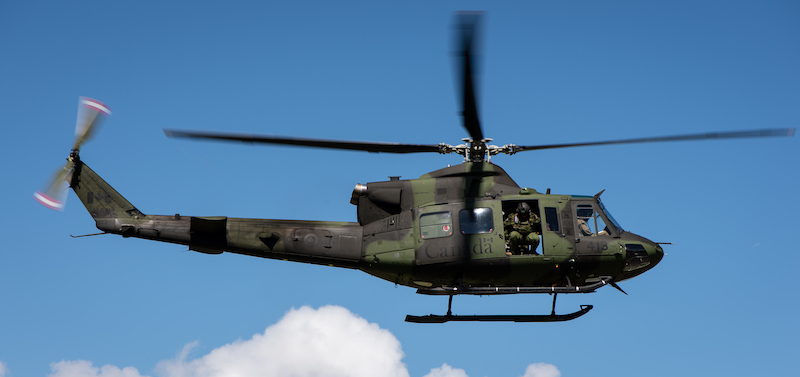 The most recent areas affected include:
The part of the Ottawa River, in the province of Ontario or in the province of Québec, between the City of
Gatineau and the Barrage de Carillon;
Des Deux Montagnes Lake in the Province of Québec;
The Mille Îles River in the Province of Québec;
The Des Prairies River in the Province of Québec;
Lake Muskoka in the Province of Ontario;
North Branch Muskoka River in the Province of Ontario;
South Branch Muskoka River in the Province of Ontario; and
Moon River in the Province of Ontario.
Task Force Gatineau Commander and Commander of the 2e Bataillon Royal 22e Régiment, Lieutenant Colonel Victor Bertrand said that troops are assisting local authorities in any way they can, from filling sandbags and delivering them to a central location for residents to collect and use to protect their homes; build small dams to protect key infrastructure; route reconnaissance; assistance with voluntary evacuations; and more.

"The troops are really happy to help out the population. Most people join the armed forces to make a positive impact, and right now, that is what they are doing," said LCol Bertrand. The residents in flood-affected areas seem very happy the CAF is there to help – CAF members have received a very warm welcome, and many residents are working with the troops to help with the flood effort.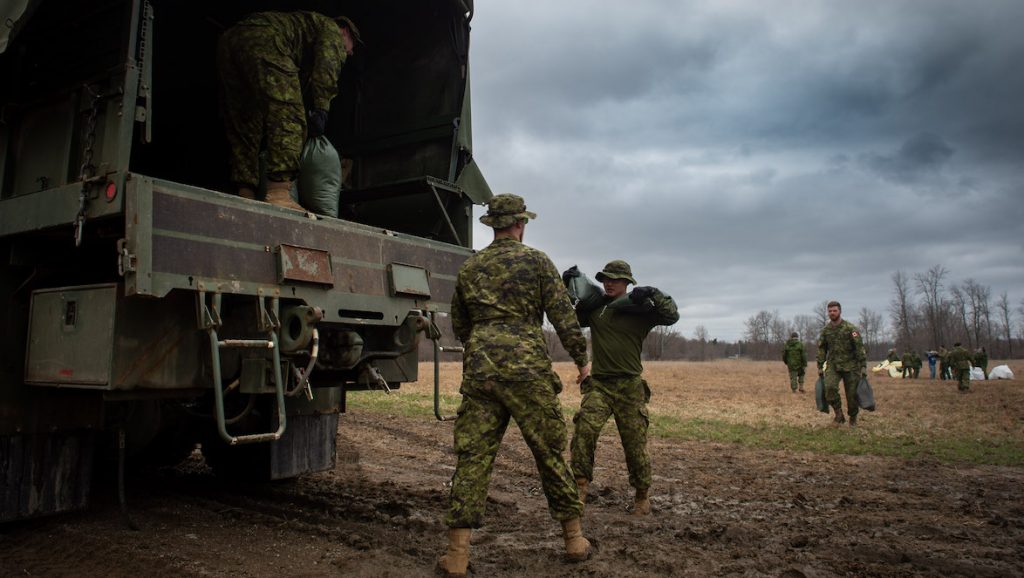 While some areas in the Gatineau region are preparing for flooding, other areas are completely flooded, and roads are no longer passable except by small boats. Officials are hoping that should the weather cooperate, water levels should stabilize soon.
Brigadier-General Jeannie Carignan, the Commander of the Joint Task Force in the Montreal region said, "Despite the slow reduction in the level of several bodies of water in different locations, floods persist, and our unique capabilities are always available to help affected citizens and municipalities. Troops remain on the ground to support the partners where the needs are felt.
"On May 3, 2019, military members continued to work closely with Quyon's municipal authorities to reinforce dikes. These efforts have helped to protect municipal infrastructure and helped maintain the mobility of stakeholders in diverse sectors."
"This year's spring flooding conditions are impacting thousands of Canadians in New Brunswick, Quebec, Ontario, and Manitoba.  My thoughts are with all those affected.  It was heartwarming, as I toured the area of L'ile Bizard, to see the solidarity demonstrated by the volunteers out helping to keep their communities safe," said Minister of Transport Marc Garneau.
For more information on flood conditions in New Brunswick.
For more information on flood conditions in Ontario.
For more information on flood conditions in Quebec.