Annual Base Borden ceremony remembers lives lost in tragic explosion
This past March a small contingent from the Canadian Forces Ammunition Depot at Base Borden gathered at the cenotaph in the Village of Angus, just north of the base to remember the lives that were lost in a tragic explosion. 
The ceremony was lead by current Depot Commanding Officer Major Melissa Manley. Those in attendance were there to honour the six civilians and one airman who died on March 20, 1958, in one of the worst peacetime munitions explosions in Canada at what was then known as Royal Canadian Air Force 13 "X" Depot. 
The depot was established in 1940 to supply munitions to the RCAF flying schools that had been built in Ontario and Quebec under the British Commonwealth Air Training Plan, including No. 1 Service Flying Training School at nearby RCAF Station Camp Borden.
The depot continued this function after the Second World War and was actually a separate defence establishment from Camp Borden, with its own barracks, messes, Permanent Married Quarters (PMQ), RCAF Police and RCAF Fire Brigade. 
On March 20, 1958, at approximately 4 o'clock in the afternoon, an explosion demolished building number 20, the receipts and issues building, located near the entrance to the depot's explosive storage area, killing six civilian employees and one airman. This was one of the worst peacetime munitions explosions in Canada. 
Killed in the explosion were Leading Aircraftman Earl Boughner, 27, single and originally from Guelph, Edwin Elliot Bush, 42, married, of RR2 Utopia, Lawrence Dobs, 31, married of Glencairn, Wayne Charles Kennard, single of RR2 Angus, Robert C. McGillivray, 39, of RR2 New Lowell, Howard Thompson, 32, single, of Barrie, and Edward Trott, 54, of Avening.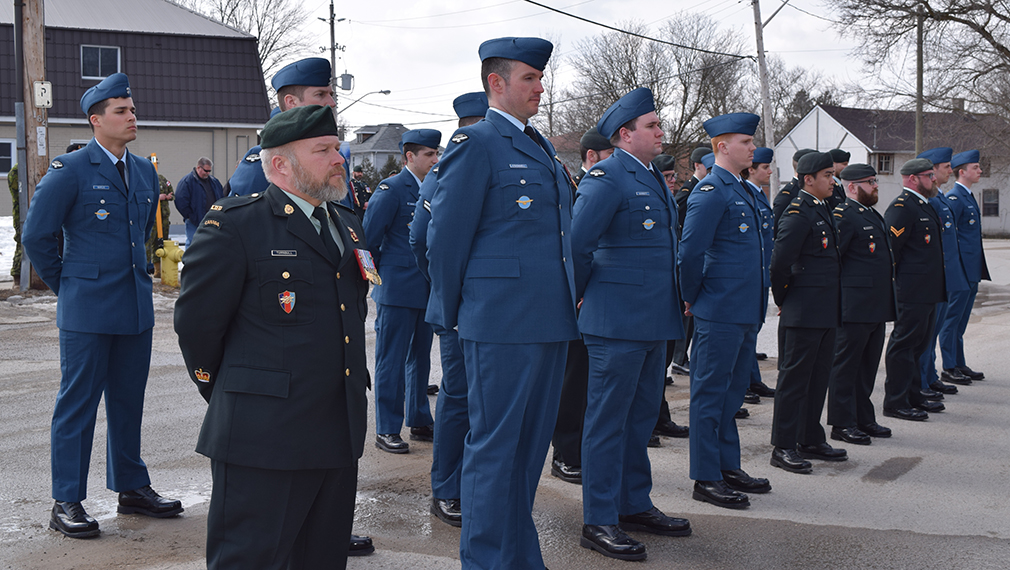 A second airman in the building, Corporal Thomas Cartwright, emerged from the building unhurt, although he was later transported to the Camp Borden hospital suffering from shock. 
McGillivray left behind a wife and six children. Kennard had only started working at the Depot the previous fall, and his father was a Commissionaire working security at the main gate of the Depot. 
The explosion was heard in nearby Angus, although no one paid much attention as explosions were a common occurrence around the Depot. The resulting fire was fought by the Depot fire brigade, along with firefighters from Camp Borden. Along with fighting the fire, which is dangerous under normal circumstances, the fire brigade had to deal with munitions exploding, including a bullet that struck a nearby ambulance.
When the fire was finally extinguished, all that remained was a brick chimney and charred remains of the roof trusses. The ruins were demolished, and a parking lot now occupies the former site of the building.
In August 2005, 47 years after the tragedy, a ceremony was held at the Angus Cenotaph to dedicate a memorial stone plaque to the victims the 13 "X" Depot explosion.
The inscription on the stone reads:

IN MEMORY OF THOSE WHO
LOST THEIR LIVES IN 13X
EXPLOSION MARCH 20, 1958
LAC EARL C. BOUGHNER
EDWIN ELLIOT BUSH
LAWRENCE DOBS
WAYNE CHARLES KENNARD
ROBERT C. McGILLVARY
HOWARD THOMPSON
EDWARD TROTT