Paddling for PTSD marks Second Journey
Paddleboarder Trevor Petersen recently completed an epic journey through the waterways of Ontario to raise awareness and end the stigma around post-traumatic stress disorder (PTSD).
Launching his touring paddleboard from Balmy Beach, Toronto on June 13, 2015, Petersen eventually ended his voyage in Ottawa in early July.
"I struggle with PTSD and I have a passion for paddleboarding. By combining the two, I want to give people hope and dispel some of the myths that are out there about PTSD. Throughout my trip, I was supported by the Canadian Mental Health Association. They were amazing," said Petersen.
He travelled along the shores of Lake Ontario, into the Trent Waterways, through Quinte Bay, Kingston, Cataraqui, and the Rideau River.
On a good day, when the weather cooperated, Peterson averaged more than six hours on the board, roughly 150 metres from shore. On a windy day, or a day with forecasted lightening he had to be careful on the water.
"I had one really scary time on the water. I was just coming into Port Hope, and the wind was really strong. I was 'down-winding', which can be really fun for a paddleboarder. I was in the zone. I went past a little point, and I got caught in a crosswind. All of a sudden I was headed out into Lake Ontario. I had to paddle with all I had to bring myself in. I thought I might end up in New York somewhere," explained Petersen.
Petersen's mother, Marie-Paul is his support and the administrator of Paddling for PTSD, Ontario.
From shore, she followed Peterson's route in their RV. At rest points, she acted as an advocate for Peterson, making calls, talking to the media, handling donations, checking and rechecking the weather and the currents.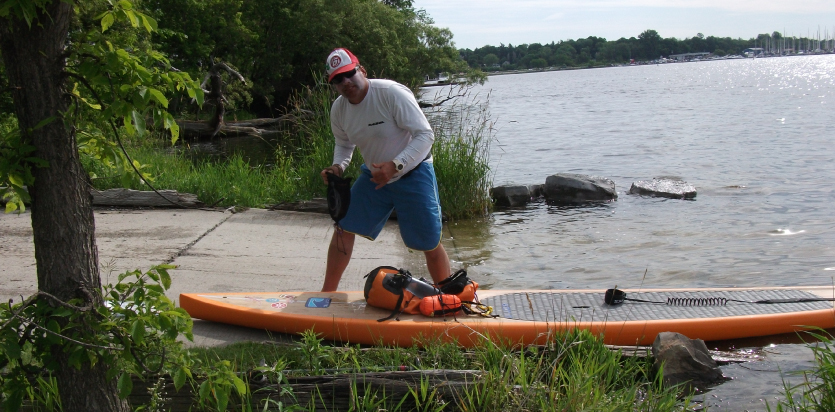 "One of our most memorable stops was in Kingston, Ontario. CMHA publicized my arrival, and there were people there to meet me from law enforcement, Corrections Canada, the media, public and, of course, vets. I just didn't have time to talk to them all," said Peterson.
Peterson has no plans to get back on the paddle board for a cause in the near future. Instead, he is concentrating on finishing some neglected personal projects. His journey with PTSD is ongoing while he self-monitors his symptoms and continues to work with mental health professionals. For now he intends to focus on living simply while staying in tune with himself.
"I've learned that to move forward I have to stop blaming everyone for what happens along the way. PTSD is manageable. I deal with it on a daily basis. It's how I deal with it on my journey that matters," said Peterson.
This was Petersen's second summer paddling for PTSD. In 2014, he travelled throughout Alberta's waterways, stopping along the way to raise awareness and dollars for Wounded Warriors Canada.
Peterson enlisted in the military in 1993 and served with the 2nd Battalion, Princess Patricia Canadian Light Infantry. He went to Bosnia in 1997 and remustered in 1998. He 2006 he deployed to Afghanistan where he repaired aircraft. Upon his return home he was diagnosed with post-traumatic stress disorder. Petersen released from the military in 2010.
His attempts at gaining employment were continuously met with a downward spiral effect. He realized he had to focus his energy solely on his own rehabilitation. Between two stays at Homewood, an addiction and mental health treatment centre in Toronto, he started paddleboarding and in his words, 'the real healing began'. Petersen found the sport very therapeutic, became heavily involved, and now paddles for PTSD awareness across the country.
To learn more about Peterson and his journey please visit his website.