Military Kid Starts Support Group
Initially, Cameron Levesque was seen as a quiet young man who rarely spoke and did not stand out in the crowded halls of Bishop Smith Catholic High School in Pembroke.
All that changed when he and counsellor Connie Ross of the Petawawa Military Family Resource Centre (MFRC) came up with a ground-breaking new program for military children making their way through the civilian school system.
"Cameron had been working with Connie for a number of years. As a child from a military family, he wondered if there was a way we could begin a Support Group for students from the military community. Garrison Petawawa is only 20 minutes from our school. We see a good number of military students here," said Clint Young, principal, Bishop Smith Catholic High School.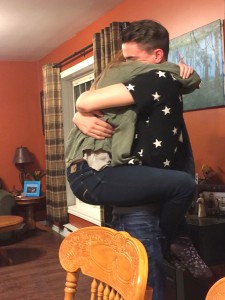 Young explained that Cameron, a Grade 11 student, had the insight to recognize there were younger kids in Grade 8 and Grade 9 living the same unique military family life he was. Cameron also recognized those students might not be courageous enough to speak up about challenges they were facing.
"At first I was worried that none of the kids would talk. I knew we would have to break through those barriers and help them to get comfortable talking about their military family experiences. I wanted them to be able to check-in each week, choose a topic, like post-traumatic stress disorder (PTSD) in the home, and safely talk with each other about it," said Cameron.
Cameron's teachers saw value in his idea of creating a Support Group. They were aware of the pervasive issues military children were facing including, coping with parents with PTSD, parents coming and going in their lives, transitioning from one posting to another, and just the general changes they saw in their parents after deployments.
School and MFRC staff agreed a well-run Support Group could make a difference in the lives of military students. Working together, Cameron and his teachers initiated the process and created an entirely new class for him called Leadership and Peer Support.
As the only member of this new class, Cameron was expected to begin forging relationships with individual younger students. During the allotted class time, four days each week Cameron assisted with younger Grade 8 military students who were having a tough time with a variety of issues.
It was decided that on Wednesday each week he and Connie would run the actual Support Group; Connie as the trained counsellor and Cameron as peer support. They started by advertising a Military Kid Appreciation Lunch for any student connected to the military, and 40 students showed up for pizza.

"I had no idea some of these kids were even military. I'm sure they felt the same way. I explained to them that we wanted to start a Support Group for military kids. Some left, but most stayed," said Cameron.
The lunch provided the opportunity for the younger students to see that older students were facing some of the same challenges around military family life. Peer relationships were formed in one lunch hour, and 25 kids came to the second Support Group meeting.
Cameron quickly became the student liaison between the teachers and the students, and between individual kids. According to Young, the Grade 11 student-led conversations, initiated dialogue opened up the floor for kids to talk about things that were bothering them.
The success of the program at Bishop Smith was overwhelming. However, in true military fashion Cameron and his family are posted to Ottawa for the 2015/2016 school year.
"We are hopeful the students Cameron groomed will be able to help Connie next year so this program can continue at Bishop Smith. Cameron started something wonderful here. I hope he is given the opportunity to implement something similar when he moves on to Grade 12," said Young. "Obviously, the Support Group has been a great benefit to younger students, who look up to Cameron, but the added benefit has been watching Cameron come out of his shell and show us his amazing qualities."
This fall Cameron plans to see if such a Support Group is necessary at his new school. If he sees the need, he plans to initiate conversations because in his words, "There is a real purpose to the group. Military kids always have something important to talk about."
**Update** Cameron's Military Kid Support Group still continues strong at Bishop Smilth Catholic High School in Pembroke Ontario. Recently, Cameron visited the school and held an impromptu meeting. "It felt great to see that the group was still up and running and that they were still interested in what I had to say. Catching up with Connie and Mr Young meant a lot too. They believed in me, and it was their encouragement that motivated me to apply to college, and look forward to my future as a Child and Youth care worker." **