Veteran organizes event to educate public regarding mental health stigma
It's a story of resiliency and recovery, and it's being brought to the Royal Military College in Kingston for a limited time screening.
On Jan 13 and Jan. 14 military and civilians alike are invited to a screening of the documentary Almost Sunrise.
The screening is hosted by Canadian Armed Forces (CAF) veteran Collin Fitzgerald, a founding member of SerViCe, an organization that brings together soldiers, veterans, and civilians.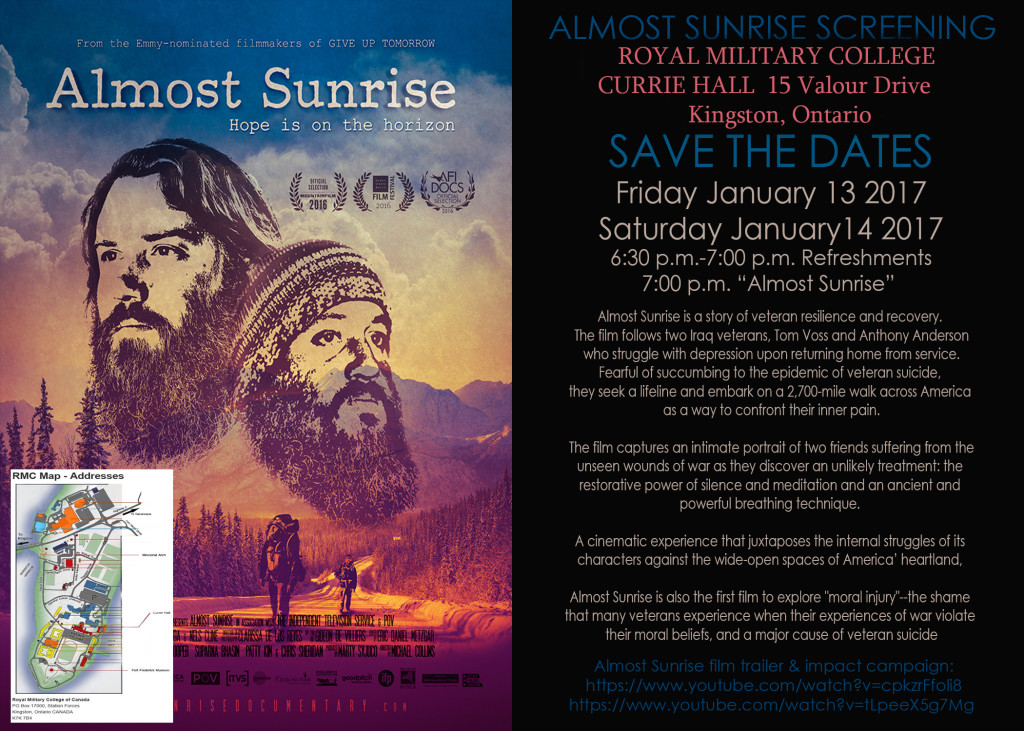 "We take the pain of our experiences and try to effect change in society," said Fitzgerald.
Fitzgerald is motivated by his own struggles since serving in Afghanistan. He served with the Second Battalion Princess Patricia's Canadian Light Infantry and was medically released in 2012.
"My hope is basically to educate people so they can take this back to whatever walks of life they come from and to remove that mental health stigma," stated Fitzgerald.
Almost Sunrise follows the story of two Iraq War veterans, Tom Voss and Anthony Anderson who are struggling with mental injuries post-service. Not wanting to succumb to the growing veteran suicide statistics, the two friends decide to embark on a 2,700-mile journey across the U.S. The documentary captures how silence, meditation and being alone can open up the path to recovery.

Almost Sunrise is said to be a juxtaposition of internal struggles against the wide-open lands of the U.S. and explores the darkest parts of "moral injury."
It also sheds light on the growing veteran suicide epidemic in America that unfortunately also plagues many Canadian veterans. The statistics are heartbreaking. In the U.S. almost 20 per cent of all suicides are committed by veterans, and in Canada, 54 veterans have committed suicide since returning from the Afghanistan War, reports the Globe and Mail.
Fitzgerald and his organization have reached out to several notable figures to attend the screenings including Minister of Veterans Affairs Kent Hehr. The hope is the movie will inspire others to make a real change.
"Collin wants to help others to help themselves based on what he's experienced in his journey," said Kerri Tadeu, the civilian member of SerViCe.
The Almost Sunrise Screening will be held Friday, Jan. 13 and Saturday, Jan. 14 at the RMC Currie Hall. Refreshments will be served from 6:30 to 7 p.m. and movie will begin at 7 p.m.
Master Cpl. Collin Fitzgerald, centre, is honoured with the Medal of Military Valour in 2007. Fitzgerald has had a tumultuous personal life since leaving the military, including treatment for post-traumatic stress disorder. (Tom Hanson/Canadian Press)