Team Canada wins 44 medals to date at Invictus Games
After a year of eagerly waiting, the Invictus Games Toronto 2017 are finally upon us and after a star-studded and awe-inspiring Opening Ceremony on Sept. 23, this year's competitions are finally underway.
The Invictus Games kicked off in notable fashion on Saturday evening with a Parade of Nations featuring the 550 competitors from 17 nations, performances from world-renowned celebrities and appearances by Prince Harry and Prime Minister Justin Trudeau.
"Thank you for your service. Thinking about what each of us can do in our lives to make the kind of difference that you make in the world every day. Thank you again for being here," said Trudeau, reflecting on the impact of the Games.
The audience also heard moving accounts from this year's participants, who shared their journeys to this year's games.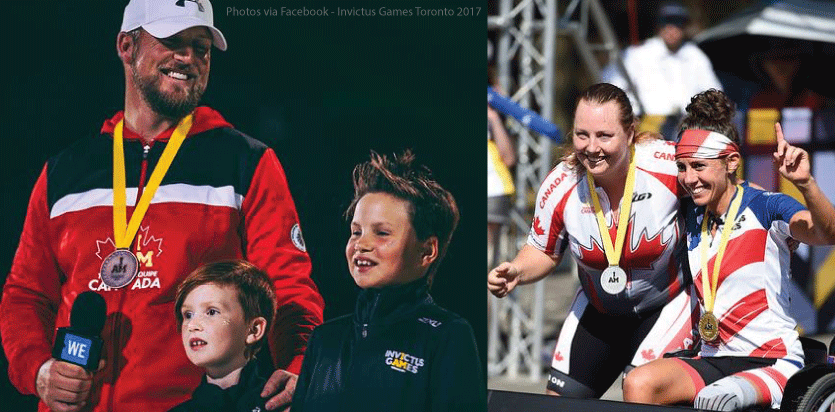 "I chose to be captain of my destiny, master of my fate. All of you were faced with the same choice, and you all made the same decision. You chose to believe in yourself — and I believe in you," said Capt. (ret'd) Trevor Greene, who was struck with an axe in the head during an ambush in Afghanistan.
After the inspiration Opening Ceremony, competitions began Sunday.
Canada won its first medal of the Invictus Games on Sunday when Cpl. (ret'd) Michael Clarke won a gold medal in the 400-metre wheelchair race after claiming bronze medal for the men's 100 metre. He also nabbed a silver for the 200-metre.
In total, so far this week, Canada has won 33 medals, including 11 gold medals.

The remaining competitions include archery, wheelchair basketball, and swimming.
Besides the various competitions of the Games, there are also a number of cultural events for participants, their families and spectators to enjoy. On Sunday, the Royal Canadian Military Institute, in partnership with the Roy Thomson Hall in Toronto, showcased a Massed Military Concert. In keeping with the Invictus theme, "Unconquered" was the title for the concert that featured the best military bands from across Canada.
Additionally, from Sept. 24-27, a Cultural Program Concert will be held nightly at the Nathan Philips Square.
To show support for the all the ill and injured soldiers and veterans gathered in Toronto this week, Defence Minister Harjit Sajjan also made a two-day visit to the Games. He had the opportunity to meet with athletes, attend sporting events and medal presentations.
"The Invictus Games serve as a powerful reminder of the extraordinary courage and determination of those who were injured while serving their country. Join me in applauding their strength and cheering on Team Canada," said Sajjan.
The Minister also took the opportunity to have bilateral meetings with the defence ministers from Georgia and Romania and U.S. Deputy Secretary of State John S. Sullivan.
Here is a complete list of this year's Team Canada Invictus Games winners:
GOLD – Women's 100 m IT6/IT7 – Natacha Dupuis
GOLD – Women's 200m IT6/IT7 – Natacha Dupuis
GOLD – Women's Shotput IF4- Jessica Rose
GOLD – Mens 400m Dash IT5 Wheelchair – Michael Clarke
GOLD – Women's Heavyweight Powerlifting- Krista Seguin
GOLD – Women's 200 m IT7 – Natacha Dupuis
GOLD – Men's Rowing 4-Minute Endurance IR5 – Bruce Matthews
GOLD – Men's Rowing 1-Minute Sprint IR5 – Bruce Matthews
GOLD – Men's Rowing 4-Minute Sprint IR1 – Michael Trauner
GOLD – Women's Recumbent Cycling – Julie Marcotte
GOLD – Men's Rowing 1-Minute Sprint IR5 – Michael Trauner
SILVER – Men's IF4 Discus – Bruce Matthews
SILVER – Men's 6kg Shotput 1F4 – Bruce Matthews
SILVER – Men's 1500m IT5 Wheelchair – Michael Clarke
SILVER – Men's 200m IT5 Wheelchair – Michael Clarke
SILVER – Men's 4kg Shotput IF6 – Kevin Nanson
SILVER – Men's 1,5kg Shotput 1F4 – Bruce Matthews
SILVER – Women's Heavyweight Powerlifting – Jackie Buttnor
SILVER – Women's Rowing 1-Minute Sprint IR5 – Matacha Dupuis
SILVER – Men's Golf – Étienne Aubé
SILVER – Women's Golf- Kayne Gélinas
SILVER – Men's Cycling Tandem ITB1 – Lutz Stelzner and Dave Dallin
SILVER – Women's Cycling IRB1/IRB2 – Julie Nadeau
SILVER – Women's Cycling IRB3 Criterium – Mireille Poulin
SILVER – Women's Cycling IRB1/IRB2 Criterium – Julie Nadeau
SILVER – Men's Cycling Tandem ITB Criterium – Lutz Stelzner / Dave Dallin
SILVER- Women's Cycling Recumbent IRECB1 Criterium – Julie Marcotte
BRONZE – Men's Discus IF6 – Kevin Nanson
BRONZE – Men's 100m Fash IT5 Wheelchair! – Michael Clarke
BRONZE – Women's Rowing 1-Minute Sprint IR5 – Caroline Cauvin
BRONZE – Women's Rowing 4-Minute Sprint IR5 – Caroline Cauvin
BRONZE- Men's Golf – Jay Nickol and Dan Graham
BRONZE- Women's Golf – Sandra Bate