Remembering the Battle of Somme, We're Here Because We're Here project, takes social media by storm
On July 1, people across the United Kingdom (UK) were captivated by the hundreds of volunteers dressed in World War One uniforms, all of them silent, all of them representing a fallen soldier.
The brainchild of Turner Prize-winning artist Jeremy Deller, the event was a living, mobile memorial to mark the 100th anniversary of the Battle of the Somme.
The "ghost soldiers" could be witnessed at train stations, high streets in various cities across the country, each of them handing out the names of the fallen, their regiment and their age when they died on July 1, 1916. Though none of them spoke, at various times during the day they would gather in a rendition of We're Here Because We're Here, a song sung in the trenches of the First World War.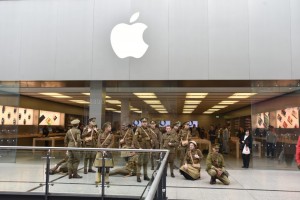 "I wanted to make a contemporary memorial to mark the centenary of the Battle of the Somme, one that moved around the UK with an unpredictability in which the participants, by their actions, took the memorial to the public," said Jeremy Deller, according to the project's website.
The volunteers were men ranging between 16 and 52 years. Each of the volunteers were clothed in historically accurate uniforms representing the 15 regiments that suffered casualties on July 1, 1916.
It is estimated that 19,240 men were killed on the first day of the battle in 1916, the bloodiest day in British military history. The project was partly inspired by tales of sightings by people who believed they had seen a dead loved one.

The project was commissioned by 14-18 NOW and carried out through the help of Rufus Norris, director of the National Theatre.
We're Here Because We're Here is said to be one of the largest arts participation projects ever, involving 25 organizations and 1,500 participants.
The We're Here Because We're Here project took social media by storm. Using the hashtag #wearehere witnesses uploaded images throughout the day.
To see more great images like these, please visit: Because We are Here