Register now for the Rod Keller Golf Tournament
On Aug.11th, friends, family and well-wishers of LCol. (ret'd) Rodney Keller and his family will gather at the Guelph Country Club for the Rod Keller Memorial Tournament.
During  Lieutenant-Colonel Rod Keller's 26 year career in the Canadian Armed Forces (CAF), he served as an Engineer Officer in the Canadian Army. He deployed on several missions including NATO operations in Bosnia-Herzegovina in 1997 and Operation APOLLO in Afghanistan. In 2009, he assumed command of Canadian Forces Base Suffield. The avid golfer became the General Manager of Operations for the City of Guelph in 2011 after he retired from the military. Sadly, LCol. Keller passed away on July 2, 2016.
LCol. Keller's wife, Laura Keller, started the golf tournament in 2017, to raise money for a memorial scholarship to be given to a cadet from the unit, 1882 Wellington Rifles, in Guelph, Ont. The oldest unit in Canada and the same unit LCol. Keller belonged to when he was a young cadet.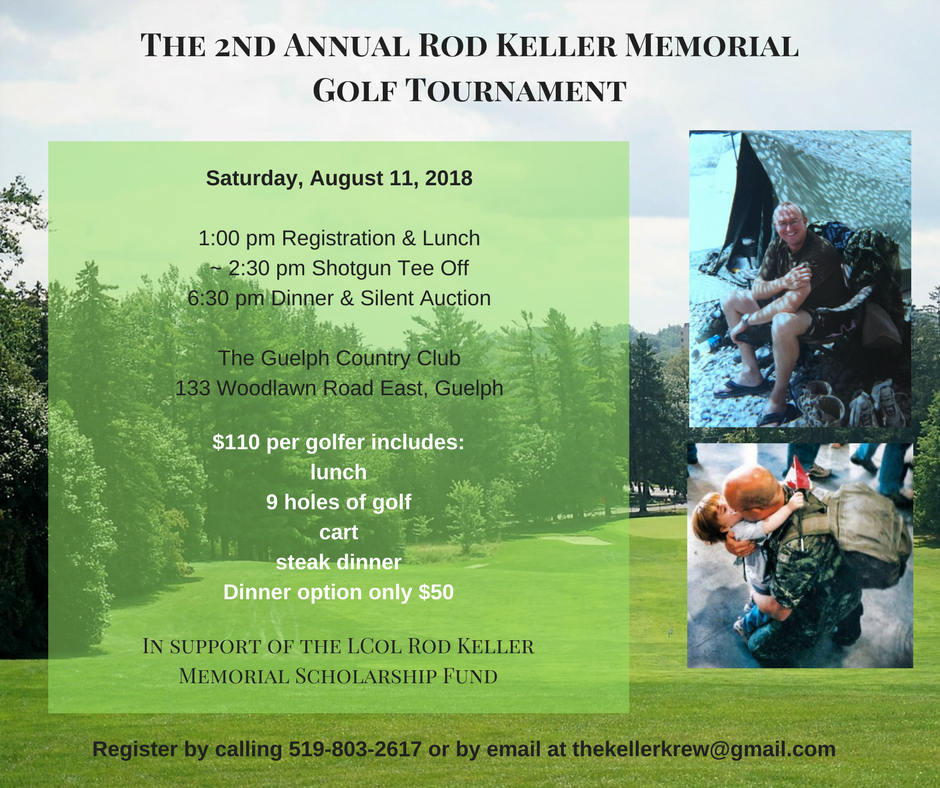 "The leadership is going to choose a young man or woman who has exemplified character, leadership and commitment to their community," said Laura Keller. "It's not a scholarship based on financial needs, necessarily. Or grades, it's more based on the character of the young person."

In the event the leadership of the cadet unit cannot choose just one recipient, they will choose up to two a year. The Guelph Community Foundation is managing the scholarship.
Last year's tournament raised just over $10,000. Keller said, this year they are looking to beat that number and hopefully raise $13,000.
The Rod Keller Golf Tournament gets into full swing on August 11, 2018, and starts at 1 p.m. There will be lunch served, 9-hole golf, steak dinner and a silent auction. To reserve your tickets, email [email protected]