The National Capital Open to Support Our Troops golf tournament is set to take place next week at Hylands Golf Club in Ottawa.
The tournament is a presentation of Lockheed Martin and CAA North & East Ontario and will bring world-class professional golf to the nation's capital as Mackenzie Tour – PGA TOUR Canada players look to make the next step on the path to the PGA TOUR.
"The Ottawa area has such a strong golf community, and we want to do everything we can to make sure that the National Capital Open to Support Our Troops becomes an integral part of that community," said Jeff Monday, president, PGA TOUR Canada. "With the support of Canadian Forces Morale and Welfare Services, we're confident this event will continue to grow and make a strong impact."
The event will continue to support the men and women of the Canadian Armed Forces and their families, as part of a greater relationship with PGA TOUR Canada that sees members of the military community enjoy complimentary access to PGA TOUR Canada events, as well as clinics from PGA TOUR Canada players.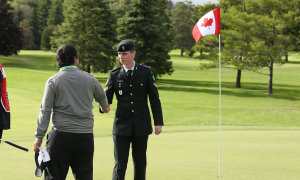 Former PGA TOUR member and Ottawa native Brad Fritsch will return as the event's Ambassador of Golf after lending his support to the event in its inaugural year. Fritsch is coming off an impressive seven-stroke victory at the Web.com Tour's Qualifying School, where he earned exempt status for the 2015 season and will be looking to continue his solid play that included two top-10 finishes in his last three starts of the 2013-14 PGA TOUR campaign.
Major General (ret'd) Doug Langton, former Associate Director General, Canadian Forces Morale & Welfare Services, will serve as the tournament director, replacing John Randolph, who helped launch the event in 2014. Randolph will continue to support the troops, concentrating his efforts with Forces & Families in the Toronto area.

"Our top priority is to engage the Ottawa community and grow the National Capital Open to Support Our Troops into one of the top golf and sporting events in the region moving forward," said Langton. "A PGA TOUR Canada event is a tremendous vehicle to raise support and awareness for the men and women of the Canadian Armed Forces and to drive economic activity in the area, and we look forward to seeing this event grow in 2015 and beyond."
PGA TOUR Canada is a series of tournaments played across Canada each summer, where tomorrow's stars begin the path to the PGA TOUR. The leading five money winners at the end of each season earn status on the Web.com Tour for the following season. PGA TOUR Canada's mission is to deliver a PGA TOUR experience for members, fans, volunteers and their partners in order to develop the future stars of professional golf and enrich the communities they visit.
In last year's inaugural National Capital Open to Support Our Troops, 30-year old Greg Machtaler became the first Canadian to win on PGA TOUR Canada in 2014, draining a long birdie putt on the 72nd hole to capture his first PGA TOUR Canada win by a single shot.
For more information please visit www.PGATOUR.COM/Canada and www.NationalCapitalOpen.ca.
Get More! Receive six issues of Canadian Military Family Magazine in your mail box for only $17.95! Click here to subscribe NOW!