Mountain Man Challenge tests competitors limit
A true test of physical and mental endurance, the Mountain Man Challenge is a triathlon that measures the determination of all soldiers who attempt to take on this mountainous challenge.
Held every summer, the 1 Canadian Mechanized Brigade Group (1 CMBG) will be putting on the event on Sep 10 this year. The challenge pushes its participants to the edge with a four-legged course that totals 50 km.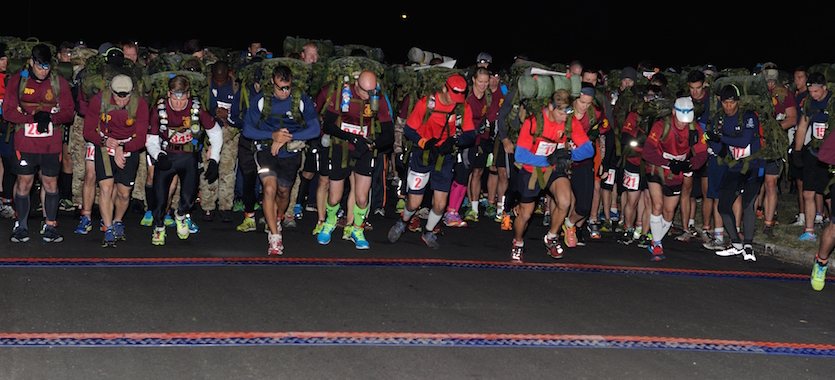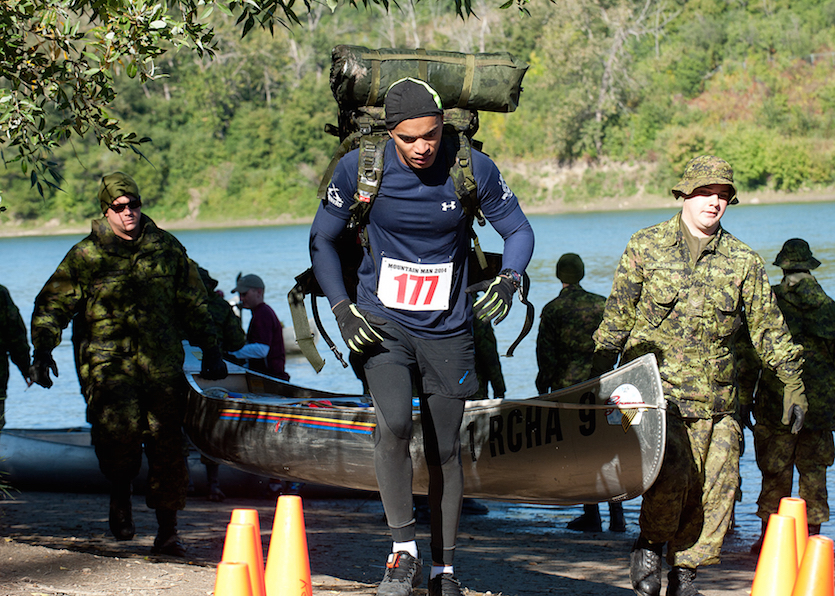 The horn signalling the start of the race promptly goes off at 5:00 a.m. kicking off a race that typically lasts the length of the day. Participants first run a 32 km footrace and then must undertake one of the most difficult parts of the challenge, a 3.6 km portage. Next the participants canoe along the North Saskatchewan River in the heart of Edmonton for 10 km rounding off the competition with one final leg of a 5.6 km foot race. Competitors take on all these components while carrying a ruck sack with a load of 15 kilograms.
"For people in uniform this is a great challenge because it really touches on quite a few things, fitness being the first one. It's such a demanding event you need to train you need to focus and really fitness is extremely important in the military. Other than it also creates esprit de corps because very unit is competing against each other and it's a way for us to bring some team spirit," said Major Guillaume Grenier-Lachance the officer in charge of running this year's event.
The attendance for this year's race is expected to be 350. A small contingency of American and British soldiers is also expected to attend.
Back for a third time, Captain Richard Hayes is taking on the Mountain Man challenge hoping to move up a couple of spots from last year's third place.
A heavy favourite for this year's event, Hayes sticks to a strict training regimen that only gives him one day of rest. He starts the week off with a one hour run and spends the week doing various activities from spin class to portage training.
He's been training with a group of individuals that he credits with being a source of motivation.

"For Mountain Man the group is very important. You need a strong group of people because people are hesitant or afraid of getting injured and wonder how I will ramp up for a race of this caliber. You'll have a bad day and think you don't want to do this anymore, but someone else will be having a good day that same day and so they pull you along and help you stay in it," explained Hayes.
This encouragement carries through to the day of the race and is a key to making the race a success.
Hayes explains that the first half of the race is more physical for him while the second half becomes mental. Out of all the legs, he finds the last kilometre of the portage to be the most challenging.
"Maybe twenty-thirty minutes later you still have that canoe on, and it starts to sag into your shoulders it becomes like a pressure point especially since you've had the ruck sack on for a while too. It's pressing on your chest so you can't really get a full breath…your fatigued and mentally its very challenging. You're very restricted in that moment, and you can't hear and you're very enclosed in your own mind and you're in the pivot point of the race. If you get through that the rest of the race will be fine," described Hayes.
As the day of the event inches closer, Hayes is eager to get a chance to test his physical endurance.
"The inspiration comes from trying to see what my body is capable of, and I am always looking for ways to validate my training. In my mind I debated, for the first race, can I finish this and how will I do and the only way to answer the question is to actually take part in the event," said Hayes.
Get More! Receive six issues of Canadian Military Family Magazine in your mail box for only $17.95! Click here to subscribe NOW!