Military child's anonymous liver donor revealed as an RMC Cadet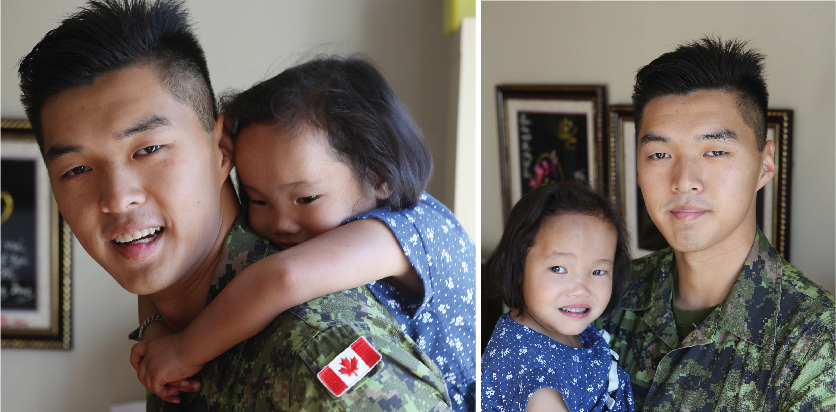 It's been sixteen months since Johanne and Michael Wagner's daughter, Binh, underwent a lifesaving surgery that would forever change the lives of the Wagner family. A selfless gesture on the part of donor Kris Chung has resulted in lifelong friendships and opened the doors to helping more around the world.
The Wagners, who have five biological children and four adopted from Vietnam, adopted their twins Binh and Phuoc from Vietnam in 2012. Diagnosed with Alagille syndrome, both of the parents knew from the beginning that the twins would face many obstacles to their health.
Eventually, the couple was told that the girls would need a liver transplant to survive, and the twins were officially listed in December 2014. Michael volunteered for the operation but could only donate to one of the twins.
The Wagners eventually went public, and their story captured the hearts of people around the world. Johanne opened a Facebook page over Christmas break and by February the page had 10,000 likes. More than 600 people volunteered for the operation with Toronto General Hospital.
Michael was the first one to fax in his application and was a match. The surgery took place in Feb. 2015. Phuoc was chosen to receive Michael's liver, as she was deemed to be the sicker of the two.
After the success of that surgery, the Wagners continued to look for a donor for their second twin daughter. Only a few months later, Binh would have the lifesaving operation thanks to the selfless act of Kris Chung, 19, at the time anonymous to the family.
Kris, an officer cadet at the Royal Military College in Kingston, remembers in the first article he read about the Wagner's story, he saw a picture of the Wagners that touched his heart and inspired him to volunteer.
"Michael was on the stairs with all the kids and of course he was in his combat uniform, that told me he was military, and I think as a military community it's pretty much instinctive to help one another out. And I noticed a few of the kids were adopted and not biological and in my books that's a very respectful thing to do," said Kris.
Compelled by the plight of the twins and thinking "they'd never asked for this," Kris felt a sense of responsibility and volunteered to donate part of his liver.
Initially, he had to weigh the consequences of such a major procedure that would likely have an impact on his schooling but saving a life felt like "absolutely the right thing to do."
After making the shortlist and going through rounds of screenings and meeting with social workers and psychologists, Kris finally made it to the operating theatre for the transplant surgery in April 2015.
"I trusted the doctors, they've trained half of their lives to do this. They knew what they were doing, and they never had anyone pass away in their hands. They do two transplants on average a day, so I had a lot of trust in their abilities," said Kris who recalls not being nervous about the procedure and that he is "a lot calmer going on to the operating table than writing an exam."
Just hours after Kris' operation, Binh received the liver at the Toronto's Hospital for Sick Children. The surgery changed Binh's life forever.
"It meant the world to us. It's hard to imagine that somebody totally anonymous and unknown to us would be willing to do that. You can't even imagine who would actually do that," said Johanne.

Only weeks after the surgery, Johanne received an anonymous message on Facebook revealing the identity of Kris as the donor. She recalls being angry that someone would have broken that trust, and she quietly lived with the information for some time. However, Kris soon began posting comments and liking posts on the Facebook page setup for the twins' transplant. The two struck a conversation which turned into emails which turned into texts and one year after the surgery Kris finally asked Johanne if they wanted to meet in person.
"When we first met it was like meeting an old friend I hadn't seen in a long time. The conversation flowed very nicely, and it was very natural," recalled Johanne.
Johanne recalls that since Phuoc shared a physical piece of her father through his liver donation, she felt that something was missing when it came to Binh's donor and meeting Kris made things come full circle.
"I feel fulfilled because I always felt there was something missing. I felt there's a connection there and that person's missing…We could never have imagined this story turning out so nicely," noted Johanne.
Oddly enough, both Kris and Michael, who is a Major in the logistics trade, had never crossed paths at work or even knew of each other.
Since their first meeting, Kris has now become a member of the Wagner family, visiting the house nearly every day.
"I don't have younger siblings, so I guess Phuoc and Binh are my younger siblings. I don't second guess an opportunity to help around and lend a hand with things," stated Kris.
Johanne and Kris have also teamed up to establish Twins for Hope, an organization that aims to help impoverished children in Vietnam through access to healthcare and education. The Wagner family, including Kris, plans to visit Vietnam this December and lay the groundwork for their projects. They are hoping to raise $25,000 before their trip.
This will be the first time Binh and Phuoc visit their homeland since they moved to Canada.
The twins, now five years old, are doing much better starting to live life normally with no more feeding tubes and reduced medication.
After several months of recovery, Kris is also doing better now and is back at school. Reflecting on the last 16 months of his life, Kris says people always want to help one another but just need to find the time.
"If people take the time and look at themselves a little more honestly they can muster the energy to help others in any way whatsoever, it doesn't have to be something this big. I think being honest with oneself is a good start. This has confirmed for me, this is what I want to do. I hope it will be the start of more good things to come and allow me to be more honest about what I want from life," said Kris.
To donate to Twins for Hope visit the organizations GoFundMe page or to learn more visit their Facebook page.