Memory Project Contest Winners
Every year, students from across the country are encouraged to participate in the Grant McRae Commemorative Contest.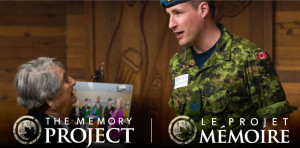 An initiative of the Memory Project, the contest is aimed at connecting Canadian youth to veterans by hosting Memory Project volunteers and thanking a veteran or currently serving Canadian Armed Forces member.
Entries can be in any art form from poems to videos to drawings.
The contest is named after Royal Canadian Air Force member Grant McRae, who enlisted in 1942 and trained on Lancaster Bombers as a bomb aimer.
Deadline for this year's contest was in February. A complete list of the winners is below:

We invite you to take a look at the submissions from contest winners online by clicking here.