Climbing Mount Everest and raising money for True Patriot Love
In 1953, Sir Edmund Hillary and Tenzing Norgay became the first recorded mountaineers to conquer the Everest summit. To honour the 65th anniversary of their Mount Everest trek, True Patriot Love (TPL) chose to also conquer the mountain's summit.
From April 1 to 18, 2018, a team of 17 climbers made up of ill and injured soldiers; civilians; and even Sir Edmund Hillary's son and two-time Everest conqueror, Peter Hillary, accepted the challenge and hiked to Everest Base Camp and Lobouche East. The purpose is to raise money for TPL. The team, along with TPL, collectively raised over $1 million from this expedition.
Laura Hearn, from True Patriot Love, said they put together these expeditions once, sometimes twice, a year and they've been doing them for a number of years since the organization began in 2009.
"In the past, we've gone to the North Pole, we've gone to Antarctica, we've gone across Canada. We always try and pick those locations that are really sort of exotic and 'bucket list,' once-in-a-lifetime places." said Hearn. "The intent of the expeditions is to pull together this team made of very diverse individuals and show everybody we're not that different after all, shine the light on some of the challenges that veterans face as they're transitioning to civilian and fundraise for True Patriot Love."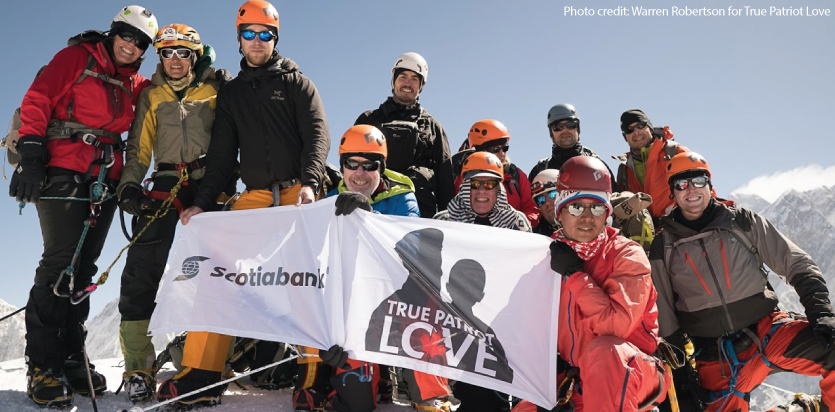 All the money raised through these expeditions, and other fundraising efforts, supports programs that TPL funds. The programs and services they fund, help soldiers, veterans and their families deal with the challenges that go along with the transition into civilian life.

"We have a dispersment advisory committee that's made up of experts from across the industry to help guide us and our board of directors in terms of the areas that, at this point in time require funding," said Hearn. "These are organizations, programs and services across Canada in the local community that are really making a tremendous impact in the lives of military families."
For the next expedition, Hearn said they're planning to go to Orizaba, Mexico. While there is a selection process in place for each excursion, anyone interested in a life-changing experience and raising money for TPL is welcomed to apply.
"Anyone who has the desire to support this important cause, the desire to raise for TPL, the desire to really help change the lives of these incredible men and women who have served. They are welcome to contact us as well and get more information on how to participate," said Hearn.
For more information on how to apply for the next expedition or to just learn more about the organization and the work they do, please visit their website www.truepatriotlove.com, or on their Facebook page.