Canadian Space Agency has chosen Canadian Armed Forces Fighter Pilot as newest astronaut
Out of an original pool of 3,772 candidates, a member of the Canadian Armed Forces (CAF) is one of two candidates who have been chosen as Canada's newest astronaut.
On Canada's 150th birthday, the Canadian Space Agency (CSA) announced that LCol.Joshua Kutryk, an experimental test pilot and a fighter pilot in the Royal Canadian Air Force, is one of the newest members of the Canadian astronaut corps.
"I feel two things: very happy, content, it's a dream come true and also very proud. Very proud. I was in Ottawa just a few days ago, and now I'm here at the Canadian Space Agency it's amazing," said Kutryk, in a CSA-arranged meet and greet with the new astronauts on July 4.
Originally from Fort Saskatchewan, Alberta, Kutryk has a bachelor in mechanical engineering and a master in defence studies from the Royal Military College in Kingston; a master in space studies from the Embry-Riddle Aeronautical University in Florida; and a master in flight test engineering from the United States Air Force's Air University in Alabama.
During his time in the CAF, Kutryk served for several years as a CF-18 fighter pilot with 425 Tactical Fighter Squadron in Bagotville, Quebec. During that time he flew missions in support of NATO, UN and NORAD commitments around the world. He has been deployed in both Libya and Afghanistan.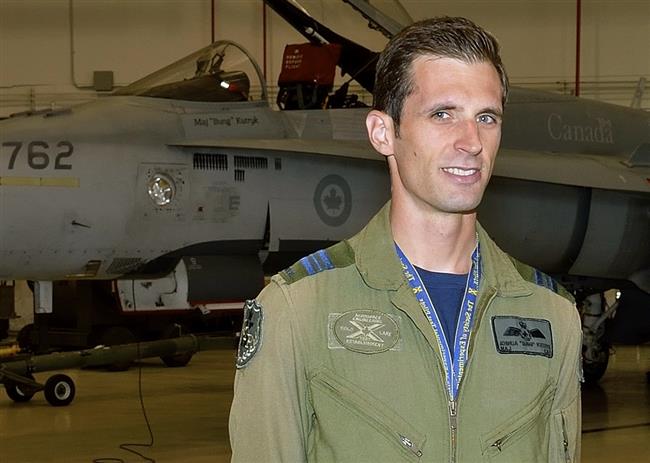 "As a test pilot, I had a job that combined two of my favourite things on a daily basis: engineering and high-performance flying. I like the challenges of testing new technical systems aboard high-performance jets, and I especially like the teamwork that goes into solving those challenges. I got to work with aerospace engineers, analysts, aircraft technicians, program managers and corporate executives, all with the goal of making the F-18 safer and more effective in its mission," said Kutryk about his job during the recruitment campaign.
Most recently he was based out of Cold Lake, AB and led the unit responsible for the operational flight-testing of fighter aircraft in Canada. He served as the officer in charge of fighter evaluations and was responsible for safely conducting the initial airborne evaluations of new technologies and systems on the CF-18.

In 2012, Kutryk received the prestigious Liethen-Tittle Award from the United States Air Force for being their top test pilot graduate.
This award had also been presented to Colonel Chris Hadfield in 1988.
Alongside Kutryk, Jennifer Sidey was also chosen by the Canadian Space Agency as Canada's newest astronaut. Sidey worked as a mechanical engineer, a combustion scientist and a lecturer at the Department of Engineering at the University of Cambridge in the United Kingdom (UK).
Sidey is originally from Calgary, AB and studied at McGill University and the University of Cambridge.