Canadian Armed Forces personnel test their mettle in Mountain Man and Iron Warrior
This year over 700 Canadian Armed Forces personnel tested their mettle by participating in the 2 Canadian Mechanized Brigade Group (CMBG) Iron Warrior competition and the 2019 Mountian Man Challenge organized by 1 CMBG.
Held on September 5 and 6 at Garrison Petawawa, Ont. over 450 Canadian Armed Forces members competed in this year's 2 CMBG Iron Warrior competition. While on August 29, 235 competitors raced through the Edmonton river valley in Alberta competing in the 2019 Mountain Man Challenge.
Both competitions began in the early hours of the morning, starting around 5 am and concluding when the final participant crosses the finish line, approximately 11 hours later.
https://www.facebook.com/GarrisonPetawawaGarnisonPetawawa/videos/529568147780046/
The competitions consist of a variety of mental and physical challenges and are gruelling as the Iron Warrior stretching over 50km with participants covering over 48km in the Mountain Man.
The Iron Warrior is the marquee event of the year in Petawawa. For the third year in a row Master Corporal Shane Stewart, serving with the 2 Battalion, The Royal Canadian Regiment, based in Gagetown, NB. took the top spot with the time 5:37.
Seasoned competitor Captain Charles Bowes completed his third Iron Warrior with the time of 7:29. Bowes currently serves at the 3rd Battalion, The Royal Canadian Regiment Capt. Although not having as much time to prepare as previous years, he was confident in finishing.
 "Ordinarily I'd start training in June, and give myself a good three months of preparation," says Bowes. "But this year my participation wasn't even confirmed until a couple of weeks before the race, so I only managed a couple of runs with my rucksack, and no time with the canoe whatsoever, portaging or paddling."
 He says in previous years he would have trained all three disciplines, ruck marching, paddling and portaging. 
 Bowes enjoyed the team spirit associated with the competition and the encouragement and togetherness among participants. 
 "It was special to have my wife and kids present this year to watch both at Jubilee Lodge for the end of the water portion and then at the finish line," says Bowes. "It was a first this year, and I hope they'll get to see me run it again." 
 He hopes to compete every year he has the opportunity, whether he's trained or not. He adds, "I've got times to beat."
  CFB Edmonton's annual Mountain Man race had competitors participate in a 29 km rucksack march, 3.2 km canoe portage, 11.2 km canoe paddle ending with another 4.8 km rucksack march.

 This year 235 competitors from Edmonton, Wainwright, Shilo, and B.C. raced through the Edmonton river valley finishing at Rundle Park.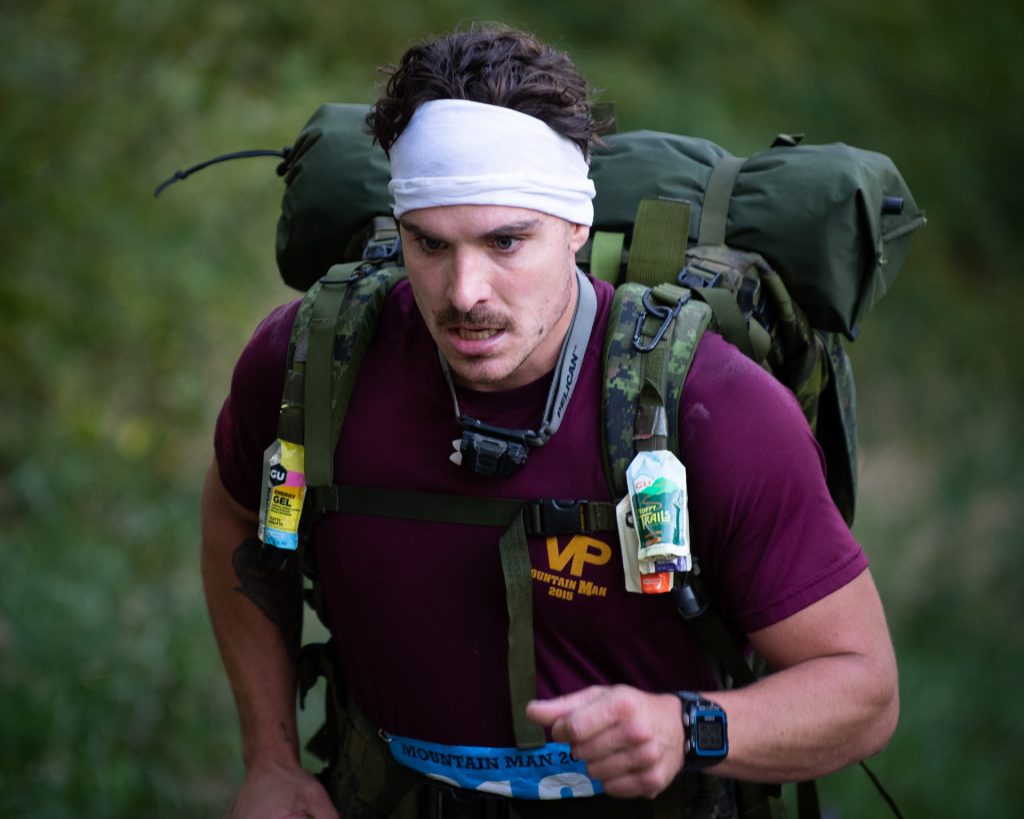 Cpl Nicolas Caselais, serving with the 2nd Battalion, Princess Patricia's Canadian Light Infantry set a new Mountain Man record this year, coming in at 4:58. 
 Similar to the Iron Warrior, Mountain Man challenges CAF members and test their fitness capabilities, most often pushing competitors to their limits.
 "Events like Ex MOUNTAIN MAN helps Canadian soldiers maintain the high standard of overall fitness that is an essential component of mission success, whether deployed overseas or on domestic operations anywhere in Canada. They also present an opportunity for our soldiers to demonstrate their fitness capabilities to Canadians in a venue that encourages public interaction," said Major Nathan Korpal, Mountain Man 2019 organizer.
 In both cases, many competitors, new and old, will plan out their training schedule for next year, in hopes to beat their previous time. 
 To see results for the Iron Warrior, visit here. 
To see results for Mountain Man visit here.