Canadian Armed Forces personnel play critical role providing assistance in New Brunswick after ice storm
After a major ice-storm hit parts of New Brunswick in late January, the Canadian Armed Forces (CAF) have played a crucial part in providing assistance in the province's relief effort in the hardest hit parts of the Acadian Peninsula, including the islands of Lamèque and Miscou.
"When large natural disasters strike, the Government of Canada works closely with the provinces and territories to assist Canadians during these difficult times. The Province of New Brunswick has acknowledged that while recovery operations continue, they have reached the point that emergency efforts can be managed with a reduced military presence and a phased reduction in the overall number of troops. On behalf of Canadians across the country, I thank all the Canadian Armed Forces members for supporting their fellow citizens through a perilous time," stated Minister of National Defence, Harjit Sajjan.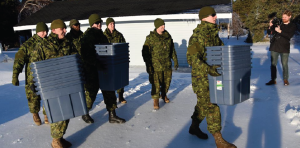 CAF members were first requested by the New Brunswick government on Jan. 27 to conduct a reconnaissance to determine how the CAF could assist in the efforts. Troops arrived within 24 hours.
Two days later, the province requested the presence of CAF soldiers to conduct a variety of tasks including delivering emergency supplies, assisting in re-establishing existing road networks, and supporting door-to-door residential wellbeing checks in the northeast of the province.
In just a matter of days, members have conducted over 5,400 door-to-door checks, assisted the province in distributing generators, fuel, firewood and water, and surveyed more than 1,100 km of roads.
To carry out their mission, a CP-140 Aurora Maritime Patrol Aircraft, based out of 14 Wing Greenwood, conducted an air mission to map and determine the extent of the damage to the area. A CH-146 Griffon, based at 403 Tactical Helicopter Squadron in Gagetown, was then used for air transport.

More than 200 CAF members from 5 Canadian Division Support Base (Gagetown) including 4 Artillery Regiment General Support and 4 Engineering Support Regiment, and 37 Canadian Brigade Group (Moncton) have been deployed to the affected area.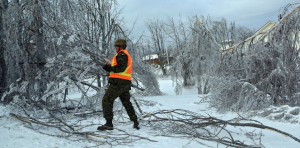 "I am very proud of the speed of response, professionalism, and effort provided by Canadian Army and Joint Task Force Atlantic members who worked seamlessly alongside federal, provincial and community partners to bring relief to the hard-hit Acadian Peninsula. The effect achieved highlights that we are always ready to support the safety of Canadians in times of need," stated RAdm. John Newton, Commander Joint Task Force Atlantic.
The Province of New Brunswick has announced that the remaining relief efforts are within provincial and municipal capabilities, and as such, the CAF will beginning drawing down military presence. The remaining military members will return home gradually as conditions improve.