2016 Invictus Games Opening Ceremonies Set to be a Spectacular Event
After months of anticipation and hype, the 2016 Invictus Games have finally arrived. From May 8 – 12, 500 competitors from 15 nations will meet in Orlando, Florida to prove the power of sport in recuperating from an illness or injury.
The only international adaptive sporting event for ill and injured soldier's, this year's Invictus Games feature 10 sporting events. Competitors will be taking part in archery, indoor rowing, powerlifting, road cycling, sitting volleyball, swimming, track and field, wheelchair basketball and wheelchair rugby.
Team Canada's 30 member team will be taking part in seven competitions. The team has been training for months and is comprised of soldiers of all ranks and jobs and various ailments and injuries. The team arrived in Orlando for the games on Wednesday, May 4.
"I'm looking forward to being able to share the stage with other brothers-in-arms from other countries that we've, obviously, served with overseas. It's always nice to meet other countries and other guys that were doing the same job as we were. That's what I'm looking most forward to, being there with the whole team and seeing them perform after all this time training," said Bruno Guevremont, Captain of Team Canada.
Invictus Games festivities will begin with the opening ceremony on May 8. The opening ceremonies will feature Academy Award-winning actor Morgan Freeman, actress Laura Wright, a performance by James Blunt and other surprise guests.
The opening ceremony lineup will also include military performances and stories from veterans and active serving members from around the world.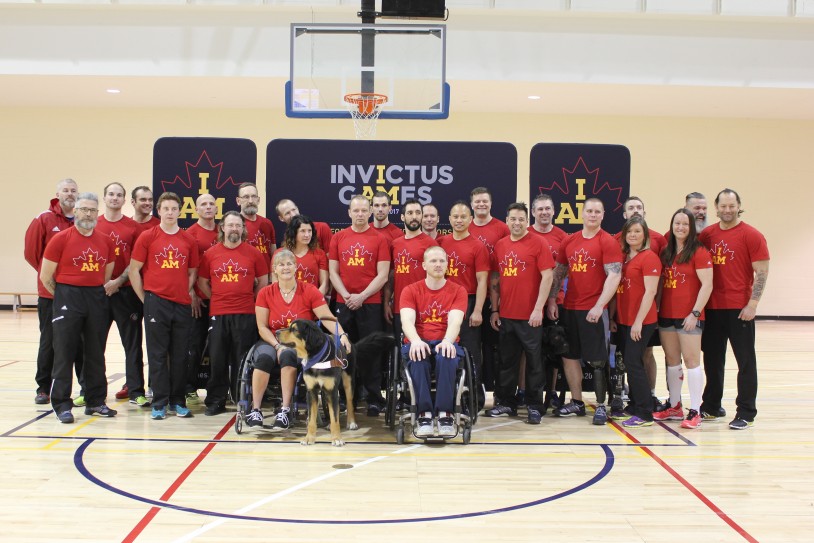 "The Opening Ceremony of the Invictus Games Orlando 2016 will be a spectacular event that reflects that awe-inspiring spirit and courage of the competitors, family, friends and care givers. With breath-taking military performances, stories of courage and musical acts that are unmatched, fans won't want to miss the epic display that will be put on at the Opening Ceremony and should buy their tickets now before they sell out," said Executive Producer of Invictus Games 2016 Sara Donaldson in a news release.
Canadians can tune in on TSN to catch live coverage of the Invictus Games, starting with the Opening Ceremony at 8 p.m. Sunday, May 8.
Prince Henry of Wales, founder of the games, is expected to be in attendance alongside First Lady Michelle Obama. The prince launched the Invictus Games after being inspired by his time in the military and the Warrior Games he attended in Colorado. The inaugural games were held in 2013 in London, England.
"They showed us the strength of the human spirit. They showed us that despite huge adversity the impossible was possible.  The Invictus spirit was born an unconquerable spirit of determination, camaraderie and service that I am incredibly proud to be part of," stated Prince Harry during his visit to Toronto last week.

The Orlando games have created a lot of buzz, with world leaders even getting into the competitive spirit. President Obama, Mrs. Obama, Prince Harry, the Queen and Prime Minister Justin Trudeau all have been "trash talking" each other since early last week.
The Obamas tweeted out a mic-drop video last week with the accompany message:
"Hey, @KensingtonRoyal! Are you ready for @InvictusOrlando? Game on."
The playful teasing resulted in a video tweet from Kensington Palace of the Prince and his grandmother, the Queen of England, firing back at the Obamas.
Not long after, Trudeau posted his own mic drop video alongside Canada's Invictus team. He posted the tweet stating:
"Dear @POTUS, @FLOTUS and @KensingtonRoyal – did someone say "bring it?" Canada's ready for @InvictusOrlando."
At the conclusion of the 2016 Games, the metaphoric torch will be passed to Toronto as the city prepares to host the 2017 Invictus Games from September 26 to 30.
The closing ceremony will be held on Thursday, May 12 at 7 p.m. and will feature performances by pop star Rachel Platten, country group Rascal Flatts, former American Idol winner Phillip Phillips and hip-hop artist Flo Rida.