Invictus flag a symbol of hope travelled around the world
The Invictus Games is about much more than just sport – it captures hearts, challenges minds, and changes lives. – Invictus Games Toronto 2017
On Friday, 22 September, the Invictus Games Flag arrived in Toronto and was raised in a ceremony in Nathan Phillips Square. The flag undertook a month-long journey that began in Kabul, Afghanistan, and Landstuhl, Germany, to make its way across Canada. Along the way, the flag was carried by over 150 flag bearers to 22 Canadian military bases, 15 Legions, and over 50 communities from Alert to Victoria to Halifax and Charlottetown to bring the Invictus story to Canadians.
HRH Prince Harry founded the Invictus Games after visiting the Warrior Games in the USA in 2013 as a means to recognize the experiences of wounded, ill, and injured soldiers and veterans as well as celebrate their achievements and new accomplishments through sports. The Invictus Games Toronto 2017 will host 17 nations contributing a total 550 competitors participating in 12 adaptive sports.
Launched in Afghanistan along with the Invictus Flame, Veteran and Ottawa Councillor Jody Mitic was on hand in his role as Invictus Ambassador.
"It makes sense that the Invictus Spirit Flame would be lit in Kabul. After all, this is where the lives of so many Canadian soldiers changed dramatically," Mitic wrote in a media release prior to the event.
The flag and flame then made their way to Landstuhl Regional Medical Centre, in Landstuhl, a key surgical treatment centre for wounded soldiers during the conflict in Afghanistan. Team Canada members Cpl. (retired) Chris Klodt, and co-captain Maj. Simon Mailloux were there to receive the flame as it arrived and to thank the medical staff at the hospital for saving their lives. They also were given a few moments to tour the Intensive Care Units (ICU) where they passed their stay when initially evacuated.
"For me, the return to Landstuhl is an opportunity to express my gratitude to the people who made it possible for me to make the flight home. Not only were they good to me but I am forever grateful for the way they cared for my family during such a horrific time," commented Cpl. (retired) Klodt at the time.
The Invictus Games are a step on the journey of recovery from wounds, injury, and illness as well as a moment of celebration on a road that includes recovery, rehabilitation, and reintegration into homes and communities. It is a passage filled with efforts and accomplishments that we want to share with you and with all Canadians.
Frazer Hadwin, a Senior Manager for the Invictus Games Toronto 2017, wrote about his experience for CMF Magazine, "During the Tour, I have met four Second World War veterans, and countless active duty and retired service personnel from other conflicts. I've met people who have overcome incredible tragedy, both physical and mental, and they shared their personal experiences with the power of sport, family, and community in their journey.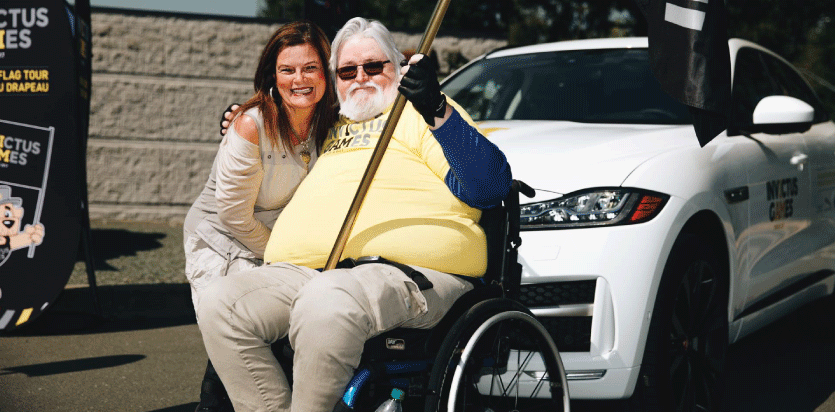 "There are so many incredible memories of the Tour; I've laughed with competitors, cried as I've listened to their stories and stood in awe of what they have accomplished on their journey. I've encouraged young people at each stop, to get to the Royal Canadian Legion, go to veterans events and talk to our veterans, learn from their stories, and understand what it means to stand together.
"Our service members, veterans and family – and family is incredibly important – have stood up for us, and this has been our opportunity to stand up for them."
Leah Cuffe, wife of competitor Mike Trauner and a member of the Invictus Military, Veterans, and Families Advisory Committee, followed her husband's development over the last year as he prepared for competition.
"The Invictus Journey with Mike has been inspiring to watch as well as his transformation," Cuffe reflects. "After spending two consecutive winters in the house recovering from two very extensive surgeries, as well as the transition from Military to civilian life these games could not have come at a more perfect time for him. The games gave him a purpose, a goal and most importantly the opportunity to Dawn the Maple Leaf again and represent his Country during this incredible experience."
Families and friends along the way on the Flag Tour have expressed their awe at the courage and determination shown by these newly formed athletes who are putting their finishing touches on preparations to compete at the Games. They are excited to share their pride in how far their competitors have come. And they invite Canadians to join in their hope that the Games will inspire others. Especially those looking for a way forward on their journey of recovery that each takes at their own pace and in their own way.
Celebrate with them. Competitors want Canadians to know that they are "still going above and beyond to represent and serve their country" in the way they best are able.