Graduating SAR Techs Take to the Skies
A dozen newly minted Royal Canadian Air Force's (RCAF) Search and Rescue Technicians (SAR Tech) parachuted into their graduation last week at 19 Wing Comox.
The grads took receipt of their SAR Wings marking the end of their intense occupation training. Typically, out of approximately 30 applicants, only 10 to 12 will be selected for the final course.
"This graduation is the culmination of 11 months of diverse training encompassing a variety of environments. From Resolute Bay, Nunavut to Eloy, Arizona, these candidates are exposed to any and all conditions they would be potentially exposed to within their respective SAR Readiness Regions," said Chief Warrant Officer Jeff Warden, Commander, Canadian Forces School of Search and Rescue (CFSSAR).
The 12 members of SAR Tech Course #48 have a wide range of previous military service including former infantry soldiers, combat engineers, firefighter, and medics.
SAR Technician training is run by the CFSSAR, located at 19 Wing Comox.
For Canadian Armed Forces (CAF) members aspiring to become SAR Technicians, they must first pass a rigorous pre-selection course located in Hinton and Jarvis Lake, Alberta, before attending the CFSSAR.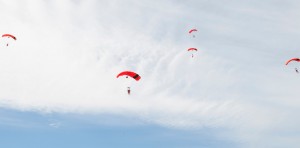 Brigadier-General Michel Lalumière, Director General Space and a former 19 Wing Commander, was the reviewing officer for the parade.
The CFSSAR prepares SAR Technician candidates to perform life-saving missions in rugged and remote locations while dealing with some of the harshest weather and environmental conditions Canada has to offer.
SAR Technicians are trained in a variety of disciplines, from serving as highly qualified first responders, to parachuting, scuba diving, and mountain climbing.

Each of the 12 SAR Tech graduates will soon be posted to one of the main RCAF Search and Rescue squadrons, 442 Transport and Rescue (T&R) Squadron, Comox; 413 T&R Sqn, Greenwood; 424 T&R Sqn Trenton; or  435 T&R Sqn, Winnipeg.
In Canada, search and rescue (SAR) is a shared responsibility among federal, provincial or territorial and municipal organizations, as well as air, ground and maritime volunteer SAR organizations. There is a distinct organizational difference between the responsibility for ground SAR (GSAR) and that of aeronautical and maritime SAR.
Due to its vast size and range of environments, the country relies on a diverse group of government, military, volunteer, academic and industry partners to provide overall SAR services to the Canadian public.
In addition to responding to SAR emergencies, the organizations also invest time and resources to help prevent incidents from occurring. United by the common theme of "working together to save lives," the collective work of these partners forms the backbone of Canada's National SAR Program (NSP).
According to the Government of Canada website the CAF have approximately 140 search and rescue technicians (SAR techs). The highly trained specialists provide advanced pre-hospital medical care and rescue for aviators, mariners and others in distress in remote or hard-to-reach areas. These men and women are trained to a primary-care paramedic national standard with additional advanced skills.
SAR techs are land and sea survival experts who specialize in rescue techniques, including Arctic rescue, parachuting, diving, mountain climbing and helicopter rescue.
Get More! Receive six issues of Canadian Military Family Magazine in your mail box for only $17.95! Click here to subscribe NOW!