Change of Command for Operation KOBOLD
Canada's contribution to the NATO-led peace-support operation in Kosovo, Operation KOBOLD, welcomed its new commander in a formal ceremony in Pristina, Kosovo on April 27.
LCol. Kenneth Mills assumed command from LCol. Simon Poudrier. The ceremony also marked the transition between Rotations 15 and 16 of Operation KOBOLD.
"I am honoured to command Canada's contribution to NATO's Kosovo Force. My team and I are enthusiastic about the opportunity to demonstrate Canada's continued commitment to our NATO partners and Allies in maintaining a safe and secure environment in this region of Eastern Europe," said LCol. Mills.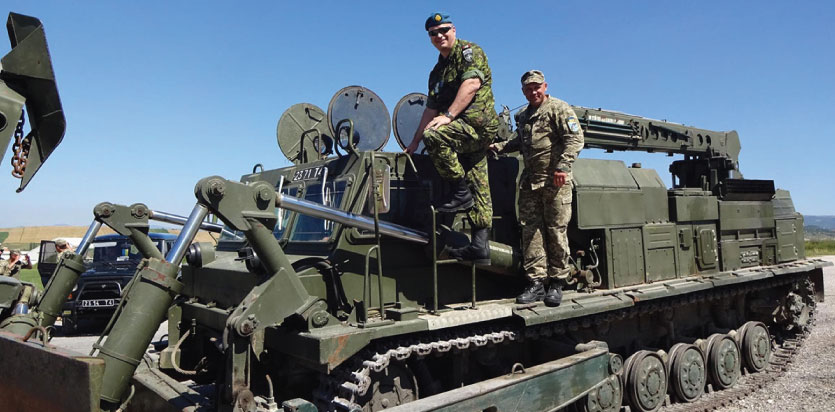 As commander of Task Force Pristina, Mills will command four Canadian Armed Forces (CAF) personnel who serve in a variety of staff roles at the Kosovo Force headquarters, including assisting the development of the Kosovo Security Force (KFOR), as well as coordinating logistical support for the NATO force.
The (KFOR) was established in June 1999 after the conclusion of NATO's 78-day air campaign, to end violence in Kosovo, against Slobodan Milosevic's regime.
As of Oct. 2016, KFOR consists of approximately 4,600 troops from 30 nations. It is organised as two multinational battle groups supported by a reserve battalion, a specialist unit, a joint logistics group, and a headquarters.

Canada has supported KFOR periodically since 1999, originally deploying a Task Force until June 2000 as part of Operation KINETIC.
Since August 2008, the CAF has committed staff officers to KFOR Headquarters.
"I am extremely proud to have led this team of professional and dedicated Canadian Armed Forces members over the past six months. I leave this mission with a great sense of accomplishment and I salute the achievements of the deployed personnel on Op KOBOLD in support of peace and security in the region," said LCol. Poudrier, Outgoing Commander, Task Force Pristina, Operation KOBOLD.