CAF welcomes CPO1 Gilles Grégoire: 14th CAF Chief Warrant Officer
On Sept. 3, 2020, the Change of Appointment ceremony between Chief Petty Officer 1st Class (CPO1) Gilles Grégoire and Chief Warrant Officer (CWO) Alain Guimond took place.
The Chief of the Defence Staff General (Gen) Jonathan Vance welcomed CPO1 Gilles Grégoire as he replaced CWO Alain Guimond as Canadian Armed Forces Chief Warrant Officer (CAF CWO).
General Vance presided over the ceremony with Lieutenant-General Mike Rouleau, Vice Chief of Defence Staff was present for the ceremony.
Streamed on Facebook, Gen Jonathan Vance thanked everyone for watching the ceremony and congratulated CWO Alain Guimond and CPO1 Gilles Grégoire.
"Chief Guimond, you've been a trusted advisor and tireless advocate for the wellbeing and professional development of Canada's sailors, soldiers, aviators, and special forces operators. You leave behind a legacy of enhanced professional development for non-commissioned members," stated General Vance.
CFCWO is a position created by the CDS to assist the CDS in his duties and advise him on all issues relating to non-commissioned members. The post was created in 1978.
CWO Guimond extended his congratulations to CPO1 Grégoire, and stated he is very proud, "The Chief of Defence Staff selected the right person. No doubt in my mind. Gilles, I just want to say that I am very proud of you, my friend, and you know it. I know you will keep pushing this forward as the Canadian Armed Forces Chief Warrant Officer. All Canadian Armed Forces members will be very well served."
CPO1 Gilles Grégoire promised to do everything in his power to make the organization help everyone, and to be the next generation and CAF of the future as Canada moves through these troubled times.
"As I move to my post as the 14th CAF Chief Warrant Officer, it will be my intention to support the exercise of command by shaping a strong Chief core, by making the senior NCO embrace the absolute nature of accountability and responsibility," says CPO1 Grégoire.
CFCWO is a position created by the CDS to assist the CDS in his duties and advise him on all issues relating to non-commissioned members. The post was created in 1978.
The CFCWO holds the substantive rank of Chief Warrant Officer (Army or Air Force) or Chief Petty Officer 1st Class (Navy). Even if the incumbent is a Chief Petty Officer, the appointment title does not change.
CPO1 Gilles Gregoire Welcomed as CF CWO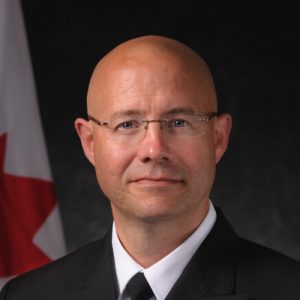 Over the course of his 30-year career, CPO1 Gilles Gregoire served aboard HMC Ships Terra Nove, Yukon Mackenzie, Annapolis, Fraser, Halifax, Ville de Quebec, St. Johns, and Toronto.
As part of an onshore posting in Campbellton, N.B., he served at the Canadian Forces Naval Engineering School with duties including Halifax-Class equipment instructor and senior instructor, and Naval Weapons Training Chief.

CPO1 Gregoire graduated from the Non-Commissioned Officer Executive Professional Development Program at the Royal Military College of Canada in 2013, where he earned a Military Studies certificate.
In 2014, CPO1 Grégoire was appointed Coxswain of HMCS Toronto, where he carried out his duties, supporting our NATO allies as part of Operation Reassurance.
Recently, CPO1 Grégoire served as CWO doe the Chief of Force Development organization in Halifax, a unit responsible for developing future capabilities required to produce strategically relevant, operationally responsive, and tactically decisive military forces.
CWO Alain Guimond to Retire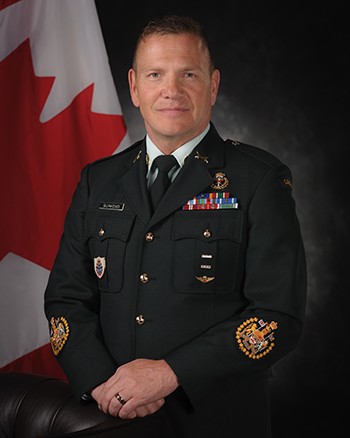 CWO Alain Guimond joined the Canadian Forces in September 1983 in Rimouski, Québec.
Throughout his career, CWO Guimond served at all ranks level from Sapper to CWO in Combat Engineer Regiments. He also served at the Canadian Forces School of Military Engineering (CFSME) Chilliwack, BC, and Canadian Forces Leadership and Recruit School as an instructor.
As Combat Engineer, he acquired the specialist qualifications of Combat Diver and Basic Parachutist. In 2008, CWO Guimond was selected as the Army representative on the yearlong Knowledge Acquisition Program at RMC Kingston, ON.
CWO Guimond is a graduate of the Officer Professional Military Education program (OPME) and was appointed to the Order of Military Merit in 2008.
CWO Guimond deployed to Bosnia with the 2 RCR battle group from October 1992 to May 1993.
In November 1993, he re-deployed to Bosnia with 12 RBC battle group, as a section commander, spending the majority of his tour in Srebrenica. Promoted to Warrant Officer in July 1996, he returned again to Bosnia as the Squadron Ops Warrant Officer.
In March 2002, he deployed for a fourth time to Bosnia as a Squadron Sergeant-Major with 2 R22R battle group. In 2009, while serving with LFDTS HQ in Kingston, he deployed to Kandahar, Afghanistan, as the Engineer Sergeant-Major, as well as, the RSM for Canadian Personnel H.Q. Regional Command (South).
In 2006, CWO Guimond was appointed as the 20th Regimental Sergeant Major of 5e Régiment du Génie de Combat Valcartier. In July 2010, he became the 2 Area Support Group Formation Sergeant-Major in Petawawa.
In June 2012, he was appointed LFCA/JTFC (4 Cdn Division) Sergeant Major in Toronto, and in June 2015, CWO Guimond started his journey as the 18th Canadian Army Sergeant-Major. The same year, Guimond was selected as the CFCWO.