CAF personnel works tirelessly during BC flood relief efforts
Currently, the Canadian Armed Forces have deployed over 340 service men and women to support the Province of British Columbia's flood relief efforts. Many of the service members have been sent from 1 Canadian Mechanized Brigade in Edmonton. They've been stationed in Vernon, BC, while they focus their efforts on the Okanagan area. 
On May 16, 2018, the Province of BC sent out a request for federal assistance. On that very evening, the CAF deployed about 140 personnel to begin working with the local emergency operations centres. This included staff from Joint Task Force Pacific and personnel from 3rd Canadian Division based in Edmonton.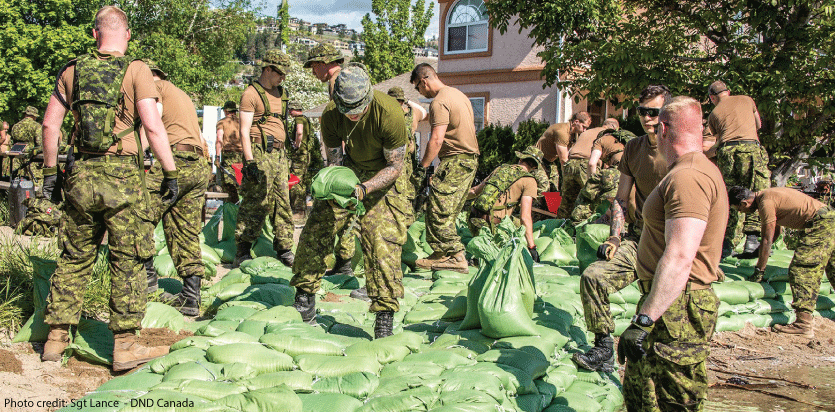 Two days later, 100 CAF members began sandbagging Kelowna, Penticton/Twin Lakes and Grand Forks. By evening, 80 other CAF members joined the effort in Grand Forks. The CAF members worked together and managed to lay an average of 250 to 300 sandbags per hour. In addition, the Land Task Force soldiers laid around 14,000 sandbags and 50 protective barriers.
CAF members working in West Kelowna have continued their support in the community of Green Bay with sandbagging, while other members were sent to Twin Lakes, West of Penticton to assess, monitor and reinforce a dike that had begun to fail. CAF members set up and operated pumps to help clear water beyond the dike.
The CAF has also been working alongside Emergency Management British Columbia (EMBC) in the Okanagan and Grand Forks regions, supporting the protection of key infrastructure in the area by sandbagging and building a temporary dike. 
The CAF continues to work with the provincial authorities to determine where the CAF will be most useful, while also closely monitoring the flood situation. 
Metrics as of May 20, 2018:

•    1 x site complete (Twin Lakes)
•    34,500 sandbags placed
•    50,000 sandbags filled
•    50 x protection barriers filled