COVID-19 Outbreak at CFB Petawawa
The Renfrew County and District Health Unit (RCDHU) investigated a possible exposure to COVID-19 during a field exercise at Garrison Petawawa on November 17.
Health Unit Release Warning
"Several individuals have tested positive for COVID-19 who attended a field exercise during their contagious period," an RCDHU informed press informed.
All Canadian Armed Forces (CAF) members who were at the field exercise have been told they should self-isolate and have been advised of their work and isolation responsibilities.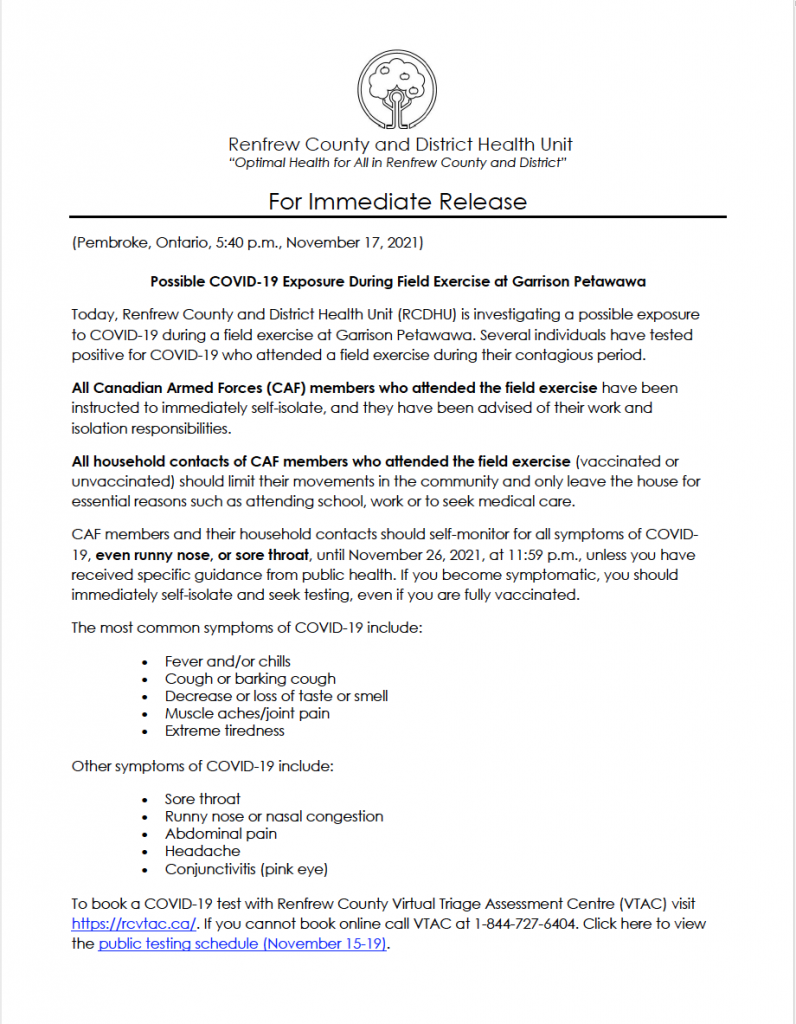 Media Release from Command Team
On Friday, November 19, 2021, the Garrison Petawawa command team Commander 4 Canadian Division Support Group (4CDSG)Colonel John Vass, Formation Sergeant Major 4CDSG Chief Warrant Officer Jack Durnford Commander 2 Canadian Mechanized Brigade Group (2CMBG) Colonel Eric Landry, and Brigade Sergeant Major 2CMBG Chief Warrant Officer Jeramie Leaman released a statement on social media regarding the COVID-19 outbreak.
The command teams stated, "a small group of positive cases were detected during a unit exercise in the training area. While we understand the potential concern, we would like to ensure all members that the situation is contained and the immediate action taken by the affected unit were effective in minimizing further spread."
"All affected members have been identified and are in isolation and are receiving appropriate support."
The social media post noted that Garrison remained open and operational, with no buildings or services affected by the outbreak other than those designated for quarantine and isolation.
The RCDHU advised any CAF members at the exercise and their families, vaccinated or unvaccinated, should only leave the house if absolutely necessary, such as going to school, working, or seeking medical care.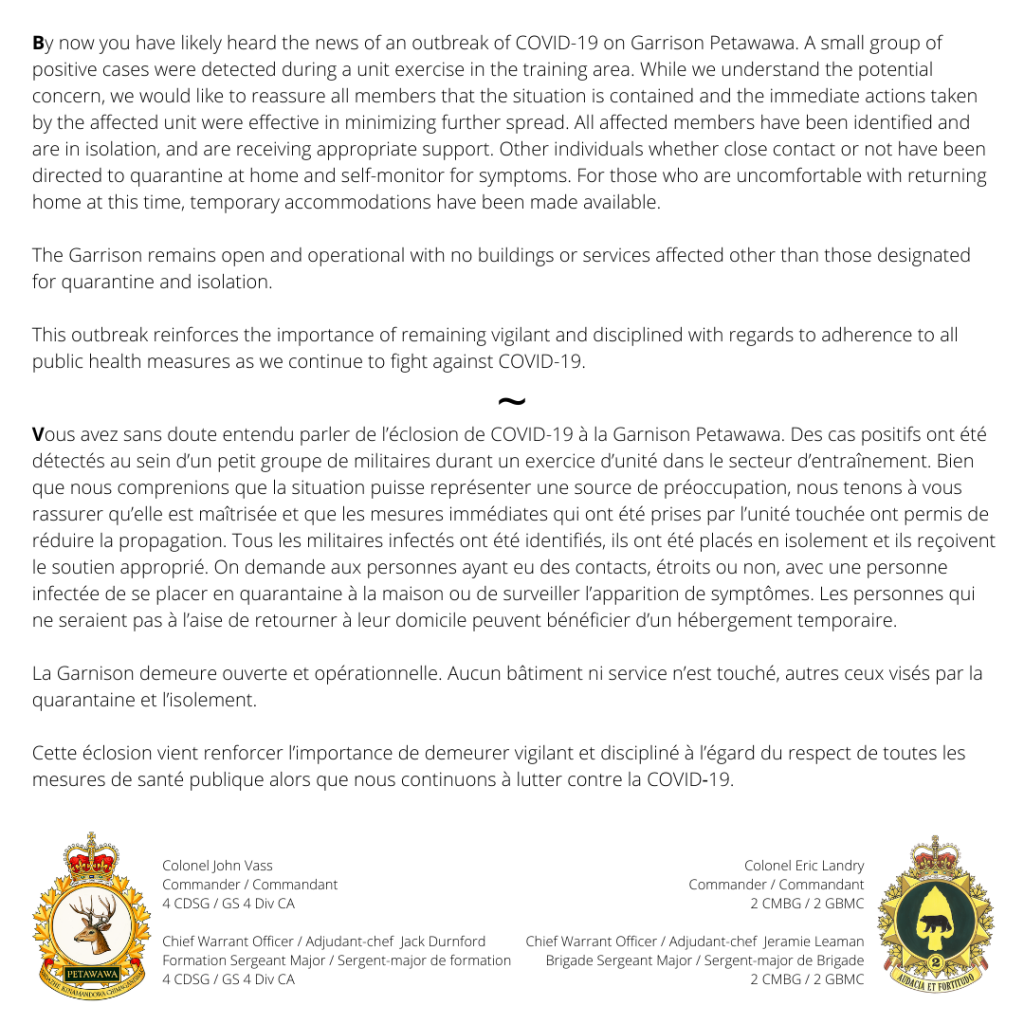 Monitor Symptoms Until November 26, 2021
The health unit said people should also monitor their symptoms until November 26, 2021, at 11:59 p.m., unless they receive specific guidance from public health. The press release also notes that if anyone becomes symptomatic, they should self-isolate and get tested, even if they're fully vaccinated.
The most common symptoms of COVID-19 include:
• Fever and/or chills
• Cough or barking cough
• Decrease or loss of taste or smell
• Muscle aches/joint pain
• Extreme tiredness
Other symptoms of COVID-19 include:
• Sore throat
• Runny nose or nasal congestion
• Abdominal pain
• Headache
• Conjunctivitis (pink eye)
Renfrew County Virtual Triage Assessment Centre
Anyone who needs or wants to book a COVID-19 test with Renfrew County Virtual Triage Assessment Centre (VTAC) visit here. or call VTAC at 1-844-727-6404.
To view the public testing schedule for November 15-19, visit here.
RCDHU is reminding residents to complete the COVID-19 self-assessment tool or COVID-19 school and childcare self-assessment tool daily before going to work, school or daycare, to monitor for symptoms and proper guidance.
For more information, visit RCDHU's website here. or call 613-732-3629 or 1-800-267-1097.