Leendert Bolle: Hero Dog Treats 
"I had a customer before I had a business."
That's a dream scenario for most entrepreneurs and for Leendert Bolle, it was the start of a brand new career. It was on his first day of leave from his job with the Canadian Special Operations Regiment in Petawawa that the wheels were set in motion for his transition into the world of entrepreneurship.
"A friend in the pet industry was having a hard time finding a pet treat to complement their raw dog food line. I was on leave…and I thought 'I can help'…I started researching online, and we brought the equipment home and I told my wife to take a picture because this is the future."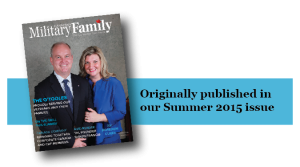 The year was 2012, and it was the launch of Hero Dog Treats, a line of dehydrated, single ingredient, human grade dog treats. It was also the launch of what would eventually become this father of three's new career.
"I was working full time in the Army for the first two years. I was working on the [treat] business before breakfast, during lunch, and after dinner. We kept our sanity by never working a Sunday, we would work until midnight Saturday, but not Sunday. Initially, I looked at it as a hobby, and for the first year we did it just like that.
After 16 years with the Canadian Forces, Leen decided to take his release and run Hero Dog Treats full time in 2014 when they received interest from a major distributor. A big help for him was taking part in the Prince's Operation Entrepreneur program which helps transitioning CAF members who are looking to start their own companies.
"I had applied online to partake in the entrepreneur course, P.O.E. changed my life. I was untrained in business, I read lots of books on business and entrepreneurship, but I didn't know what to draw from each book to apply it. P.O.E. put professors in front of me who had 40 years experience in their field. It helped me take all the information I read in the books and really laser focus it. I've seen an increase of sales over 400%."
With their wide range of products from deer antler, to bully sticks in close to 700 stores across Canada, Leen has also remained focused on giving back.
"Every package, all our literature has the Canadian Service Dog Foundation logo on there. We try to hire as many veterans as possible, it's a civilian environment with a bit of a military flare. We changed some of our packaging so that Community Living can package it."
When asked what has been the most challenging for Leen on this new adventure he talks about making those big commitments.

"I'm not an indecisive person, but I do find because I'm not traditionally trained as a business person, sometimes I have a hard time committing to a decision. When I do make one, I have to do it in small bites which makes it more manageable. It has to make sense for me, and for my family. I have lots of self-confidence, but I need to think of my family too. I don't just set a goal for myself, I set it for my team."
With his company growing and his community commitment strong, Leen is honoured to be one of two business owners selected by the Prince's Operation Entrepreneur to help launch their Australian program.
You can find Leen at www.herodogtreats.com
Boxed info
Training: Prince's Operation Entrepreneur Boot Camp, 13 Week Sales Training Course
Years in Business: 2.5
Best Advice: Commitment, self-confidence and having a daily practice of following through with your goals. Set a goal, start with the end in mind, and start chipping away at it. Take daily consistent action.
Laura Earl Middleton has worked in radio, television and print media for over 15 years. She is currently co-host of a syndicated morning radio show with MBC for myfmradio.ca. Laura is happy to use her experiences as a military spouse for her comedy show "I'm an Army Wife. Now What?" and thinks this latest move will make for some great content. Follow her on twitter @ArmyWifeNowWhat