It has been said love conquers all. In the case of British war bride Margaret Perkins Bristow Eaton truer words were never spoken. In 1944, her love for a young Canadian soldier was so strong she said goodbye to her family and her country to move to Canada, all the while not knowing if the soldier she loved was alive or dead.
In the summer of 1939 Margaret Perkins was 19 years old and working in a factory making shoeboxes.  She lived a simple life with her mother and grandfather on High Street in Rushden Northamptonshire, England.
"At that time we had the odd air raid and periodically the sirens would sound. Every now and then a couple of German bombs hit our town, but not our street.  There was a lot of damage, injuries and a couple of deaths. But that was our normal," said Marg.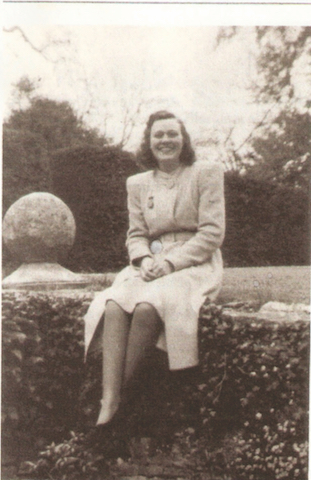 In of the fall of the same year, Bill Bristow lived in Blenheim, Ontario, Canada. The 19-year-old had just joined the Royal Canadian Regiment. Bill was in the 1 Division Canadian Army Advance Party arriving in England on December 17, 1939.
On a beautiful Sunday afternoon in May 1940, Marg met Bill at a band concert. The Division was billeted in private homes in Rushden. The pair sat and talked and made arrangements to see each other again.
"His birthday was October 14 and mine was October 17. He was 20 and I was 20. That seemed so romantic and important at the time, like we were meant to meet," laughed Marg.
Lance Corporal Bill Bristow was in Rushden for close two weeks when there were developments on the warfront. One morning the Canadians suddenly left.
"During the time Bill was in my town we met every day and saw each other as often as we could. So, in July when he came back on a 48-hour pass and asked me to marry him I said yes," said Marg.
Because the young couple was only 20 they needed permission to be married, Marg from her mother and Bill from his commanding officer.  They were thrilled when permission was granted and they made plans to marry that September. Marg's beloved grandfather gave her clothing coupons and she bought a white wedding dress with all the accessories.
However, the Battle of Britain threatened to spoil their plans. Life was hectic; leave was cancelled and Bill was called to duty. Letters were their only means of communication and they were not regular. Against the odds Marg obtained a marriage licence that carried an expiry date of October 31. When the day came and went with no sign of Bill she thought perhaps he had simply changed his mind, so she did not bother to renew the licence, as it cost money she did not have.
On the evening of Friday, November 1 a dirty and tired Bill showed up, and they were without a licence. It was the weekend, and the government office was closed.
"Then on Monday morning, when we finally had the paper in hand, we learned we had to wait 24 hours to be married, I suppose, in case we changed our minds. We held our breath thinking Bill would have to leave on short notice. Finally, we managed to be married on November 5, 1940. I was officially a war bride," said Marg.
Bill had a seven-day leave pass, but by the time they solved the license issues the newlyweds had only three days together as man and wife before Marg had to kiss her Canadian good-bye.
She recalls he was often away on duty, but they did spend that first Christmas together. Rabbits were not rationed in 1940, so Marg bought a rabbit.  She had never cooked one before and Bill had never eaten one, but they were together and that was all that mattered to them.
On January 21st, 1942 Marg gave birth to a daughter, Anne. Bill was not around, but he obtained a leave pass and came to see them. He was then away again, and Marg was left alone in their small house for the rest of the winter with just their tiny baby for company.
Their son John was born on Oct 28, 1943. Once again, Bill saw him the next day, when he was able to get into town.
Bill went to France with the Essex Scottish right after D-Day. He was Company Sergeant Major Bristow by this time.
"In July I received a telegram from the Canadian government saying Bill was missing and believed killed in action. I think you can imagine how I felt. In reality Bill had been captured in Caen, France. He was a prisoner of war, and I thought he was dead," said Marg.
The entire time Marg had been married to Bill, she had been corresponding with his mother and father in Canada. The day after they were married she sent the top tier of their wedding cake to his parents. Marg promised Bill if anything happened to him she would take the children and live with his parents in Canada, and if she did not like it she would return to England.

"It was probably September when we heard the most amazing news. Bill was alive and in Stalag IV-B.   We had been certain he was dead because another soldier from Bill's hometown had seen him covered in blood, laying in a ditch. But Bill had only been wounded, and the blood was not his own. By the time we heard he was alive his name was already on a commemorative plaque in the town square. He was listed as a fallen soldier, and I believe it's still there," explained Marg.
In spite of Bill being a prisoner of war and being held at a German prisoner of war camp, he and Marg did correspond to some extent. He sent mostly form letters. Marg did not think many of her letters were received, and guessed most of what Bill saw had been censored.  Eventually Bill ended up in Stalag XIIA, close to the Russian border and all correspondence stopped.
In December 1944, the Canadian government contacted Marg and told her arrangements were being made for her and the children to travel to Canada.
"I had to make the decision very quickly. I had no idea if Bill was alive or dead. I decided we would go to Canada. By this time I had a three-year-old and an 18 month-old. I wrote to Bill of my decision, but of course I never heard back," said Marg.
After she received the train tickets to go to Liverpool Marg said goodbye to her mother and her grandfather, knowing she would not see her dear 85-year-old grandfather again.  He died several months later.
The little family stayed overnight in Liverpool and the next day they boarded the Cunard Line RMS Franconia. The fully-appointed ocean liner had just returned from taking Churchill and Eisenhower to the Crimean Conference.
"We had two bunks, top and bottom.  I put the children at each end in the bottom bunk and slept on the top one.  The food was wonderful, things we hadn't seen for years and some we had never seen. We went in a convoy. There were U-Boats everywhere. At times we wondered if we would make it across," said Marg.
They docked at the famous Pier 21 in Halifax. From there, they boarded a train to Ontario.
"In Quebec we were held up as trains full of troops had to get past us. It was nighttime. We could see the lights of Quebec city in the distance. It was magical. We hadn't seen lights at night in years. We just sat looking out the train windows at those twinkling lights for hours. I was wishing Bill was there to see it with me," said Marg.
As it turned out, Bill had escaped from the prison camp just as the allied troops advanced. He wandered around for a couple of weeks with other prisoners.  He often told the story of eating raw turnips and potatoes in a field to survive. The Canadian soldiers were officially liberated on May 9, 1945, and the injured were taken to hospital in London.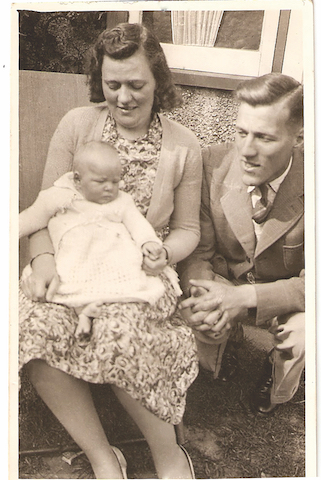 "He had not heard from me in a very long time. When he was well enough he got a pass from the hospital and traveled to Rushden looking for us. Imagine how he felt when he got off the bus and was told we were no longer in England anymore. His family had moved to Canada," said Marg.
Bill Bristow returned to Canada in August on the ocean liner SS Ile-de-France. He was finally reunited with his family, then spent three months in the Veterans Westminster Hospital before joining the Chatham, Ontario Police Force.
Bill suffered for the rest of his life from the effects of malnutrition and shrapnel in the shoulder.  He died in 1965 due to the injuries he sustained in the war. He was 45.
This past September Marg's in-depth understanding of the complexities of being a military spouse secured her an invitation to participate in Women and War, A Panel Discussion, presented by PeaceQuest in partnership with the Thousand Islands Playhouse in Gananoque, Ontario.
Margaret Perkins Bristow Eaton is 94 years old. She recently moved from her apartment into a retirement home. The vivacious war bride is active in her community, participates in public speaking events and Remembrance Day ceremonies in schools.
**This story was originally published in the Winter 2015 issue**