O'Toole and Lemieux, Veteran's Affairs New Dream Team?
Prime Minister Stephen Harper announced late last week Lt Col (ret'd) Pierre Lemieux, Parliamentary Secretary to the Minister of Agriculture, is the new Parliamentary Secretary to the Minister of Veteran's Affairs, Capt (ret'd) Erin O'Toole.
Lemieux was first named a parliamentary secretary in 2007.
"I am confident that Mr. Lemieux will address his new responsibilities with the same skill, energy and determination he has shown in his previous assignments. I am sure that he will further contribute to delivering results for Canadians on key priorities such as jobs, the economy, safe communities, and standing up for Canadian values at home and abroad," said Prime Minister Stephen Harper.
First elected to the House of Commons in 2006 Lemieux was re-elected in 2008 and 2011. Prior to today's appointment, he was Parliamentary Secretary to the Minister of Agriculture and Parliamentary Secretary for Official Languages.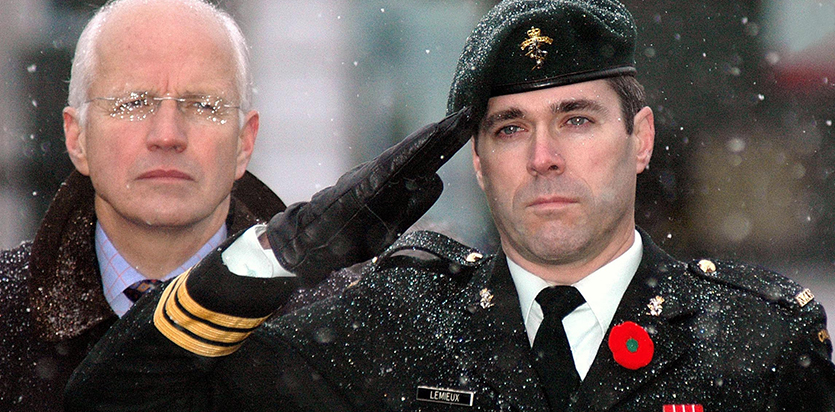 Mr. Lemieux began his career as an officer cadet in the Canadian Armed Forces where he served for 20 years before retiring at the rank of lieutenant-colonel. He is also a professional engineer and is certified with the Project Management Institute. After working as a manager in the high-tech sector, he started his own company, offering project management and consulting services.
In January 2006, Lemieux won the federal election and became a Member of Canada's 39th Parliament. In doing so, he broke a 124-year Liberal hold in the Russell portion of his riding, being the first Conservative MP elected in that region since 1882.

Mr. Lemieux is married and has five children.
"I am honoured to have been asked to be the Parliamentary Secretary of Veterans Affairs by Prime Minister Stephen Harper. Having served in the military for 20 years and being a veteran myself, I know the realities that veterans face. Much is being done for the brave men and women that have served our great country, and I am proud to have the opportunity to work alongside Minister O'Toole as we deliver important services to our veterans," Lemieux, MP Glengarry-Prescott-Russell.
Parliamentary secretaries are Members of Parliament who are appointed by the Governor in Council on the recommendation of the Prime Minister to assist cabinet ministers with their parliamentary duties. Under the direction of their ministers, parliamentary secretaries handle routine matters in the House of Commons, engage in committee work, and assume some extra-parliamentary responsibilities.
"Pierre began serving Canada in the Canadian Armed Forces and retired as a Lieutenant-Colonel before standing for public office. Both he and his family understand military life and the transition out of uniform. This direct experience will be invaluable as we continue to strengthen and evolve services for veterans and their families," said  O'Toole.
In the House, parliamentary secretaries help ministers maintain contacts with senators and other members of the House of Commons. They play a liaison role within the government caucus, particularly on matters regarding private Members' business. When the minister is away from the House, parliamentary secretaries may also be called upon to answer policy questions during Question Period.
Get More! Receive six issues of Canadian Military Family Magazine in your mail box for only $17.95! Click here to subscribe NOW!