As a freelance writer, Cyndi Mills, was looking for a magazine that published articles relevant to military families; however, she found none. With lots of ideas and a limited market Cyndi decided to create a magazine dedicated to military families. The magazine would feature articles that would empower, educate and enhance military families' lives.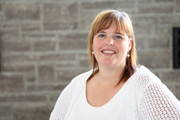 In June 2008 she mentioned her idea to fellow journalist Jill Kruse, who didn't think twice about being the managing editor. Cyndi approached Teresa Gamble, who also saw the need for a military lifestyle magazine, being a military brat as well as military spouse. She took on the project of designing, hosting and updating the website. Teresa introduced Cyndi to Lisa Twomey, a graphic designer, who jumped on board to be the art director.
Upon their first meeting, in September 2008, Lisa, Jill and Cyndi were in various stages of deployment. Lisa's husband would be coming home within weeks, Jill's husband had just left and Cyndi was preparing for her husband to be deployed. Lisa suggested that the magazine be called – Ubiquitous: existing or being everywhere in all places at the same time; omnipresent. It was a perfect word to describe military families.
The team held lunch meetings, evening meetings, late-night meetings and weekend meetings putting the magazine together. As the festive season approached the magazine was put on the backburner. The Twomey clan was readjusting to life as a family and Cyndi and Jill were supporting each other and their families through a Christmas deployment. Then December 27, 2008 happened.
It was on that day that Sgt Greg Kruse, Jill's husband, was killed by an IED in Afghanistan. Jill would bow out of her position as managing editor and focus on getting herself and her three daughters through the worst experience a military family member has to face. Lisa and Teresa would get Cyndi back on track with the project as Cyndi's husband was still in Afghanistan and she needed a distraction.
The trio were back at it. They were finishing up the tasks of developing the website and preparing for the launch of the magazine in spring 2010. The team is currently looking for people with a connection to the military to join their team in various positions.