COVID-19 Rundown, May 4th, 2020
On Monday, May 4th, 2020, Canada reported a total number of 60,772 coronavirus cases and 3,854 deaths, with more than 25,000 recovered patients.
In the last twenty-four hours, there were registered 1,298 new cases, which in comparison with last Friday, the daily number of the new COVID-19 cases dropped by approximately 450 positive tests.
At the news conference today, Prime Minister Justin Trudeau mentioned the virtual summit he attended together with other countries' leaders, its purpose being the coordination of the efforts put towards winning the battle with COVID-19. Canada's contribution to research and development of vaccines and treatments for the deadly respiratory virus is $850 million.
It was also announced the 75th anniversary of the Liberation of the Netherlands and Victory in Europe Day, for which the Prime Minister asked Canadians to join him at 2 p.m. E.T. for two minutes of silence on May 5, 2020, to commemorate those who suffered and fell through atrocities of war.
Also, on Sunday, Quebec public health officials announced that a computer error resulted in 1,317 missing positive COVID-19 cases between April 2-30. The missing cases were recorded on May 3, 2020, which showed a total of 2,070 cases for that day.
Above image: Dutch civilians and Canadian Army troops celebrating the Liberation 7 May, 1945, Utrecht, Netherlands. Image: Alexander M. Stirton. Canada Dept of National Defence/Library and Archives Canada/ PA-134377. Worldometer Coronavirus disease (COVID-19): Outbreak update courtesy of the Government of Canada. 
You can find below the provincial COVID-19 rundown:
British Columbia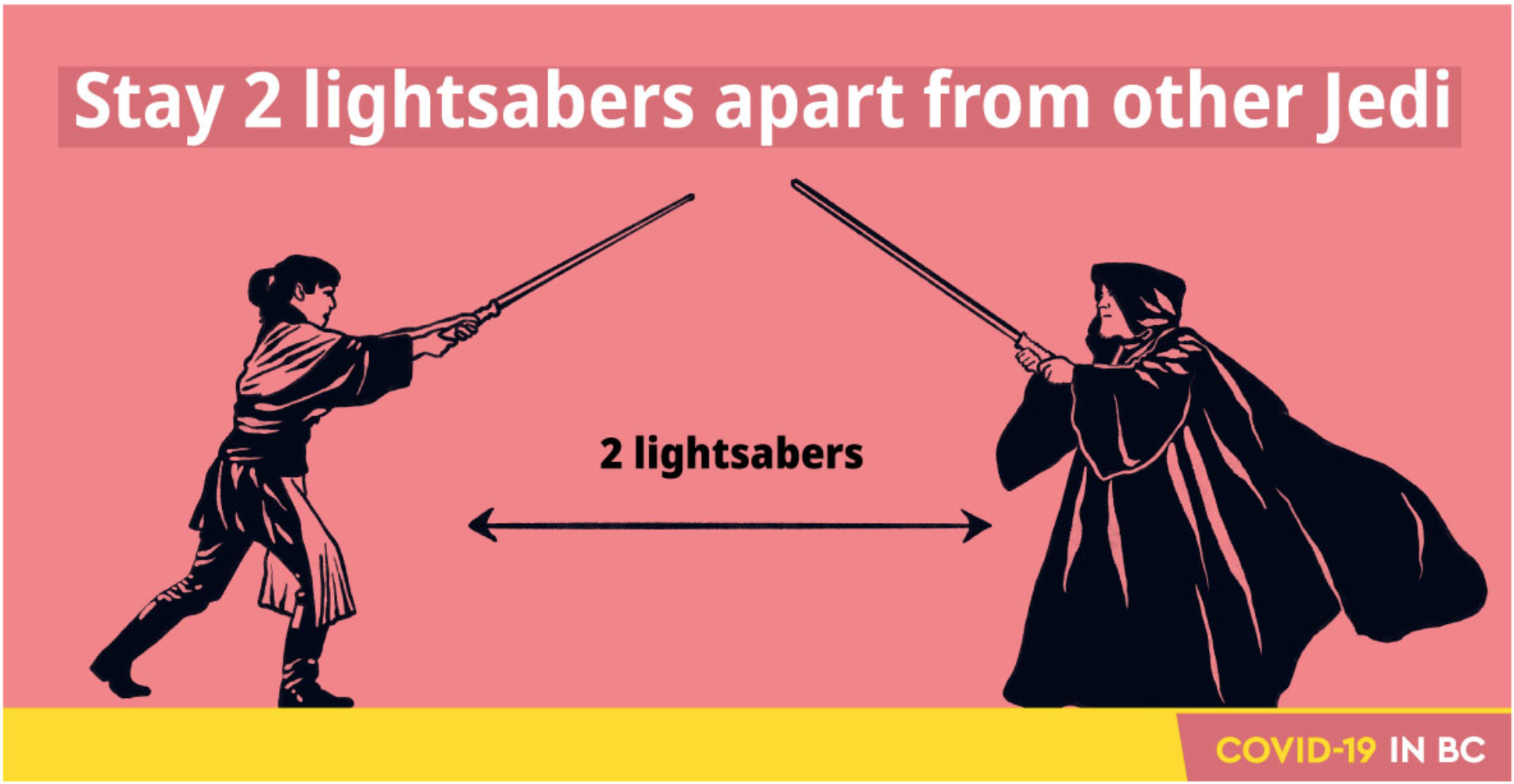 British Columbia's relatively stable number of new COVID-19 cases appears to be holding steady after 53 more were confirmed since Saturday (in two days), the total number of positive tests in B.C. now being 2,224.
The total number of deaths due to coronavirus in the province is 117, while there are currently 72 people in hospital and 23 people in intensive care.
There is one new community outbreak at Fraser Valley Specialty Poultry, where there are now three confirmed cases. There remain 53 cases associated with an outbreak at Superior Poultry, and 35 cases associated with an outbreak at United Poultry.
The Mission Correctional Institution now has 134 cases of Covid-19.
This week, the provincial government is expected to outline its plan to relax the rules put in place to combat COVID-19.
As of CBC News, nothing will "reopen" this week, and the changes won't take effect until the middle of May. The government won't be releasing a list of which stores should open. Instead, there will be guidelines for industries that were shut down because of the virus.
The focus of the plan will be on giving the public rules for how it can safely practice a "new normal" until a vaccine for COVID-19 is found.
TransLink announced today it would begin charging bus fares again and allowing front-door boarding on June 1.
"We've managed to find an innovative solution which ensures the safety of our bus operators, while also allowing for safe fare collection," TransLink CEO Kevin Desmond wrote in a statement.
Alberta
LIVE – update from @CMOH_Alberta Dr. Deena Hinshaw and officials on #COVID19 and the ongoing work to protect public health. The latest information is also available at https://t.co/sq9X3IfQFu #COVID19AB #flattenthecurve
https://t.co/vnKmYjEETd

— Alberta Government (@YourAlberta) May 4, 2020
By yesterday evening, Alberta registered 70 new cases of COVID-19, bringing the total number to 5,836. One more Albertan has died, bringing the total to 95 deaths. Recovered cases of COVID-19 are 2,713.
To date, 615 cases have been confirmed at continuing care facilities, and 67 residents at these facilities have died.
There are now changes to the nursing home regulations that will allow nurse practitioners to act as primary care providers in nursing homes, admitting and assessing residents, as well as offering follow-up care.
They will also enable nurse practitioners and other qualified health professionals to prescribe medication and order treatments in nursing homes, according to their scopes of practice.
The above changes will remain in effect until August 14, 2020, unless the ministerial order is terminated earlier or the public health emergency is reduced or extended.
The minister of Labour and Immigration Jason Copping issued a statement on the North American Occupational Safety and Health Week.
"May 3-9 marks North American Occupational Safety and Health Week. I encourage Albertans to focus on ways to prevent injury and illness in the workplace, at home and in the community", and "Let's work together to make sure Albertans can come home healthy and safe from their jobs each day," he said.
A request for proposal (RFP) has been issued for each of the five new school projects. Successful proponents are expected to be selected by early September, with construction beginning on school sites within a month of contracts being awarded.
These new school projects, valued at $100 million, will create 560 construction jobs for Albertans.
Saskatchewan
As of today, there are 12 new confirmed cases of COVID-19 in Saskatchewan, bringing the total to 433 reported cases.
The new cases are in the Far North (4), Saskatoon (4), and North (4) regions.
138 of cases are travel-related
176 are either contacts or linked to a mass gathering event
40 have no known exposures and
79 are under investigation by local public health
42 cases are healthcare workers, although the source of their infections may not be healthcare-related.
A total of 14 individuals are hospitalized, including 11 inpatient hospitalizations and three in ICU hospitalization.
By today, six Saskatchewan residents with COVID-19 have died. Saskatchewan now has a fatality rate of 1.4 per cent
A total of 305 individuals have recovered (70.4 per cent)
31,572 COVID-19 tests had been performed in Saskatchewan.
A Meadow Lake co-op employee tested positive for the virus, and the store closed for deep cleaning until Tuesday, according to a letter posted on the store's Facebook page.
Over the weekend, Métis Nation Saskatchewan said it would provide $1 million to help support the effort to contain COVID-19 in the province's north.
Manitoba
Public health officials advise no new cases of COVID-19 have been identified as of this morning. The total number of lab-confirmed positive and probable positive cases in Manitoba remains at 281.
The data also shows:
Five individuals are currently hospitalized, with no individuals in ICU
37 active cases and 238 individuals who have recovered from COVID-19;
The number of deaths due to COVID-19 remains at six.
As of yesterday, an additional 642 laboratory tests were performed. This brings the total number of tests performed since early February to 27,446.
All Manitobans returning to work are now eligible to access the temporary child-care system to find a location that meets their needs. Families can use the online tool at https://eswchildcare.ca/ to view available spaces and then contact centres directly to finalize arrangements.
The Manitoba government will have the financial capacity to continue increased spending to support critical front-line services in the fight against the COVID-19 pandemic, Finance Minister Scott Fielding announced today.
The support is expected to grow by more than $1 billion this year.
However, through these efforts by non-front-line care government departments and other public-sector organizations, 4.9 per cent of non-essential operating expenses and 2.2 per cent of non-essential workforce expenditures will be redirected to the front-line COVID response.
The province is expanding its partnership with InformNet to increase access to summer school programming for grade 9 to 12 students in Manitoba, Education Minister Kelvin Goertzen announced today.
InformNet is an online high school learning management system operated by the Pembina Trails and St. James-Assiniboia school divisions.
Student fees for summer school courses will be waived for 2020, and there will be no cap on enrolment.
Ontario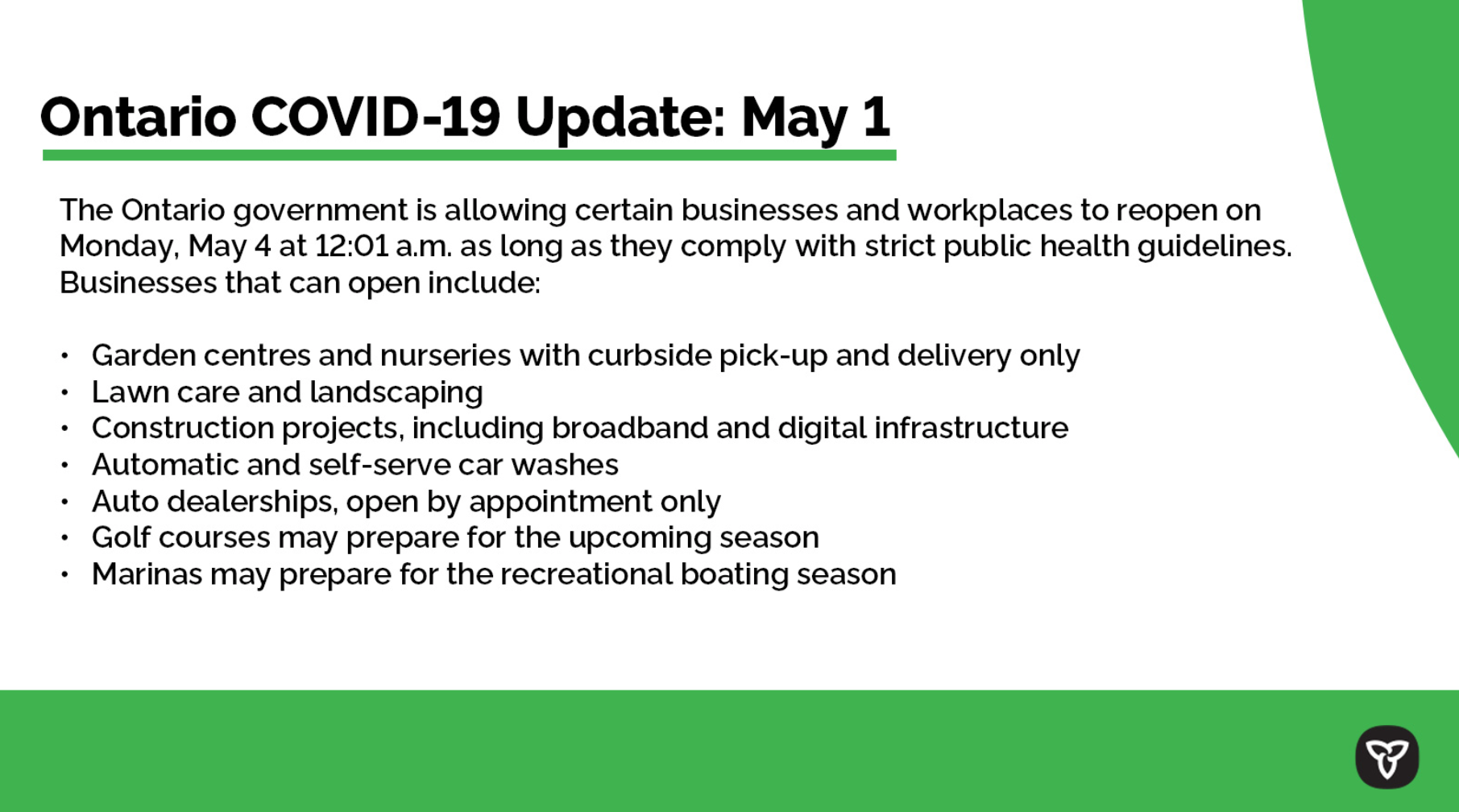 Premier Doug Ford said Ontario may be "getting close" to opening parks and more curbside pick-up retail options, as the province saw a drop in the number of new coronavirus cases to under 400 for only the second time since early April. Today's COVID-19 update reflects Premier Ford's optimism, with 370 new cases confirmed.
There were reported new 48 COVID-19 related deaths, bringing the total to 1,359.
There have now been 17,923 confirmed cases in the province, of which 12,505 COVID-19 cases are now considered resolved.
At this point, 984 patients are in hospital — a slight drop from yesterday's total of 1010. The number of patients in ICU also dropped slightly from 232 to 225. While those on ventilators stayed steady, increasing by one to 175.
The provincial government stated it is needed a steady drop in new confirmed cases for a two-to-four week period before embarking on the first phase of easing emergency measures.
Premier Doug Ford lauded the province for reaching its target of 16,000 tests per day ahead of schedule.
Quebec
Today Premier François Legault said that retail stores in Montreal and the surrounding areas would open on May 18, one week later than previously announced, citing high hospitalization rates.

The traffic restrictions were lifted in several regions earlier in the day, including the Laurentians, Lanaudière, and Chaudière-Appalaches.
As of Monday, there are 32,623 cases of COVID-19 in Quebec, an increase of 758 from the previous day. The island of Montreal accounts for about half of the total number of infections.
The majority of the 1,772 people hospitalized are in Montreal, according to Legault.
"We see that there are enough beds outside of the Greater Montreal area, but it remains very tight in Montreal," he said.
Air Canada said it lost $1.05 billion in its first quarter compared with a profit of $345 million in the same quarter last year as government-imposed travel restrictions around the world due to the novel coronavirus.
On May 15, 2020, there will be introduced mandatory temperature checks with infrared thermometers at all airports. The airline will also hand out personal care kits with disinfectant and block the sale of adjacent seats in economy class to increase physical distancing.
New Brunswick
A message from Premier Blaine Higgs. pic.twitter.com/OcwP92sKCs

— Government of NB (@Gov_NB) May 3, 2020
Public Health reported no new cases of COVD-19 in the province for the 16th consecutive day.
The number of confirmed and recovered cases in New Brunswick remains at 118.
Dr. Jennifer Russell, chief medical officer of health, said New Brunswickers must continue to stay at home, practice physical distancing, and wash their hands frequently to help slow the spread of the virus.
"Just because we have not detected new cases does not mean the virus is gone," said Russell.
A virtual job-matching platform called JobMatchNB was launched today to connect New Brunswickers with available positions. Employers can add jobs into the system, and they will appear on the site within a few days.
Nova Scotia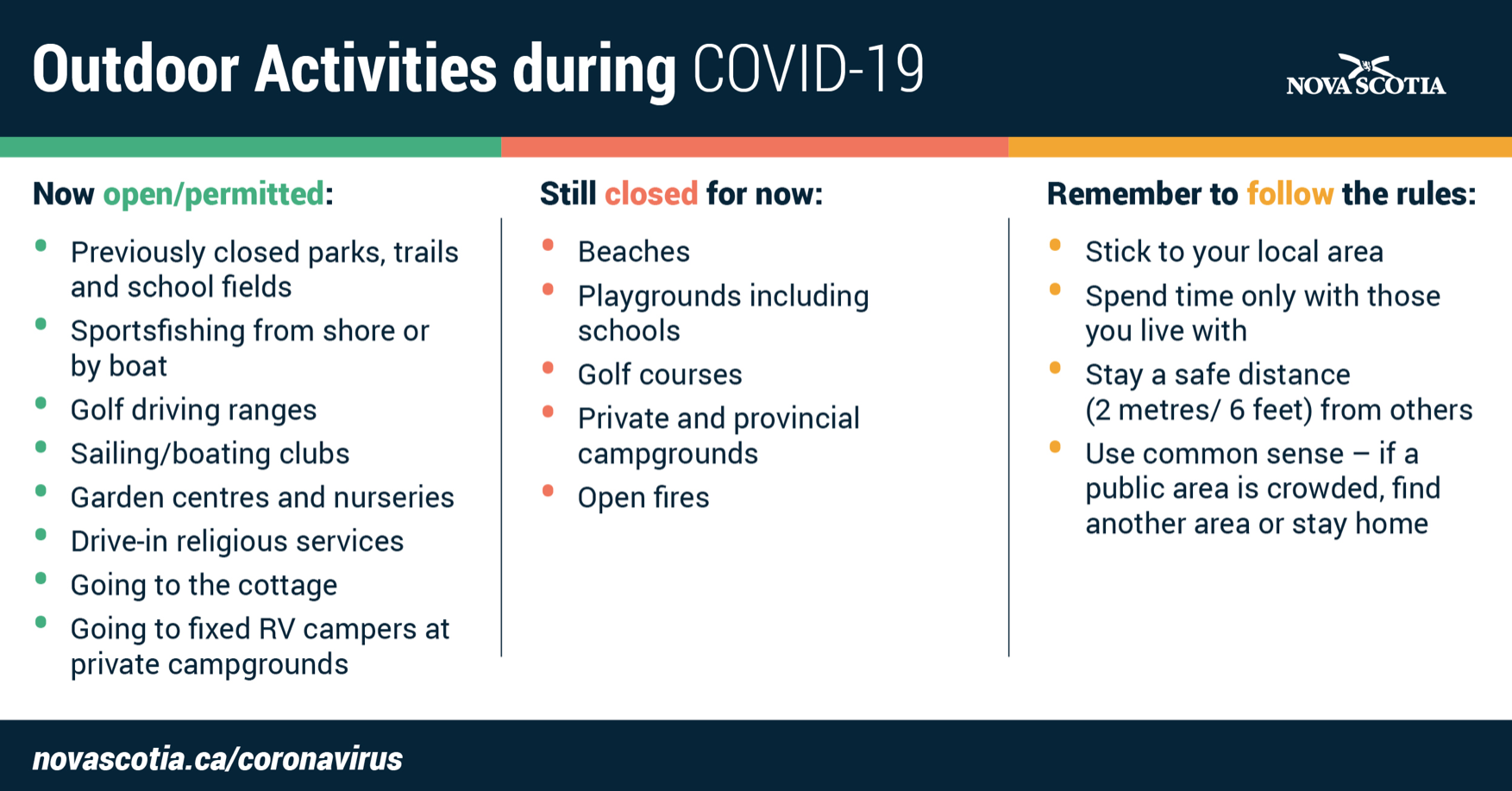 Nova Scotia reported one additional death related to COVID-19, bringing the total to 38. The death occurred at the Northwood long-term care home in Halifax Regional Municipality.
As of today, Nova Scotia has 985 confirmed cases of COVID-19. Fourteen new cases were identified Sunday, May 3.
"It is important everyone recognizes Nova Scotia continues to see new cases of COVID-19 – we are not out of the woods," said Dr. Robert Strang.
The QEII Health Sciences Centre's microbiology lab completed 455 Nova Scotia tests on May 3 and is operating 24-hours.
As of May 3, there were 10 licensed long-term care homes and unlicensed seniors' facilities in Nova Scotia with cases of COVID-19, involving 239 residents and 111 staff.
Six-hundred and thirty-eight individuals have now recovered, and their cases of COVID-19 are considered resolved.
The state of emergency was declared under the Emergency Management Act on March 22 and extended to May 17.
Prince Edward Island
As of today, there are 27 total coronavirus cases (including recovered cases) in PEI.
There are 245 recovered cases and 31 persons under investigation.
Premier Dennis King has issued a statement recognizing National Mental Health Week.
"Today marks the beginning of Canadian Mental Health Week and an opportunity to recognize how mental health affects all of us and what we can do to support each other (…) As a government, we are working on and investing in meaningful solutions to address the mental health needs of Islanders and providing care and supports just as we would for a more visible physical ailment", he said.
Newfoundland and Labrador
No new COVID-19 cases in Newfoundland and Labrador today.
The total number of confirmed cases in the province is now 259.
Four people are in hospital due to the virus. Of these patients, two are in ICU.
Two hundred and thirty- three people have recovered, but unfortunately, as of today, there have been three deaths from COVID-19.
To date, 8,961 people have been tested.
The residents of the province can now call the Provincial Government's 811 Healthline service to access information about food programs in their community, including referrals to food banks and meal programs.
Healthline operators can also refer callers who require additional support, such as help with an online grocery order or a meal delivery service, to the Community Food Helpline.
Yukon
As of today, 4th of May, 2020, Yukon has the following COVID-19 situation:
Total people tested: 1,023
Confirmed cases: 11
Recovered cases: 11
Negative results: 981
Pending results: 31
Yukon's aviation sector will receive $3.56 million in support to help compensate for lost revenues as a result of COVID-19.
Of this funding, $1.1 million will be directed to Air North over three months to ensure the continued operation of critical routes to the North. These routes ensure scheduled delivery of medical samples, supplies, and critical front line staff to Yukon.
Northwest Territories
The territory's last confirmed case was announced on April 5, related to an individual who had recently travelled to Latin America and immediately self-isolated upon return.
There are, so far, 1,812 completed tests, with 1,807 negative results.
Nunavut
Nunavut is back to having no cases of COVID-19 after the chief public health officer announced the one reported case from Pond Inlet was in fact a false positive.
"As there were no other positive COVID-19 tests in Pond Inlet," Dr. Michael Patterson said in a statement, "we decided to ask for the original swab to be re-tested and a new test was conducted in the days following Thursday's announcement."
Around the World
The World Health Organization (WHO) says it has received no evidence or data from the U.S. government to back up claims by President Donald Trump and Secretary of State Mike Pompeo that they have seen evidence the coronavirus has originated at a laboratory in the Chinese city of Wuhan.
"From our perspective, this remains speculative," WHO emergencies chief Dr. Michael Ryan said.
Even though Italy has seen almost 29,000 deaths from COVID-19, being the world's second-highest toll after the United States, today factories and building sites have opened, letting 4.5 million people return to work.
Prime Minister Boris Johnson, who has recovered from COVID-19, is expected to announce a further extension to its lockdown as the U.K.'s coronavirus-related death toll heads toward becoming Europe's highest.
The U.K. has 28,446 deaths, second in the continent to Italy.
Born out of a tragic loss of five firefighters in a wildfire in Victoria, Australia, since 1999, May 4th, became the International Firefighters' Day (IFFD). Today we honour the firefighters for their help and dedication towards the protection of life and property.
Thank you to the world's firefighters, my husband included, for all their efforts to keep our communities safe!
…
We must continue to take measures to stop the spread of COVID-19.
Working together to maintain social distancing and follow Public Health orders are the only ways to flatten the curve of the virus.
Stay safe!
For more information, access worldometer.com, canada.ca/coronavirus, and don't miss Prime Minister Justin Trudeau's daily briefing at 11.15 EST.