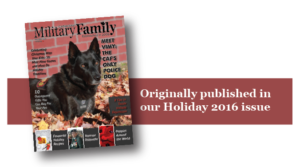 Poppies are a universal symbol of remembrance and sacrifice. Inspired by "In Flanders Fields," a poem written in 1915 by Canadian military doctor Lieutenant-Colonel John MaCrae, the tradition of wearing poppies to honour veterans carries on in different countries around the world.
Though the concept of wearing poppies is derived from the poem, where the small red flowers are described as one of the first signs of life after death, each country has tailored a unique design and so poppies differ from country to country.
The Royal British Legion adopted the poppy as a symbol of remembrance in 1921, as did several other countries including Canada, New Zealand, Australia and the United States..
Poppies are frequently sent to and worn by expatriates living in other countries in Europe and beyond. In recent years South Africa has experienced a rise with people wearing poppies.
Canada: Adopted in 1921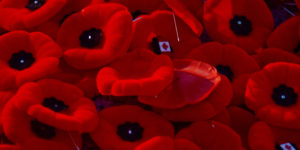 Sold by the Royal Canadian Legion, the Canadian poppy is made of moulded plastic covered in flocking. The red piece of the poppy contains indents to mark four petals and contains a black centre. Funds raised from the sales of the poppy are used to support veterans and family programs.
England, Wales and Northern Ireland: Adopted in 1921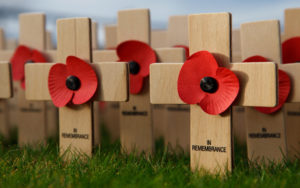 Produced by the Royal British Legion, the English poppy has two petals, a green leaf and a black centre. This version of the poppy is shipped out to many different countries where expatriates live.
Scotland: Adopted in 1921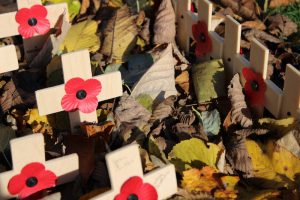 Made of paper with a plastic centre, the Scottish poppy has four petals and no green leaf. The green leaf was removed from the Scottish poppy to save money in order to direct more money towards veterans' programs. Image features Wooden Scottish crosses with Red poppies.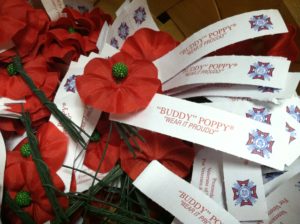 United States: Adopted in 1922
Though less common than in Commonwealth countries, the American crepe paper poppy is still used in the U.S. on Memorial Day, last Monday each May. It is not as commonly seen on Veterans' Day each Nov. 11.
Australia: Adopted in 1921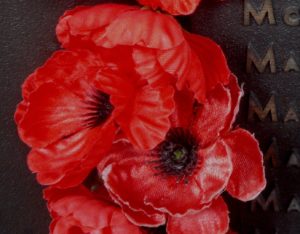 Distributed by The Returned and Services League, the Australian poppy is made out of cloth. They were originally made of silk in French orphanages and are distributed each Remembrance Day and Anzac Day, Apr. 25.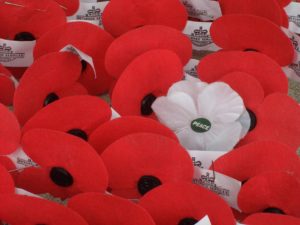 New Zealand: Adopted 1921
New Zealand's poppy is similar to Australia's in style and worn on Anzac Day as well, but is not as commonly seen on Remembrance Day. Today Poppy Day is celebrated each Friday before Anzac Day and poppies are frequently seen at the funerals of servicemen and women as well.