Park of Reflection Opens in Whitby
A monument and park dedicated to wounded Canadian veterans and other first responders injured in the line of duty opened in Whitby, Ontario on Saturday, November 1st 2014.
The Park of Reflection an initiative of Wounded Warriors Canada, was designed by Daimian Boyne, a Canadian Armed Forces veteran who served in Bosnia. It is 50 metres wide and has the capacity to seat 150 people.
The park represents the sacrifices made by those in uniform – including military, police, firefighters and their families. It symbolizes the first responder's journey back to health in the arms of their family and their community, and Canadian society's responsibility to the ill and injured.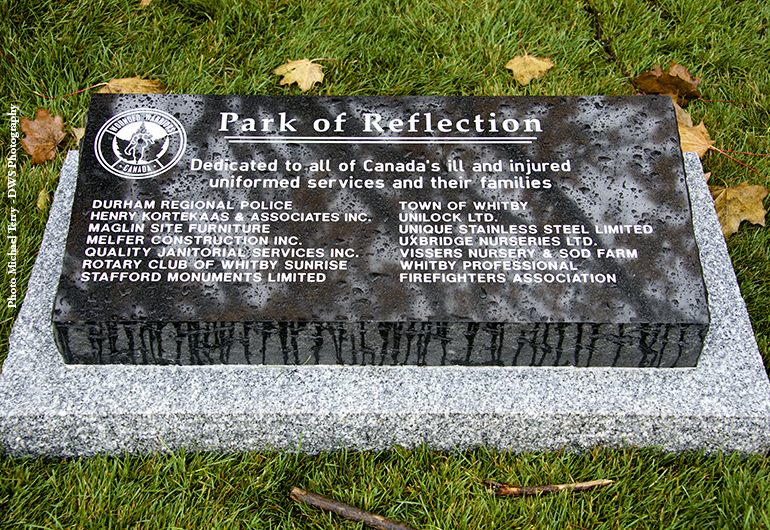 "We wanted the park to be a healing space where people could come together to show respect for the ill and injured and remember them. We are just thankful those injured people are still with us today," said Scott Maxwell, executive director, Wounded Warriors Canada.
The central feature of the park is a large sculpture depicting a first responder carrying a wounded comrade back to society to be cared for. Encircling the two figures are representations of children, dogs, family and community members.
Surrounding the monument is amphitheatre seating, a walking path and a healing garden. Tribute stones listing the names of the ill and injured make up a pathway through the park. The stones were sold as a fundraiser to support the construction of the park.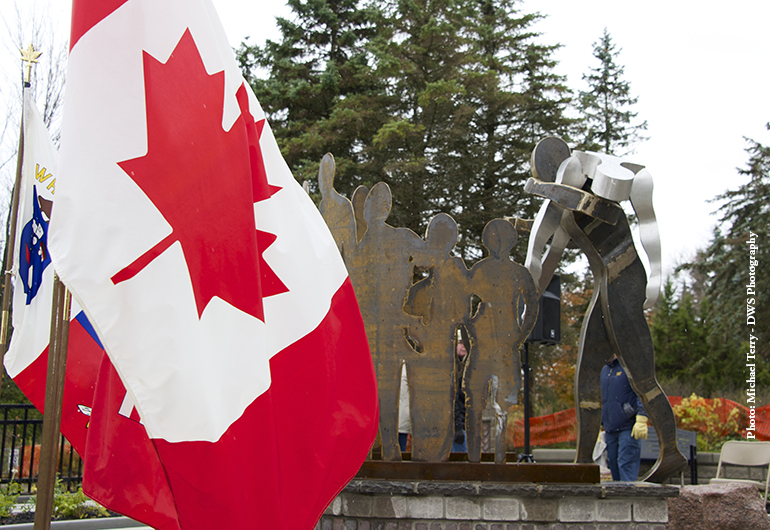 "Canadians are very good at honouring the fallen. This park is meant to remind society that people in uniform suffer injuries that you can't see. We wanted this park to and the people who use it to recognize those people, and the importance community plays in helping them recover," said Maxwell.
Meant to unify all first responders and their families the park was funded by corporate Canada and private donations. The first of its kind in Canada, Maxwell hopes the park will serve as an inspiration across the country and more parks will be developed.
Dozens of uniformed personnel, including military, police, firefighters and dignitaries attended the opening public ceremony that featured a marching band, speeches and a piper playing the Last Post.
Those interested in purchasing a $500 pathway stone can contact Daimian Boyne at [email protected].
For more information please visit www.woundedwarriors.ca.
Photos by Michael Terry – DWS Photography