Happy Valley-Goose Bay Street Named for Fallen Soldier
Family, friends and the community joined today for a very special dedication in honour of a fallen soldier, Corporal Kenneth Chad O'Quinn in Happy Valley – Goose Bay, Newfoundland.
Corporal O'Quinn Boulevard, the town's newest street, is one of the main throughways in Town Centre, just off Hamilton River Road.
"The Town of Happy Valley-Goose Bay is honoured to dedicate our newest street in the memory of Corporal Kenneth Chad O'Quinn," said Mayor Jamie Snook. "Corporal O'Quinn was a Labradorian and part of our community. Corporal O'Quinn Boulevard will be symbolic of heroism and our appreciation for the Canadian Armed Forces (CAF) for generations to come."
Born January 25, 1984, in Happy Valley – Goose Bay, Chad was the son of Kenneth and Rhonda (Decker) O'Quinn, and brother of Adam O'Quinn. Hearing a street was going to be named after their son was entirely different than watching the actual unveiling. Kenneth and Rhonda found the event to be very emotional. As parents seeing their son's name on a sign solidified that he is gone and never coming back, but it was also a new beginning.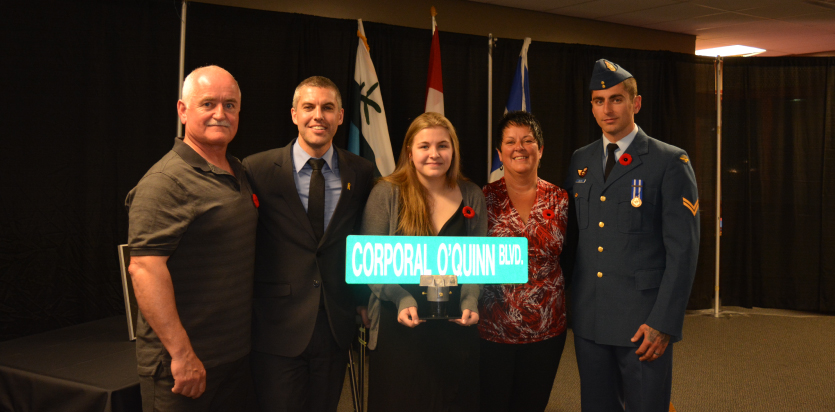 "It's actually a main boulevard, the first for the town. Because it's a boulevard many streets will run from it. It will be busy and have a purpose. He's smilin' hard right now," said Ken of his son Chad. "He was a charismatic person. When he walked in a room everyone knew who he was within five minutes, but this would have overwhelmed him"

Cpl. O'Quinn was an Improvised Explosive Device specialist stationed at Canadian Forces Base Gagetown in New Brunswick. A member of the Signals Branch, he was a dedicated soldier who believed in the value of his contribution to the mission in Afghanistan.
At the age of 25, Cpl. O'Quinn was killed in the line of duty while serving in Afghanistan on March 3, 2009. Cpl. O'Quinn, along with Cpl. Danny Oliver Fortin and Warrant Officer Dennis Brown died when a roadside bomb exploded near a patrol northwest of Kandahar City.
"The best part of them naming the street after Chad is that it brings the community back together with the base. The number of people posted to the base has dwindled over the years. Because they used Chad's rank in the name it will remind people the military community lives right there with them," said Rhonda.
Chad's parents remember him as a great individual who took tremendous pride in being a member of the CAF. A loving son, he cherished his family. Throughout his two tours in Afghanistan, he telephoned, emailed and messaged his family each and every day. Chad highly valued his faith, his health and loved ones. He challenged life and encouraged others to do the same.