Canadian Hero Vickers Takes Flight With Snowbirds
The Snowbirds, the Canadian Armed Force's (CAF) famous aerobatics team, performed their annual Canada Day flypast over Parliament Hill in Ottawa yesterday with a special guest on board.
This year, they had the privilege of flying Ambassador Kevin Vickers, Ambassador of Canada to Ireland.
"Flying with the Canadian Forces Snowbirds was an exceptional experience. We are lucky to have such a professional group representing our country across North America. I am proud to be Canadian and to share this day with so many Canadians," said Ambassador Kevin Vickers, ambassador of Canada to Ireland.
A former Sergeant at Arms, Vickers became known to all Canadians when he ended the October 22, 2014, shootings on Parliament Hill.
Vickers killed the gunman who was exchanging gunfire with security personnel in the Centre Block of the Canadian parliamentary complex just minutes after the gunman killed Corporal Nathan Cirillo at the foot of the National War Memorial.
Ambassador Vickers was selected for his profound leadership and dedication to the security of Canada and its national institutions.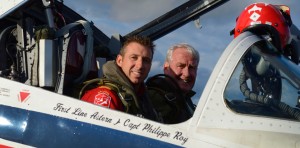 Vickers was appointed as the Ambassador of Canada to Ireland in January 2015. He previously served as the Sergeant-at-Arms of the House of Commons from 2006-2015.

The 431 Air Demonstration Squadron is made up of 80 serving members of the Canadian Armed Forces. The Air Display Flight is made up of 24 members; nine show pilots, two coordinators, one public affairs officer, and 12 technicians who travel across North America bringing the show to audiences young and old.
"It was an absolute honour having Ambassador Kevin Vickers fly in our formation this Canada Day. Like so many Canadians, he is a reflection of our core values of skill, professionalism and teamwork," said Major Patrick Gobeil, Snowbird 1, Team Lead, 431 Air Demonstration Squadron.
As proud ambassadors of the Canadian Armed Forces, the CF Snowbirds represent the skill, professionalism and teamwork of all the men and women in Canada's military.
In 2015, the CF Snowbirds are commemorating the 75th anniversary of the Battle of Britain and also celebrating their 45th season. Artwork commemorating these milestones is featured on the CT-114 Tutors flown by the Squadron.
The CF Snowbirds have a tradition of flying remarkable Canadians over Parliament Hill on Canada Day.
Get More! Receive six issues of Canadian Military Family Magazine in your mail box for only $17.95! Click here to subscribe NOW!