Jody Mitic faces his toughest task with his new book Unflinching: The Making of a Canadian Sniper
Jody Mitic faces his toughest task with his new book Unflinching: The Making of a Canadian Sniper
Hailed by General Rick Hillier as "raw, personal, unforgiving and unrelenting," Unflinching: The Making of a Canadian Sniper is the captivating story of Jody Mitic, a twenty-year veteran recounting his journey into the Canadian Armed Forces and the fateful night in 2007 that forever changed him.
Mitic first started putting his story to paper in 2007, encouraged by friends and family, but quickly realized the task was much more difficult than expected. But more than eight years after stepping onto a land mine that caused him to lose both of his legs, Mitic realized that writing this book was important for his daughters and himself to bring his journey to a full circle.
"It was always there and the older I got, the longer I was dealing with the injury and the more that people kept saying 'write a book, write a book' I felt like it was something I should do," explained Mitic.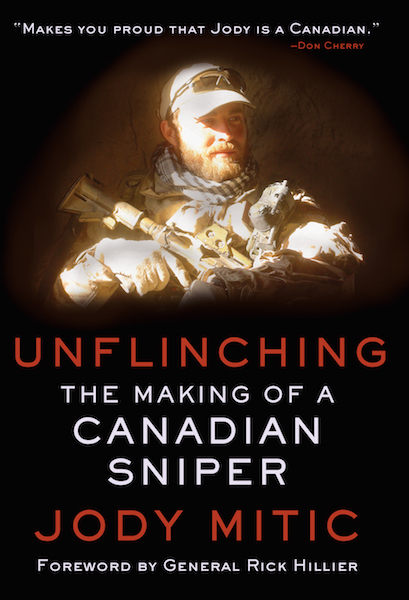 Taking on many challenges head-on since the accident that took place while he was on tour in Afghanistan, Mitic found writing the book to be one of the hardest things he's done.
"It was great and tough at the same time. I cried probably a hundred times while writing the book. It's the hardest thing I've ever done including going to sniper school and basic training. I'd do that ten times before writing another book about myself. It's about you and the moments you've done things you regret and the moments you felt proud of yourself and also being a military man we're a team focused group. Stories are often told from the perspective of us as a team and not me. And that was one of the hardest things..," described Mitic.
With the Sept. 8 book launch fast approaching, Mitic is both excited and nervous to share his work.

"You know that feeling when you're going up a rollers coaster and at first you're like 'oh yeah this is going to be good' and then you get closer and closer to the top and now I'm at the point where I'm just about to tip over and be scared out of your wits. It's one thing to get praise out of the people who know me and like me but now the rest of the world gets to see my story.  At the same time I'm extremely proud and excited," said Mitic.
On Sep. 10 Mitic will make an appearance at the Ottawa International Writers Festival. The event will be held at the Canadian War Museum, and admission to the event is free. He will also attend the Winnipeg International Writers Festival later this month.
"This is a whole new world from me. It's different from the Amazing Race it's different from being in politics it's different from being a sniper. This is the anti-sniper thing to do-write a book. But you know it's part of me growing into who I am now since I stepped onto that mine and I hope everyone enjoys it," said Mitic.
For more information about the book you can visit unflinchingbook.ca or follow Jody Mitic on Twitter @JodyMitic and Facebook.
Get More! Receive six issues of Canadian Military Family Magazine in your mail box for only $17.95! Click here to subscribe NOW!