Wreaths Across Canada Seeking Volunteers
Above image: Left, Wreaths Across Canada founder Warrant Officer (ret'd) Craig McPhee. Right, National Military Cemetery at Beechwood after wreaths have been laid. 
Wreaths Across Canada is back with a mission to lay over 4,000 wreaths on the headstones of Canadian military personnel this holiday season.
The organization hosted its first wreath decorating event last Sunday in Ottawa at the Memorial Cross Building on Beechwood Cemetery grounds.
Founder Passed Away
Along with remembering Canadian Armed Forces service members, the organization will also remember the organization's founder, Warrant Officer (ret'd) Craig McPhee, as he passed away in October.
"While we are excited to be back for another year," said Cyndi Mills, Wreaths Across Canada president. "It is also sad as Craig is no longer with us. He was very passionate about this project, and the organization is committed to continuing what he started."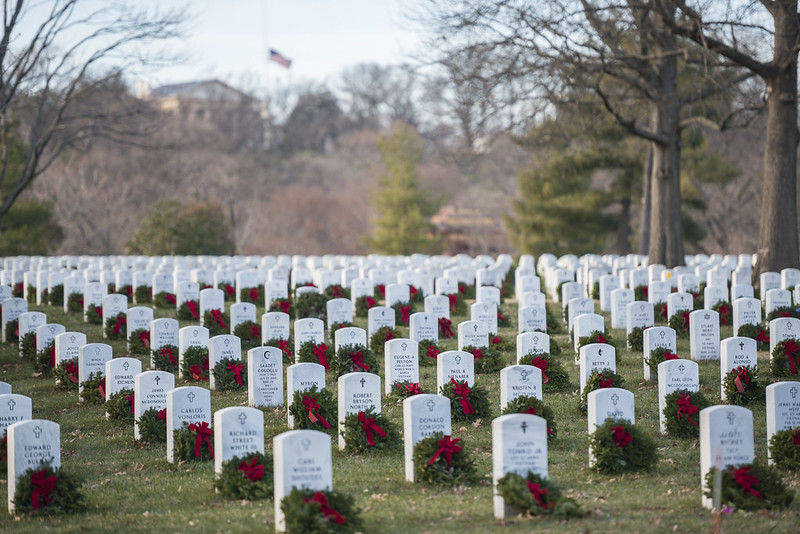 After seeing the wreaths laid on the headstones of service members at the military cemetery in Arlington, VA, in 2007, McPhee returned to Canada resolved to do something similar for Canadian service members. He created the charity, Wreaths Across Canada and they successful held ceremonies across the country.
A Few Setbacks
However, the charity hit a few road bumps in the last few years.
Hosting its first ceremony in 2011, Wreaths Across Canada grew, and at its peak held ceremonies and laid wreaths in four provinces and five cemeteries. However, due to illness and financial issues, the organization stopped in 2018. Then in 2021, with a new board, Wreaths Across Canada returned, only to have 3,000 of their wreaths stolen.

This year, courtesy of Sunbelt Rentals, the wreaths are safely locked away in sea-can on the Beechwood Cemetery property.
Two More Wreath Decorating Events
The organization is hosting two more wreath decorating events over the next two Sundays from 10 a.m. to 4 p.m. at the Memorial Cross Building.
"We had over 15 volunteers come on on Nov. 13. In that time, we were able to assemble 500 wreaths, so we have a little ways to go to reach 4,000," said Mills. "Attending the decorating events is a great way to kick off the holiday season. With Christmas music playing we have snacks, great conversations, and military and community members sharing memories, all with the sweet scent of spruce in the air."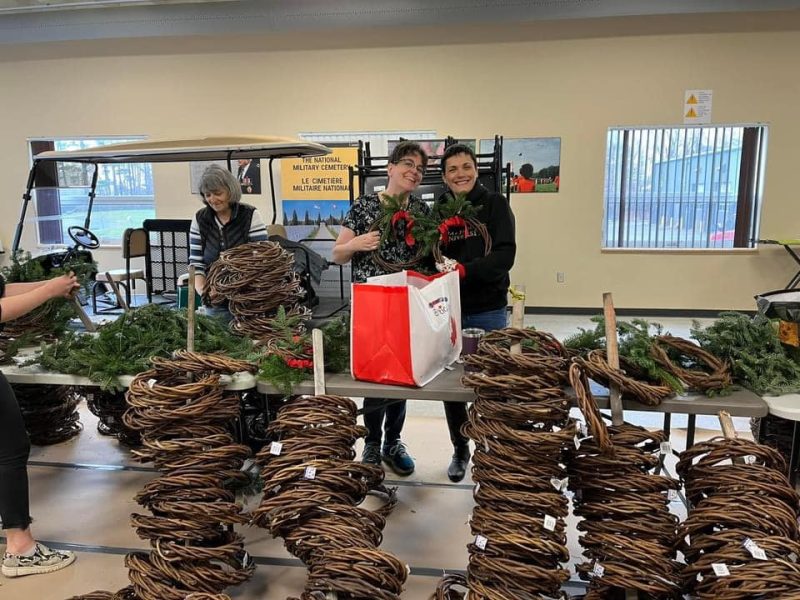 The charity needs 40 volunteers each Sunday, Nov. 20 and Nov. 27, to ensure all the wreaths are decorated. Once completed, Wreaths Across Canada will host its annual ceremony on Dec. 4 at 1:30 p.m. at the National Military Cemetery in Beechwood Cemetery.
Generosity of Businesses and Volunteers
"Wreaths Across Canada would not be possible without the generosity of the businesses and volunteers," said Mills. "We were a little concerned about how we would be able to make the bows needed for the wreaths, but the community showed up, and to date, we have had over 3,000 bows made."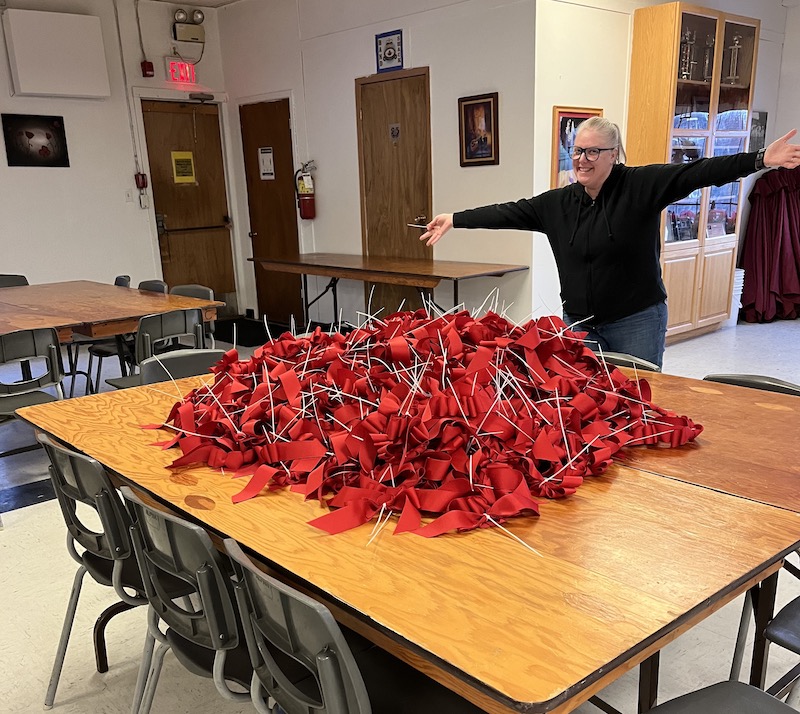 The charity acknowledges the generosity of the Canadian Christmas Tree Association, Sunbelt Rentals, MaxSys Staffing and Consulting, and the numerous donors and volunteers that have come together to build the wreaths and handcraft the bows.
For more information about Wreaths Across Canada, visit here. People can also follow the charity on Facebook, LinkedIn, and Instagram.  For more information email here.