Family and Friends Remember Captain Thomas McQueen
Family, friends and military dignitaries gathered at the Canadian Warplane Heritage Museum on Wednesday, Dec. 7 to honour the life and memory of Royal Canadian Air Force (RCAF) pilot Capt. Thomas McQueen, who tragically lost his life last Monday after a CF-18 crash.
The funeral began with a military procession and remarks by Padre Darren Milley, a performance by gospel artists DW and Jesse Crutchfield and a prayer by Pastor Faulkner.
Several of the pilot's family members including his sister Natalie and mother Edith then gave heartfelt eulogies to say goodbye to their son, brother, and fiancé.
"Thomas has had the greatest gift of realizing his boyhood dreams, that dream of high flight. Thomas' first flight was here at Warplane, and today Warplane is the completion of his final flight. This hall will now be a personal place of remembrance for our family," said McQueen's father, Tom, who spoke about McQueen's passion for flight since the age of 14.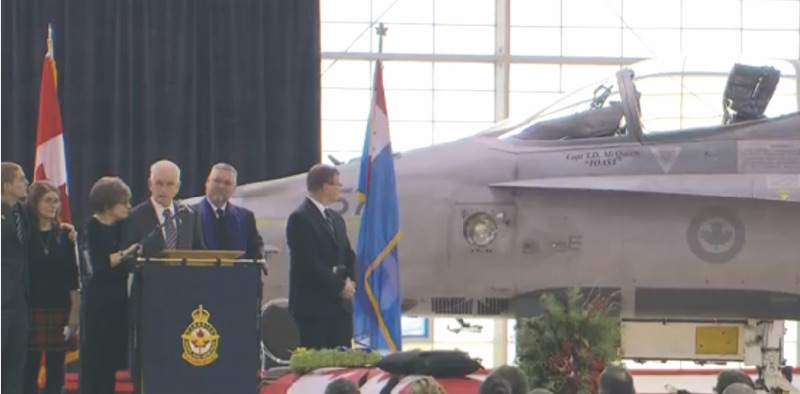 Capt. McQueen's military friends also spoke at the funeral.
"Everybody liked to fly with him because of his willingness to learn and improve. During our fighter pilot course, Tom earned the award for top student. When Tom was presented with the award he never once boasted. He never once bragged about being the best he quietly accepted the award and that was the last we heard about it," shared Jordan Rychio, an RCAF member.
The funeral then came to a close with a CF-18 missing man fly past.
Capt. McQueen was a ten year Canadian Armed Forces veteran who passed away after a single-seater CF-18 crashed near CFB Cold Lake, AB, where McQueen was stationed. The cause of the crash is still unclear.
He was set to be married later this month.
The 29-year-old pilot was born and grew up in Fisherville, ON. A memorial was held there last week. Canadian flags were flown at half-mast Wednesday throughout the city for the funeral.
McQueen's body will be taken to the National Military Cemetery at Beechwood Cemetery in Ottawa for a private interment on Thursday for the family. The procession will travel along the Highway of Heroes on Wednesday.
The procession will travel through the following communities (times approximate):
Hamilton: 1.00 PM
Burlington: 1.20 PM
Oakville: 1.30 PM
Mississauga: 1.55 PM
Toronto: 2.00 PM to 2.45 PM
Pickering/Ajax: 2.55 PM
Whitby: 3.15 PM
Oshawa: 3.20 PM
Coutice: 3.30 PM
Bowmanville: 3.45 PM
Newcastle: 3.55 PM
Wesleyville: 4.15 PM

Welcome: 4.30 PM
Dark Port Hope: 4.40 PM
Cobourg: 4.55 PM
Grafton: 5.10 PM
Colborne: 5.25 PM
Brighton: 5.40 PM
Trenton: 5.55 PM
Fuel Stop: 15 Minutes
Belleville: 6.20 PM
Napanee: 6.40 PM
Odessa: 6.55 PM
Kingston: 7.15 PM
Gananoque: 7.40 PM
Mallorytown: 7.55 PM
Brockville: 8.15 PM
Prescott: 8.25 PM
Spencerville: 8.35 PM
Kemptville: 8.40 PM
Manotick: 8.55 PM
Nepean: 9.05 PM
and finish in Ottawa: 9.30 PM.