Guitars for Vets Canada looking for generous donators
Guitars for Vets hopes to raise $50,000 to ensure all veterans and serving members of the Canadian Armed Forces suffering from PTSD have a chance to explore healing through music. The organization gifts guitars and volunteer-based lessons to those looking for a new healing method.
Jim Lowther, founder of VETS Canada, started Guitar for VETS five years ago. "I myself have suffered from PTSD for many years. I was seeing an increase in suicides within veterans, and I felt the urge to do something to help. I went back to basics and tried to remember what best helped me back in the days. I thought about yoga, meditation and then remembered how much my guitar helped, in the most simple way." Guitar for Vets was born.
The organization was overwhelmed by the response of the general public to its initiative with many civilians wanting to give out guitars or guitar lessons to the cause. Long & McQuade music store agreed to take those guitars in and help redistribute it to veterans across the country. The program is so popular, over a 100 veterans are currently on the list to be paired with volunteer guitar instructors.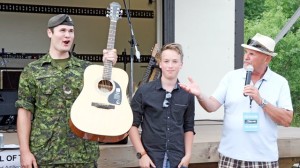 "Playing the guitar really broke the cycle of despair created by PTSD. You don't even realize it; you mind just drifts off. You don't even need to be good at it. It literally saved my life because the more I played, the more all the noises in my head went away. Music gives you back some sort of control on your life. It's such a good way to help yourself," adds the CEO.
The funds raised through the Go Fund Me campaign will be mainly be used to mail guitars across the country, but also to purchase some more. The organization is also accepting donations of used guitars that could be gifted to veterans as part of the volunteers-run program. To date, over 700 guitars have been rehomed with PTSD soldiers and veterans.

For more information, visit the Guitar for Vets website and to donate, please visit the GoFundMe web page the organization has set up.
Guitars for Vets Canada from Kate Bessette on Vimeo.