Baltic Warrior challenges Canadian and International military personnel
Above image: Held on Oct. 30, 2020 Baltic Warrior was held by ePT in Latvia to promote mental resiliency and physical readiness to be prepared to execute any task that may come our way. Baltic Warrior was conducted over 34km including 21km march, 2km of portage and 11km of canoe on the river in Camp Adazi while carrying a 15kg rucksack. Image courtesy of NATO enhanced Forward Presence Battle Group Latvia Facebook page.
On October 30th, Baltic Warrior took place in and around the training area of Camp Adazi, Latvia. The exercise, organized by the Canadian enhanced Forward Presence Battle Group (eFP), is loosely based on Iron Warrior, an annual race run out of Garrison Petawawa.
With Canada having the lead of a ten-nation coalition, Task Force Latvia co-ordinates all of the sending nations: Albania, the Czech Republic, Iceland, Italy, Montenegro, Poland, Slovakia, Slovenia, and Spain.
Baltic Warrior provides a competitive environment with it being hosted every rotation, approximately every six months, for a number of eFP Latvia members, host nation allies, and Baltic eFPs. The exercise is designed to display military personnel's physical readiness and endurance by pitting them against each other, but all in a sporting spirit.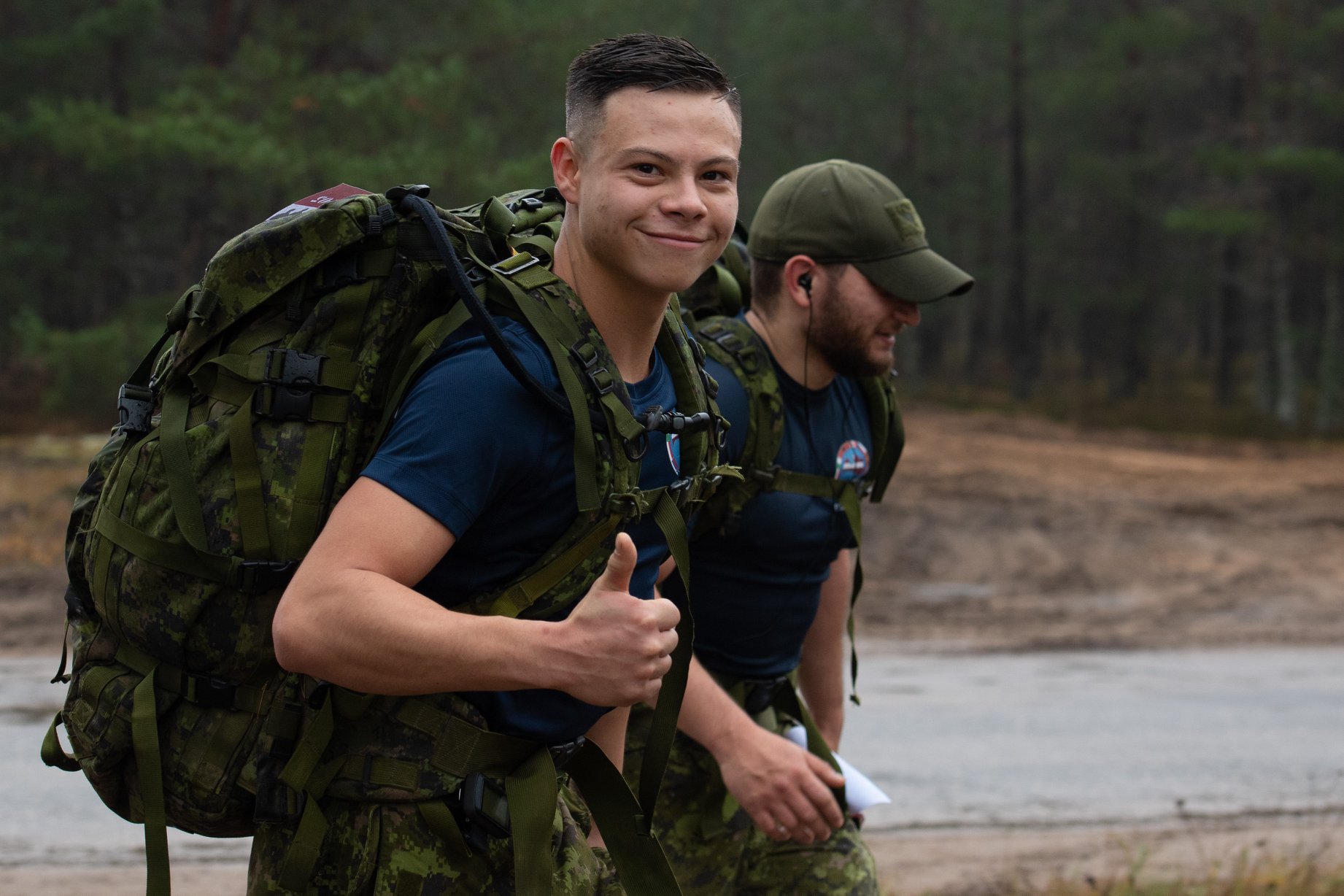 "It was something a lot of people were looking forward to. It's arguably the largest single competitive event that's held here and requires some significant amount of training to prepare for if you're looking to do well," says Captain (Capt) MacNeil.
The exercise consists of teams of two and is conducted over 34 kilometres, including a 21-kilometre march, two kilometres of portage, and 11 kilometres of canoeing on the river in Camp Adazi while carrying a 15-kilogram rucksack.
The exercise knocks people out of their comfort zone in a way that motivates them, Capt Macneil says, especially on this rotation where their freedom of movement is somewhat restricted.
He commented, "It helps if you have goals to focus on and things to look forward to." He found the race very interesting to watch.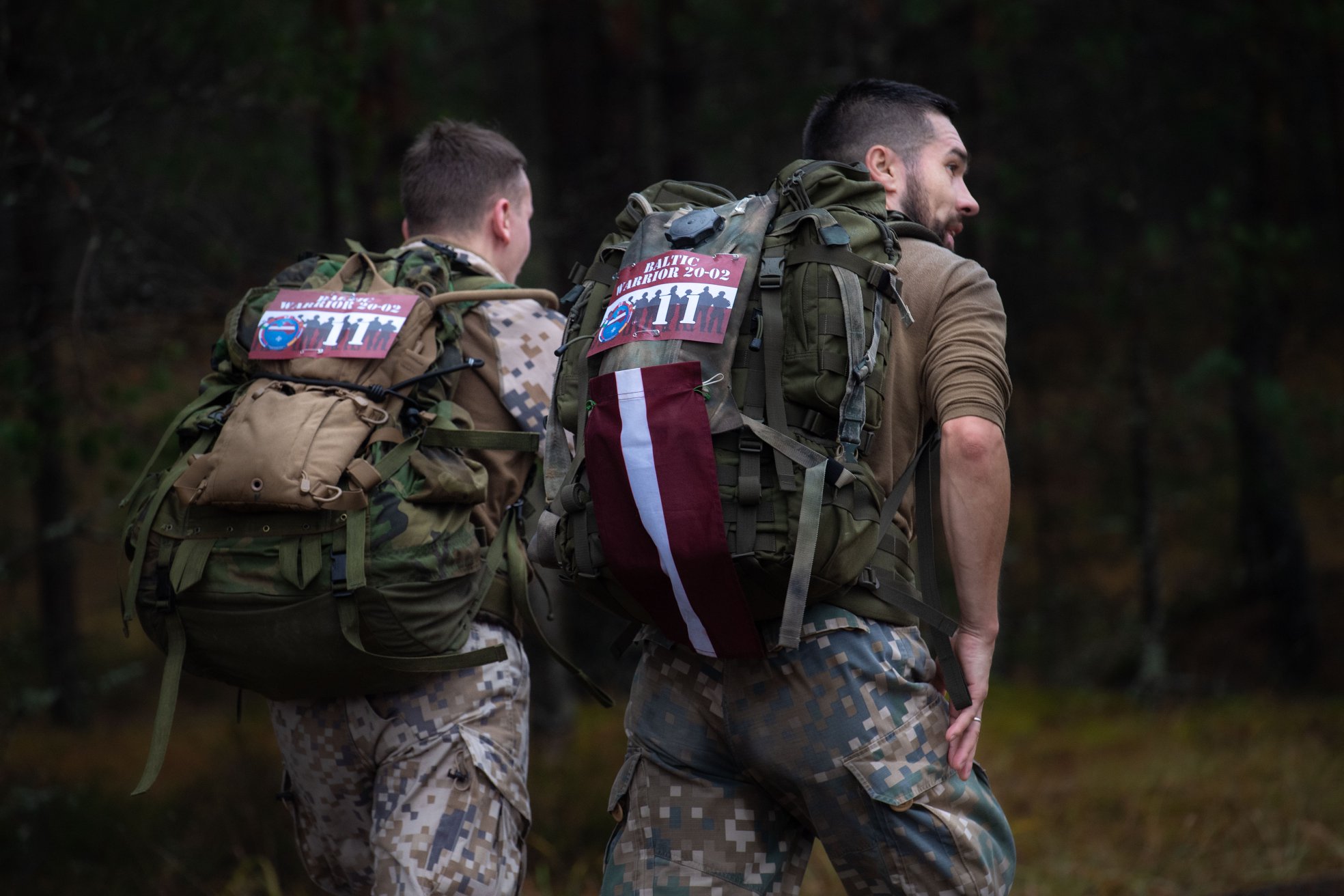 "I participated as well, but I found it really interesting to see some of the nations who participated respond to that kind of a race. While that kind of event is pretty familiar to the Canadian soldier, it was a very new experience to some of our other allies here. But I was really impressed and kind of put in my place by some of competitors who evidently showed signs of having taken their training leading up to it very seriously."
The biggest trophy goes to the nation with the best overall average across all of their participating teams. This year it went to Denmark who only had one team participating and had a good time that beat every other nation's average.

This event ties into the whole mission of deterrence in Latvia, where they aim to show a basic demonstration of readiness and physical capabilities of the soldiers of eFPs. The goal is to demonstrate to NATO and their host nation allies that they are ready to do whatever they need them to at a moment's notice.
Since the last rotation, some significant changes were made to the event. Precautions were put in place due to the COVID-19. Traditionally it's held in Sigulda, and the neighbouring Gauja National Park, which MacNeil says is an interesting bit of terrain to hold the competition in.
"I think adds an extra dynamic to the challenge, but there's also the old route passed through some of the actual city, so there was a bit more of an opportunity for public engagement," he added.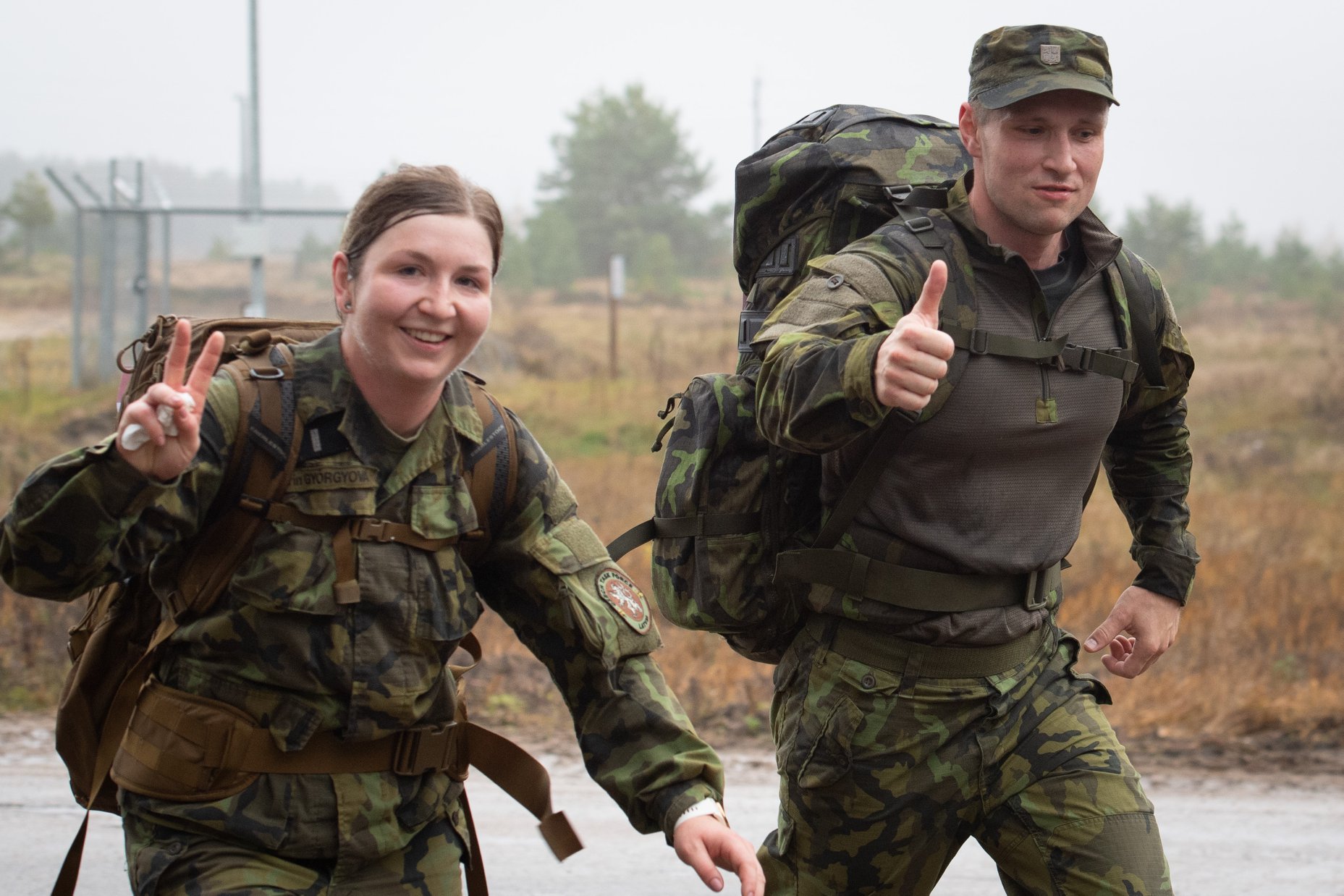 The event is open to all members of eFP Latvia. Each race has a number of team slots set aside and reserved for each of the other Baltic eFPs: Lithuania, Estonia, Poland, and Latvian participants who wish to participate. MacNeil says that international participation was cut back during this rotation and the last rotation due to the travel restrictions. Still, this rotation had British and Danish teams.
Around the time of the event, COVID cases began to rise significantly.
The decision was made to pull back the event to Camp Adazi to limit the degree to which the event would cause interaction with the Latvian public and their own bubble.
MacNeil explained, "We split up the start time of the race so that at no point would there be marked clusters of people on the route. Otherwise, the competitors get pretty spread out, and it's all open-air, so we were able to still hold a pretty successful event in spite of the renewed precautions that were put in place."
Currently, there are 540 deployed Canadian soldiers in Latvia, along with 45 soldiers and their families posted to Latvia as part of a National Command Element (NCE).