Approximately 1,400 Military Personnel Participate in Exercise CUTLASS FURY 2023
Over 1,400 military personnel from five countries participated in the bi-annual Royal Canadian Navy's offshore Exercise CUTLASS FURY 2023.
The multi-national exercise took place off the coast of Nova Scotia and focused on interoperability between Allies and joint elements and submarine warfare threats.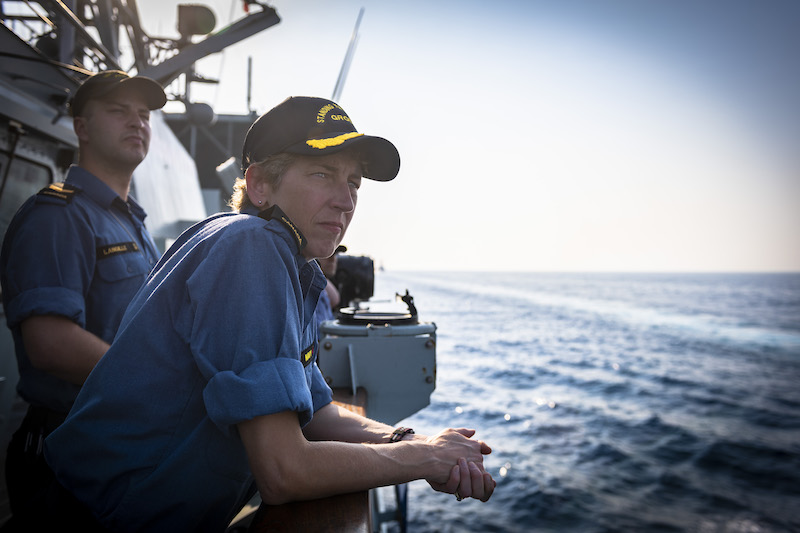 Excellent Opportunity for Canadian Sailors
"I am very proud to host Exercise CUTLASS FURY 2023 as it is an excellent opportunity for our Canadian sailors, soldiers, and aviators to train in a high-readiness environment with our allies. During our time together, we will work to strengthen interoperability between allies and joint elements by enhancing our capabilities and readiness, ultimately improving our collective ability to resond to a range of real-world scenarios," stated Rear-Admiral Josée Kurtz, Commander Maritime Forces Atlantic & Joint Task Force Atlantic in a statement.
The exercise provides an opportunity for allied forces to train in a joint maritime environment, with training including:
air defence,
defence against attack from enemy naval vessels,
air-to-air combat,
defence against submarines,
This year, CUTLASS FURY 2023 also included amphibious landings and closer air-maritime integration.
1,400 Participants from Five Countries
Approximately 1,400 participating sailors, soldiers, and aviators from the five allied nations, including eight ships and multiple classes and types of aircraft, participated in the exercise.
This year's participants included:

the Royal Canadian Navy,
the Royal Canadian Air Force,
Canadian Army,
United States Navy,
United States Air Force,
Royal Air Force (British Air Force),
Deutsche Marine (German Navy), and
Marine Nationale (French Navy).
The exercise featured air-maritime integration between the Royal Canadian Navy and the Royal Canadian Air Force. The Canadian Army also participated in conducting amphibious landings, military forces landing from the sea.
Canadian classes of ships that participated:
Halifax-class Frigates:

His Majesty's Canadian Ship (HMCS) Charlottetown; and
HMCS Fredericton.

Kingston-class Coastal Defence Vessels

HMCS Glace Bay;
HMCS Moncton.

Harry DeWolf-class Offshore Patrol Vessel
The exercise also received support from the Royal Canadian Air Force and Canadian Army. The aircraft, wings and units include:
Royal Canadian Air Force aircraft:

CP-140 Aurora from 14 Wing Greenwood;
CH-148 Cyclone Helicopters from 12 Wing Shearwater and
CF-18 Hornet from 425 Squadron CFB Bagotville.

Canadian Army

4 General Support Regiment; and
36 Canadian Brigade Group Army Reserve.

Opportunity to Train Together
"I couldn't be more excited to get to work with our allies during CUTLASS FURY 2023. Opportunities to train together at sea in a complex, simulated warfare environment help hone the skills of our outstanding sailors and help maintain our collective ability as allies to fight together," stated Commodore Trevor MacLean, Commander Canadian Fleet Atlantic.
Ships from other countries included:
United States:
Arleigh Burke-class Destroyer

United States Ship (USS) James E. Williams;
USS Porter;

Lewis and Clarke-class dry cargo ship

United States Naval Ship William Mclean;

United Kingdom:

P8A Poseidon – anti-submarine and anti-surface warfare aircraft;

Germany:

P3C Orion – anti-submarine and maritime surveillance aircraft

France:

Br.1150 Atlantic – maritime patrol aircraft.
Running from Sept. 10 to Sept. 22, Ex CUTLASS FURY 2023 began with a unified sailpast and flypast of participants along the waterfront in Halifax, NS. The exercise launched as the Halifax Inaugural International Fleet Week ended.