Military personnel speak about mental illness and resources available on Bell Let's Talk Day
The eight annual Bell Let's Talk Day was back and aimed to melt away the stigma around mental health, break down barriers and reach out to those who need help most.
Just like in the past, Canadians were encouraged to get on social media and talk about mental health, what it is, how to get help and how to erase the taboos surrounding it.
Held on January 31, Bell's Let's Talk Day was much more than just a social media campaign. The initiative also offered resources and information about mental health and encouraged people to remove the stigma through education, being mindful of language, being kind, listening and asking and most importantly, talking about it.
Taking into consideration how much importance the Canadian Armed Forces (CAF) has placed on improving the conversation around mental health in recent years, the military once again held a panel discussion on this important topic.
The panel discussion was moderated by CTV News Anchor Graham Richardson and Captain Nadia Broadbent. Panelists included  Bell Let's Talk ambassador and retired Royal Canadian Navy diver Bruno Guévremont; the Director of Mental Health for the Canadian Armed Forces, Colonel Colleen Forestier; Master Warrant Officer Shelley Lamothe; Commodore Chris Sutherland; and Natasha Khattar, Senior Manager, Total Health Management, ADM(HR-Civ).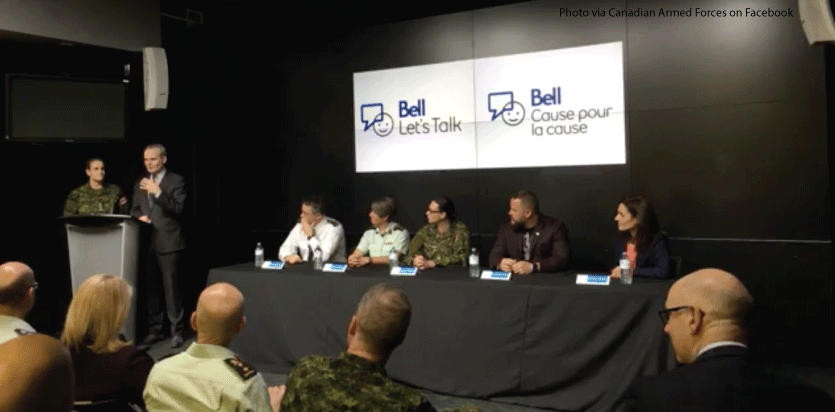 The panel collectively took questions from a live audience and through social media on a wide range of topics like the stigma around mental health in the CAF,  how reaching out can impact a member's career, where to get help, how to help peers and how the panelists have personally reached out for help regarding their own mental health concerns.
The panel was asked about how military members can support their families, spouses, and children when touched by a mental illness. Panelists encouraged audience members to talk to their families, reach out to Military Family Resource Centres for resources, programs, and children's books.
"It helps them work through a number of those emotions and feelings so that they realize its not them and it's okay for them to still be a kid and have fun and do the things they're going to do and sometimes mom and dad are just ill for a little while," said the Director of Mental Health for the Canadian Armed Forces, Colonel Colleen Forestier.
Forestier also encouraged spouses to seek peer support through OSISS or getting involved in the local community and other spouses.
Audience members also posted questions about how junior ranks and members new to the military can be supported and create a network of peers. Master Warrant Officer Shelley Lamothe pointed to the Road to Mental Readiness program which has been integrated into various levels of training including the basic recruit level.
Panelists were also asked about how far the CAF has come in addressing mental health concerns, what the "buy-in" was across the board. Panelists agreed that the CAF has come a long way in addressing mental health and a cultural change is taking place from the top down, anything otherwise will not be tolerated.
"If we see someone who isn't acting in accordance with the direction we have put out. which is if someone reaches out for help non-judgemental help needs to be there, then the leadership needs to intervene and correct that, and that's the way you change the culture and de-stigmatize reaching out for help," said Commodore Chris Sutherland.
Over the years the CAF has taken a number of steps, as indicated by the panel, to provide resources and encourage its members to seek help. As outlined by the new defence policy, the CAF will be taking part in a number of research forums and symposiums, such as Warrior Care in the 21st Century this September, to find the best practices for awareness, prevention, and treatment for military personnel and Veterans.

Additionally, in the last year, the CAF also launched the Road to Mental Readiness mobile app and the CAF and VAC unveiled the Joint Suicide Prevention Strategy. VAC, as announced in Budget 2017, is also investing $17.5 million over four years, and then $9.2 million per year ongoing to establish a Centre of Excellence on post-traumatic stress disorder (PTSD) and related mental health conditions.
In light of how important today's conversation is to the CAF and its members, Defence Minister Harjit S. Sajjan and Minister of Veterans Affairs and Associate Minister of National Defence Seamus O'Regan issued the following statement:
"Our Canadian Armed Forces (CAF) personnel and Veterans have put the safety and wellbeing of others before their own in many circumstances. From Bosnia to Afghanistan, Haiti and the Philippines, they have always risen to the challenge in the face of uncertainty.
"Sometimes, the stigma associated with mental health is a barrier to seeking help. The Department of National Defence (DND), the CAF, and Veterans Affairs Canada (VAC) are working hard to break down this barrier by encouraging open and honest discussions around mental illness, including on Bell Let's Talk Day. We are strengthening mental health services and support for the military community, including serving CAF personnel, Veterans, and their families.
"Responsibility to each other must not end when the uniform comes off. For some, this is where the struggle begins. I encourage all CAF members and Veterans to check in with one another often. This connection with shared experience can make an incredible difference in the lives of those struggling with mental health issues and operational stress injuries. You are never alone.
"It isn't always easy to tell when help is needed. Talking to someone can make a difference. And sometimes, just listening can mean the world to someone who is struggling. If you or someone you know needs help, please ask for it. No one should suffer in silence. We are here to listen. We are here to help. Join the conversation to help change the stigma around mental health.
If you are a military member in need of assistance for a mental health concern you can visit a social worker at any CFHS Centre; call the CAF Member Assistance Program (CFMAP: 1-800-268-7708); or contact the VAC Assistance Service at 1-800-268-7708 (open 24 hours a day, 365 days a year).
Family members can reach out to social workers at the local Military Family Resource Centres; call the Family Information Line at 1-800-866-4546; or contact the Operational Stress Injury Social Support for peer-based support.
This year there were over 138,383,995 interactions, which raised over $6,919,199 for mental health in Canada.
If you are interested in viewing the Bell Let's Talk CAF panel discussion on mental health visit the CAF Facebook page .