DND and CAF discuss mental health in support of Bell Let's Talk Day
On Wednesday, 17 Wing Winnipeg, the Department of National Defence (DND) and the Canadian Armed Forces (CAF) took part in a panel discussion in support of Bell Let's Talk Day. With the event marking Bell's 10th annual Let's Talk Day, the nation was invited to join the world's biggest conversation about mental health.
The theme for 2020 was 'Mental Health: Every Action Counts.' Throughout January, Bell Let's Talk encouraged Canadians to join the discussion about how each person can take action and implement positive change for those who live with mental illness.
The panel included Bell Let's Talk Ambassador and veteran, Bruno Guévremont, Brigadier-General Mario Leblanc, Colonel Rakesh Jetly, Major Nathan Packer, Major Patti Louttit, Sergeant Holly Young and Alana Mahaney, a civilian panelist from the Department of National Defence.
During the discussion, ret'd Leading Seamen and Bell Let's Talk Ambassador, Bruno Guévremont, explained, "As military members, we are trained and prepared to deal with various stressful situations. We have the skills and desire to get the mission done. But all of this rests on the foundation of a solid grasp of our mental health and wellbeing."
Commander of 2 Canadian Air Division, Brigadier-General Mario Leblanc, added, "Much is asked of our military members, which is why mental health matters to me so much. Mental wellbeing is a critical aspect of overall health, and contributes to our physical health and overall resiliency."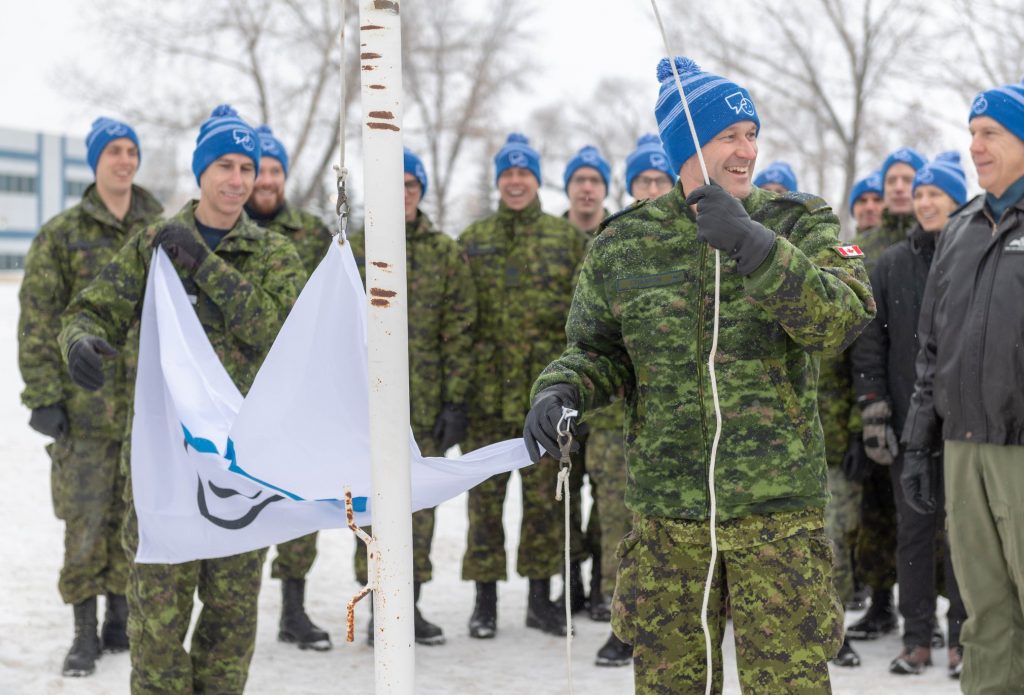 Senior psychiatrist and Directorate of Mental Health for the Canadian Forces Health Services Group Colonel Rakesh Jetly noted, "Initiatives such as Bell Let's Talk provide the opportunity for the Canadian Armed Forces to help break down the barriers to mental health care both in the CAF and the Canadian population at large."
He added, "By learning more about mental health, we can reduce the stigma of mental illness in our workplace, our homes, and our communities."
Being longstanding partners of this initiative by Bell, both DND and the CAF are keen to continue the conversation around mental health, as well as remove the stigma attached to mental illnesses.

"When members or their families access Health Services, our excellent team of primary care providers and mental health clinicians recognize that although they all strive to be resilient, they are human and are impacted by many factors including work, family life, and physical health," explained Major Patti Louttit, Wing Surgeon, 23 Canadian Forces Health Services Centre Winnipeg.
Louttit added, "Challenges that are inconsequential to one individual may seem insurmountable to another. Regardless of rank, socioeconomic status, or outward appearance, everyone's resilience is unique, and we all need to think, talk, and act in a manner that is mindful of that. It is vital that we see the use of mental health services as part of overall health and fitness."
On January 29, 2020, for every text message, mobile, and long-distance call placed Bell Canada, Bell Aliant, and Bell MTS customers, for each tweet using #BellLetsTalk, for each view of the Bell Let's Talk Day video on social media, and for each use of the Bell Let's Talk Facebook or Snapchat, Bell donated five cents to support Canadian mental health programs.
This year Bell Let's Talk Day set a new record, raising $7.7 million for mental health initiatives. Bell said it logged 154,387,425 "messages of support for mental health," which is a six per cent increase from 2019.
To view highlights from the panel discussion, people can visit the CAF Instagram and Facebook accounts.
Above image: Courtesy of Canadian Armed Forces and Royal Canadian Navy.