Italian Campaign Vets Video Chat with Students
Late last week Canadian veterans of the Italian Campaign and the Veterans Affairs Minister Julian Fantino took part in a live video chat from Rimini, Italy, with students at Vincent Massey Collegiate in Montréal.
The intention of the modern video conversation between the vets, the young people and the Minister was to highlight importance of remembrance with students.
"The discussion was an important opportunity for students to hear first-hand, about the remarkable contributions Canadian veterans made in Italy. Engaging young Canadians in activities of remembrance such as this, will ensure the legacy of our brave men and women is preserved for future generations," said Fantino.
During the 45-minute discussion forum, Fantino and Veterans Sheridan Atkinson of Ridgetown, Ontario, Gordon Bannerman Nanoose Bay, British Columbia and Joseph Egglestone of Calgary, Alberta responded to student's questions, recalled personal experiences and memories of their service in Italy, and shared their feelings on returning 70 years later.
The unique experience allowed students to learn first-hand about this important chapter in Canadian history through the eyes of those who were there. The group also discussed the importance of remembrance and exchanged ideas about how youth can preserve the legacy of Canada's veterans for future generations.
"Students and staff at Vincent Massey Collegiate were pleased to have the opportunity to take part in this important, once in a lifetime session. It is important that all Canadians, especially our youth, remember the sacrifices of our men and women in uniform and our Veterans—past, present and future," said Rocco Speranza, remembrance committee and spiritual care, and guidance and community involvement animator, English Montreal School Board.

Minister Fantino and 28 Canadian veterans were in Italy as part of an official Government of Canada delegation marking the 70th anniversary of the Italian Campaign. From November 24-28, the group participated in commemorative ceremonies honouring the service and sacrifice of those who served in the campaign.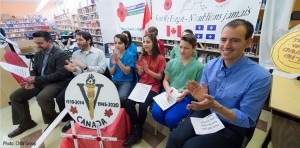 Veteran Sheridan Atkinson served in Italy with the Royal Canadian Regiment. He was second in command of an anti-tank platoon consisting of 6 anti-tank guns manned by 56 men. Veteran Gordon Bannerman served in Italy with the 17th Field Regiment, Royal Canadian Artillery, 5th Armoured Division. He was a gunner sergeant, responsible for a "25-pounder" and a crew of six. He was promoted to sergeant major, responsible for the troop. Veteran Stewart Eggleston served with the Royal Canadian Air Force 417 Squadron Desert Air Force. He was an aircraft electrician for 11 months in support of 8th Army.
Vincent Massey Collegiate students and staff have a rich history of engagement in remembrance through unique projects, including the creation of a remembrance garden and monument, commemorative murals and remembrance ceremonies.
During the Second World War, more than 93,000 Canadians fought to liberate Italy and nearly 6,000 lost their lives. Commemorative ceremonies marking the 70th anniversary of the Italian Campaign took place in Italy from November 24-28, 2014, at the Cassino War Cemetery, Price of Peace monument in Ortona, Moro River Canadian War Cemetery and Villanova Canadian War Cemetery.