Proceeds from Hyena Road to benefit Wounded Warriors
Director, actor and writer Paul Gross' new film Hyena Road brings to life the struggles many Canadian soldiers faced while serving in Afghanistan. Translating that powerful onscreen message to real life, Gross has partnered with Wounded Warriors Canada to bring awareness to the organization and its work.
"It's such a terrific organization. They're just so committed and most of what they do is really devoted to soldiers and families and I think they do tremendous work. A lot of our interest with the film is to bring awareness to what the Canadian Forces did over there and endured over in Afghanistan and they [Wounded Warriors] seem to really be the ones on the front lines to help with the aftermath of it all and it made sense that we would be partners with them. It's a great organization," said Gross.
Portions of the proceeds raised from fundraising associated with the movie will be donated to the non-profit organization. Wounded Warriors supports Canadian Armed Forces (CAF) members who are ill and injured, primarily focusing on soldiers who have PTSD and operation injuries. Gross is hoping the movie will bring these issues to the forefront of audiences' minds.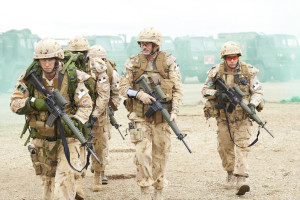 "I think one of the most difficult things for an organization such as this is to make people aware of what we actually did there… If we can do anything we'll at least bring a certain degree of authenticity and accuracy to capture the bewildering, chaotic nature of modern warfare and I think once people have a sense of that it will then make them understand why there are these ongoing problems associated with it. There are combat injuries that are physical and also psychological…I hope the film opens up a door onto what it was that they faced and then there's Wounded Warriors saying here's what we can do for those who have been damaged by it," Gross said.
Also in an effort to raise awareness, information booths for Wounded Warriors will be set up in select theatres across the country, public service announcements will be in trailers and Wounded Warriors will be recognized in the movie before the credits roll. All in an effort to "broaden the base of awareness for what Wounded Warriors is trying to accomplish," as Gross puts it.
Wounded Warriors is looking forward to the partnership hoping it will help the Canadian public to understand the kind of traumas many soldiers experience while in Afghanistan.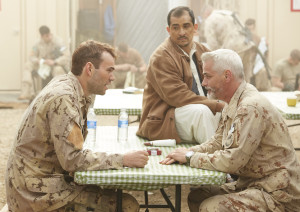 "Hyena Road is an important medium to foster a national discussion about Canada's significant military contribution in Afghanistan. The film will help raise awareness about operational stress injuries like PTSD and the need for program funding support," said Scott Maxwell, Wounded Warriors Canada Executive Director.

Wounded Warriors is encouraging civilians to watch the movie so they can catch a glimpse of what life as a soldier might have been like for many in Afghanistan. According to Maxwell, many veterans who have seen the movie have expressed that it portrays the war in an authentic and powerful light.
Hyena Road centres around three characters with three different journeys all leading to a common purpose while in Afghanistan. The film makes its world premiere at the Toronto International Film Festival on Monday Sep 14 in Toronto and debuts nationwide on Friday, Oct 9.
Watch the preview
Look for Canadian Military Family Magazine's fall issue where you can read our interview with Allan Hawco, who plays a sniper in Hyena Road.
Get More! Receive six issues of Canadian Military Family Magazine in your mail box for only $17.95! Click here to subscribe NOW!