Owen Sound Police searching for missing CAF Soldier
A joint forces ground search for a missing Canadian Armed Forces soldier will be conducted today in Owen Sound. Andrew Fitzgerald was last seen at the Petro Canada gas station at 16th Street East and 9th Avenue at approximately 4:30 am on Saturday August 13, 2016.
Members from the Canadian Armed Forces, Ontario Provincial Police and the Owen Sound Police Service will be continuing their efforts on land and in the water as they combine resources to locate Andrew Fitzgerald.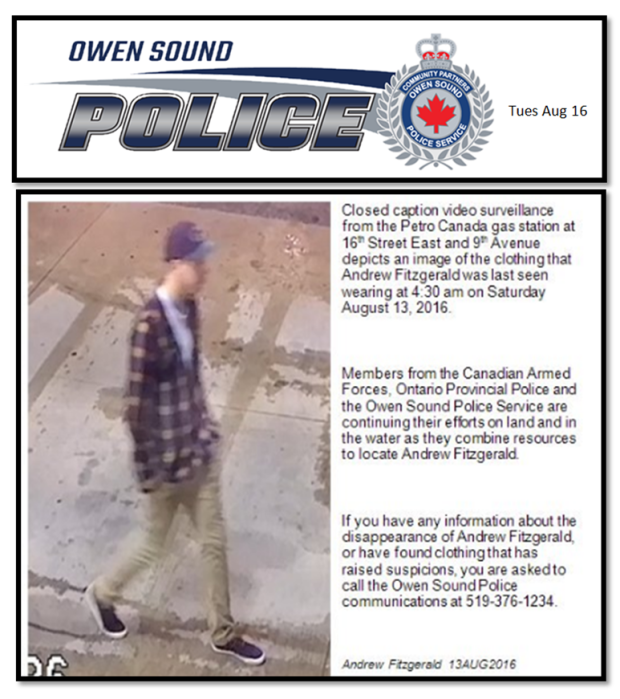 The search teams will be dressed in their military and police uniforms while conducting the search and are asking that the public not approach or impede their activities. The Joint Forces search team is not seeking any volunteers from the community at this time.

However, citizens are asked to check their property and out-buildings for Andrew Fitzgerald or any of his clothing. He was last seen wearing a black baseball hat, red plaid coloured button-up shirt, white tee shirt, beige pants and black skateboarding style shoes. If you locate anything that you feel may assist the search team, do not touch it and call police immediately.
If you have any information regarding the disappearance of Andrew Fitzgerald, or have found clothing that has raised suspicions, you are asked to call the Owen Sound Police communications at 519-376-1234.
source: media release, Owen Sound Police Services