New peer group established to support partners of CAF personnel and first responders 
A new peer support group geared towards spouses and partners of Canadian Armed Forces members and first responders has been established in Kingston, Ontario 
Brittany and Arthur Laramie both former infanteers in the Canadian Armed Forces opened their gym, The Iron King Ltd to offer a safe, familiar and accepting space for frontline service personnel dealing with mental health challenges from service. 
"We focus on the important role physical health has on mental health and the management of those mental health challenges through physical exertion; a common ground for all those that work or have worked in a front line service occupation," says Brittany Laramie, owner of the Iron King Ltd.
After noticing a gap in the system, the spousal support group called Breath was created to offer formal support outside of the various transition centres, formerly JPSU/IPCS across Canada. 
"The main goal of the group is to gather spouses and give them a space to be vulnerable in," says Laramie." To give them an opportunity to be emotional, let out some emotion and express themselves a way that they may not necessarily be able to anywhere else."
As a veteran and a spouse of a veteran, Brittany says she understands the challenges of dealing with mental health.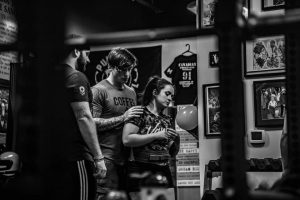 Breath has already had three meetings with a mix of spouses in attendance. The impact in the local community has been positive, reaching many through social media. 

"There's this really impactful moment at each meeting where we all recognize that we all have so much in common, no matter what branch of Frontline Service our spouses come from, and that's reassuring and encouraging," says Laramie. "It's nice for our group members to know that they are not the only one going through this very unique experience; there are so many common denominators behind caring for a Front Line Service spouse dealing with a mental health challenge, and what that looks and feels like being the spouse."
Laramie participates in the weekly meetings and takes the role to open and close the conversation.
"We are just a bunch of people that are trying to do the best we can with what we know in the best interest of our relationships and our partners," says Laramie. "At times, it can feel like our entire world is crashing down around us, and no one really sees that. This group SEES each and every person, and gives that support."
Breath meets every Monday night at 7 p.m. at Fractal Workspace, 623 Fortune Crescent, Suite 100, Kingston Ontario and is open to all spouses from a variety of front line services.