Female military pioneer hosts transition workshops for women in the military community
Much of our life as a military family means constant change, from postings across Canada, new jobs, new friends, and new schools. One significant transition that women in the military or women who are military spouses face, or both, is the transition out of the military.
A series of the retreats are to help women transition to the next chapter of their lives – in this case, life after the military. The retreat is for women who are veterans, soon to be veterans or the spouse or partner of veterans. 
"Women have a unique gift; the ability to instinctively help other women through certain phases of their life: their first period, pregnancy, difficult moments, pre-menopause, etc. Women are incredibly powerful when it comes to sharing life lessons," says Sandra Perron, retreat facilitator and senior partner with A New Dynamic Enterprise Inc. Perron is also a veteran, and author of the book Out Standing in the Field. 
However, with all the moving that military members and spouses do over the course of a career, they may not have had the opportunity to build this network of support.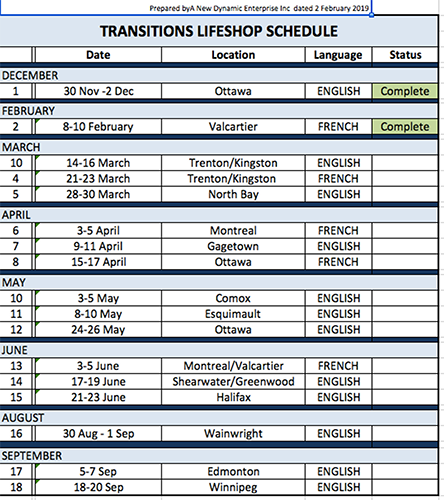 "The retreat gave me tools and knowledge about myself that I still use today.  Mostly, it offered me lifelong friends some of whom became my best friends. As women get older, friendships take on new meaning and are crucial as we go through life's challenges.  I strongly believe that the transition out of the military is one of those pivotal moments in one's life that can be 'softened' by having a 'tribe'.  This is the aim of the Transitions Lifeshop: getting to know yourself through the eyes of seven other women," said Perron. 
In a safe, supportive environment, the participants will be put through a series of exercises that enable them to:
Recognize how transitions challenge our sense of identity.
Embrace transitions as a wonderful opportunity for growth.
Understand why they chose to make the change.
Learn to create mind-maps as a way forward to eliminate limiting beliefs.
Identify and build a unique support system.
Become vulnerable and connected to the other participants on the Transitions Lifeshop™.
The Lifeshops were developed by Marcellin Perron, a practitioner of neuro-linguistic programming, 50 years ago in Dolbeau, QC. For the last 15 years, Sandra Perron has been working and training with Marcellin Perron in order to conduct similar retreats, though aimed at women with military connections.

"I became a protege of Marcellin because I was so motivated and hungry to learn, and I was privileged enough to be his niece," said Perron, who took the retreat in 1993, just before deploying to Bosnia.  
The retreats have only just begun, and they already have 90 women signed up. "Some bases have waiting lists. The feedback thus far has been amazing – 10/10" comments Perron. 
For more information, see the Transitions Lifeshops website.
Register for one of the English sessions here.
Register for one of the French sessions here.