Canadian soldiers hit the ice in South Korea to mark historic hockey game and 2018 Olympics
In 2009, Senator Yonah Martin came across a black and white photograph of Canadian soldiers playing hockey in South Korea.
"It struck me as something just so amazing because I had never seen it before," said Martin.
She would later come to find out is that the image was of soldiers from Princess Patricia's Light Infantry (PPCLI) and soldiers from the Royal 22e Régiment (R22eR) playing hockey on the frozen Imjin River in 1952 during the Korean War.
The picture would serve as a catalyst to establish an annual hockey tournament held in Ottawa memory of those original games played in 1952.
It's now been five years since the Imjin Classic was established and this year, to honour the 65th anniversary of the end of the Korean War, Imjin Classic 2018 was held in the City of Paju in the Republic of Korea.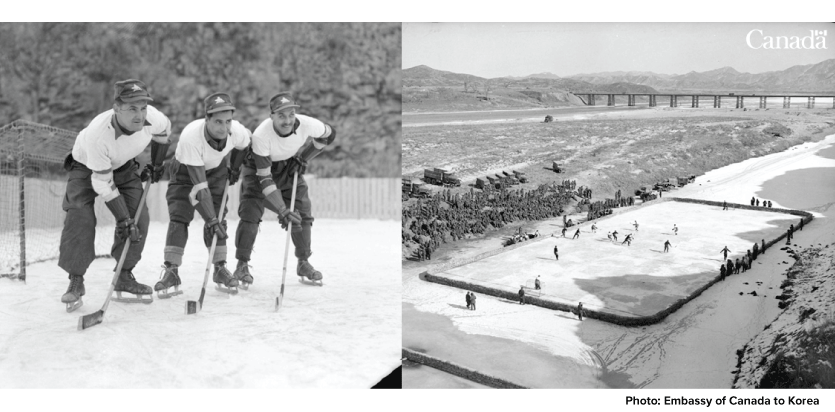 Held on Jan. 19, this year's Imjin Classic was timely in that it was held as the XXIII Olympic Winter Games torch relay passed through Paju City. This leg of the relay featured Canada's Ambassador to Korea, Eric Walsh, and Canadian Korean War veteran, Colonel (Retired) Charland as torchbearers.
"The timing and location of this game could not be better. 2018 marks the 65th anniversary of the Korean War armistice, and we are set to celebrate the PyeongChang Olympic and Paralympic Winter Games. Holding this event in the Republic of Korea, near the site of the actual historic games, is a great way to remember those who served Canada so well in the Korean conflict," said Eric Walsh, Canadian Ambassador to Korea.
Although a tournament, the Imjin River Memorial Tournament, was established in 1998 by Canadians living in Korea, there was no similar event taking place in Canada until 2013.
After Martin saw the picture, she pushed forward with the idea of hosting a similar commemorative tournament in Canada. This event finally took place as part of the 2013 Winterlude, coinciding with the 60th anniversary of the Korean Armistice.
"The Imjin Classic honours the legacy of Canadians during the Korean War. When I first came across the black and white photo taken in 1952, it struck me in a powerful way, and the inspiration for Imjin Classic to take place in Paju began in 2011 when PyeongChang was awarded the 2018 Games. The timing is perfect for this historic event to be a reminder of the power of sport and 'hockey diplomacy' to unite us, " said Senator Martin.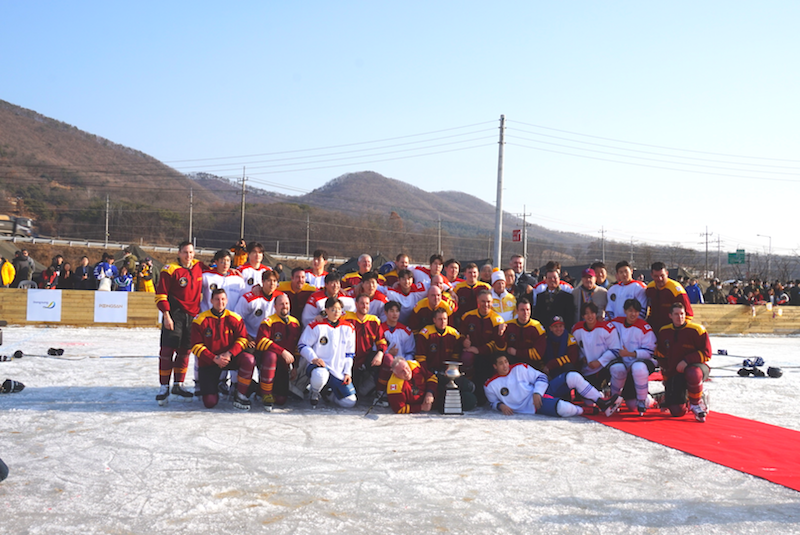 Every year since the game has been played in Ottawa between soldieries from PPCLI and R22eR and is hosted by the Canadian Army in partnership with the Embassy of South Korea.
This year's game was held at the Yulgok Wetland Park, near the original site of the original hockey games.
Members from both regiments playing in the games were joined by Canadians living in South Korea to make up "Team Canada" while players from Yonsei University and Korea University made up "Team Korea" in a friendly game played outdoors.
Team Canada won 7-1.
"I am honoured to represent Canada at this event in the Republic of Korea, this is more than just a game; it commemorates the strong relationship between the two nations. My teammates and I are proud to carry on the legacy of our predecessors who played hockey here more than 60 years ago on the frozen Imjin River," said Maj. Bryan L. Ouellet, Royal 22e Régiment.
Canadian Korean War veterans were special guests at this year's games. These veterans included LCol. (ret'd) John Bishop, Col. (ret'd) Claude Charland and Sgt. (ret'd) Dennis Moore. Both Col. (ret'd) Charland (Vandoos) and Sgt. (ret'd) Moore (PPCLI) played in the original inter-regiment series on the Imjin River.
Additionally, inspired by Canada's hockey legacy, an Imjin Youth Classic-Somang Cup will simultaneously be held in Paju City. These games will feature youth from Canada, Korea, China, Russia, USA, and Ireland.
Featured image:
Photo Caption/Description: Members of the Princess Patricia's Canadian Light Infantry and the Royal 22e Regiment play in the Imjim Classic Hockey games against a Korean team in Gapyeong, South Korea on 19 January 2018.
Photo Credit: Sgt Dwayne Janes, Image Tech,