Top Secret Mission EXPOSED
It has come to the attention of the team at Canadian Military Family Magazine that a top-secret mission took place over the weekend and was completed early this morning.
Mission details of the clandestine operation were leaked exclusively to cmfmag.ca. The source of the memo spoke on the condition of anonymity because he was not authorized to speak publicly.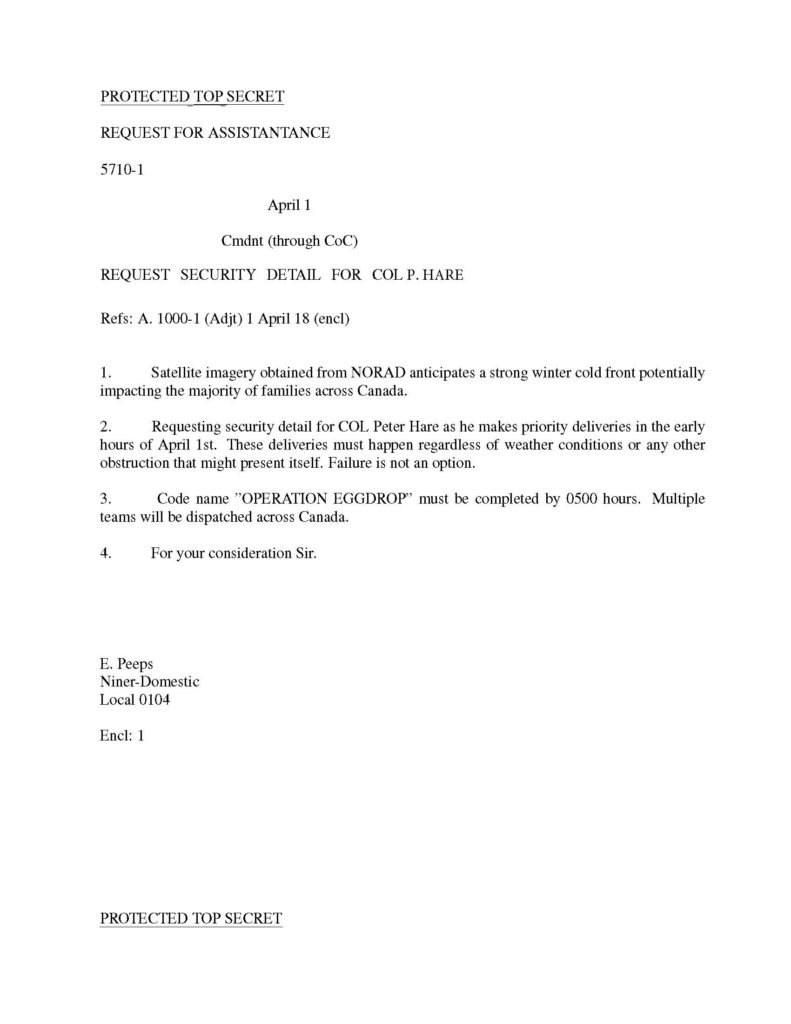 "I'm not sure if the civilian population understands how quickly our service members can be deployed away from their families. This mission is to ensure that all Canadians have a peaceful, non-disrupted long weekend. It is because of these CAF members doing their job, and the sacrifices their families make Canada is the country it is today," said our source.
As reported by Environment Canada, the coldest temperature on the planet was forecasted over the long weekend. This phenomenon produced well below seasonal temperatures.
While white Christmases are common in Canada, this year the majority of Canadians faced a white Easter. Rather than facing defeat with the winter conditions, for his mission, Col. Hare requested assistance as he relies on his endurance, agility, and speed and as Canadians know, snow can be a hindrance when travelling.
Our source confirmed, "Col Hare worked directly and diligently with units across the country to ensure the annual hunt was successful on Sunday morning. Our personnel excel in combating these conditions. As everyone remembers how our military personnel assisted Canadians during the Great Ice Storm in 1998 and how we helped Toronto in 1999."
The source re-enforced the fact military personnel are always ready to deploy domestically and internationally when called on.

Leading up to the operation Col. Hare prepared at a Canadian military base where he and military personnel trained for OPERATION EGGDROP.
While many military families were separated over the holiday weekend, they knew the importance of the mission and were able to adjust their plans accordingly.
"Of course we want our loved ones home for the holiday. Many families have made plans and have their groceries bought for Easter dinner. We are sad our military member might not be home with us," shared one military family member.
The team at Canadian Military Family Magazine salutes our active members, veterans and their families for a mission well done and all the sacrifices military families make daily. BRAVO ZULU and Hoppy Easter!