If you are looking for Christmas crafts ideas to make this holiday season look no further. We spent the afternoon with Cheryl Jordan and Tanya Newman from The Country Cupboard in Petawawa creating three projects filled with holiday fun.
Cheryl's Pick: Twine or Burlap Christmas Ornament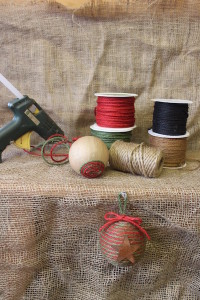 Materials
2-3" ball
Coloured jute or twine
Hot glue gun
Any decorations: stickers, beads, etc.
Steps
Glue twine loop on ball so that it can hang off the tree
Wind twine around the bottom of the ball, glueing as you go
Glue periodically as you continue wrapping twine around the ball
Finish at the top, covering the base of the loop
Decorate your ornament however you wish
A word from Cheryl: Burlap and jute are very hot in decorating right now, so be creative and have fun! We would love to see photos of your creations so please share on our

Facebook page

or send us an email.
Tanya's Pick: Snow Globe
Materials
Small figurine, small toy, tree, or anything you can fit into the jar
Water-resistant glue
Glitter, fine
Jar with a lid, must have smooth sides (lid can be spray painted)
Water
Steps
Place a dot of glue on the centre of the inside of the lid and press the bottom of the figurine onto the glue. Press firmly.
Allow glue to dry fully
Cover the bottom of the jar with glitter
Fill jar with water, leaving 1-2" space at the top
Spread glue around the sides of the lid and secure it to the jar
Screw lid on tightly
Shake and enjoy
A word from Tanya: be creative and have fun. We would love to see your snow globes, so please share your pictures on our Facebook page or send us an email.

The Country Cupboard's Pick: Giving Tree
 Create a Giving Tree this holiday season and watch your family's random acts of kindness come to life. Starting on December 1, when anyone in your family helps a friend, family member, neighbour or stranger have them write it on a Giving Tree ornament and hang it on your tree.
Together, as a family, you can watch your tree bloom with colour throughout the month as you pass along the holiday spirit. Then on December 25, take time to reflect on how your family gave this holiday season. This craft is perfect for teaching children about generosity and kindness.
The Giving Tree is also a great craft project daycare, classroom, sports team, seniors' home. The list is endless.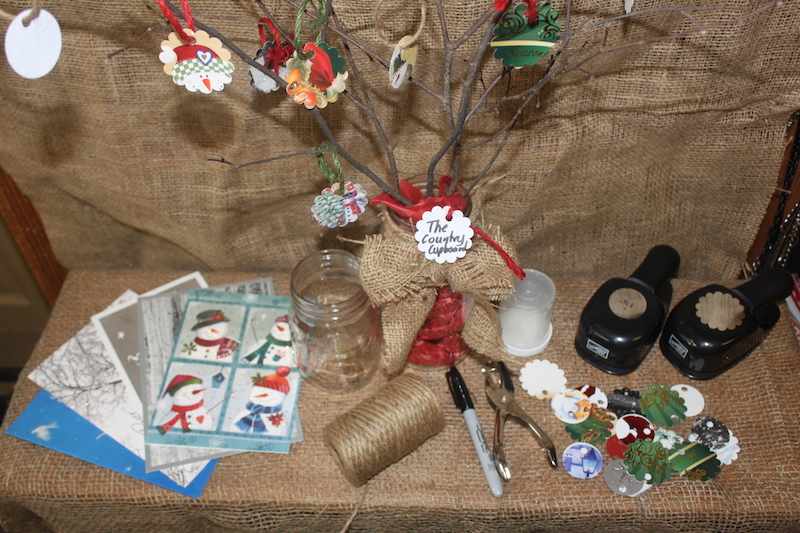 Materials
Twigs and branches
Mason jar
Hole punch
Scissors
Jute or curly ribbon
Fine tipped marker
Burlap, ribbon, or fabric for the bow
5" or 2" paper punch (or you could use an empty pill bottle as a guide to trace circles on the cardstock)
Cardstock, scrapbook paper, or recycled Christmas cards
Steps
Punch approximately 25 circles out of the paper, then punch a small hole in the top of each circle with the hole punch
Cut a 4" piece of jute or ribbon and loop it through the hole. Tie a knot at the end. Set aside.
Arrange the twigs in the mason jar
Cut an 18" length of burlap or fabric and tie the piece around the rim of the jar, making a bow.
Add your circles to the branches
Use one circle and write your family name on it: for example, The Jordan Family Giving Tree. Hang this circle off your bow.